Nano is a cryptocurrency that many experts regard as flawless and best equipped for the future Web3 economy. Of course, the core feature of the nano blockchain that attracts millions of users is the absence of fees. While the likes of Bitcoin and Ethereum charge users fortunes in transaction fees, nano completely removes this issue from the table. An extra component of nano's unique customer value proposition is the unmatched speed of transactions that help merchants, whether online or offline, accelerate their business flows. Any business can easily enjoy all the appealing features of the nano coin by accepting it as payment for goods and services using NOWPayments.
Key points:
So What Are the Perks of nano Cryptocurrency?
Hassle-free cross-border payments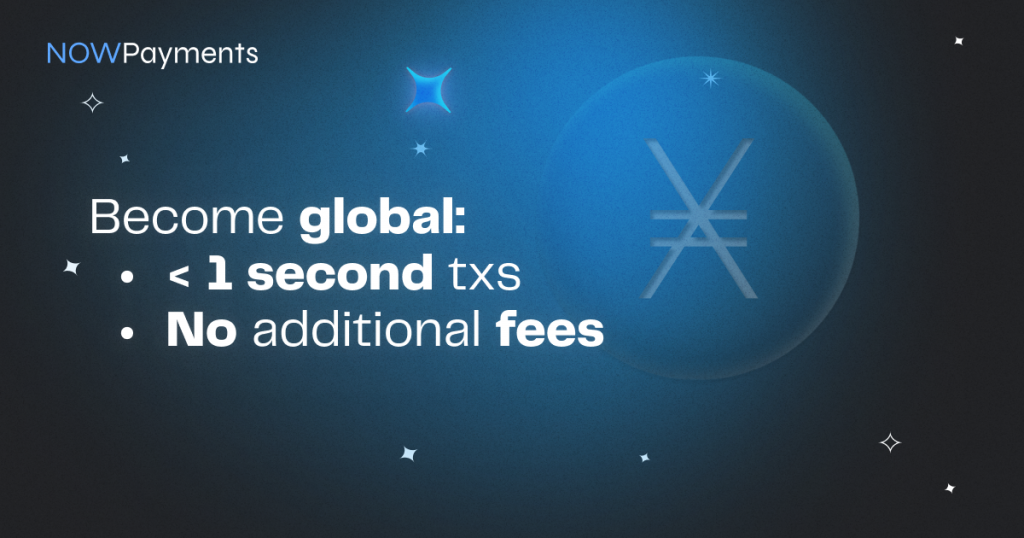 Businesses are looking for ways to establish an international presence and sell their products to people all over the world, given the conditions of modern markets. The issue is that today's banking infrastructure frequently chokes off global trade.
Bank transfers, for example, can take several days to get processed, affecting both the customer experience and the company's performance. Nano cryptocurrency transfers take under five seconds and are a great alternative to bank transfers. Furthermore, regardless of where the sender and recipient live, transaction speeds are consistent. As a result, incorporating XNO payments may be advantageous if you own a business and want to go truly global.
Nano uses a unique block-lattice design where each account has its own blockchain instead of one centralized blockchain that requires competition for block space. This allows users to add blocks to their personal chain, which are quickly verified and broadcast to the network. Unlike Bitcoin, where every miner has to verify all transactions, nano only requires two transactions – send and receive – for validation, which is done by separate validators. This design enables nano to be much faster and energy-efficient than Bitcoin's design.
Meet sustainability standards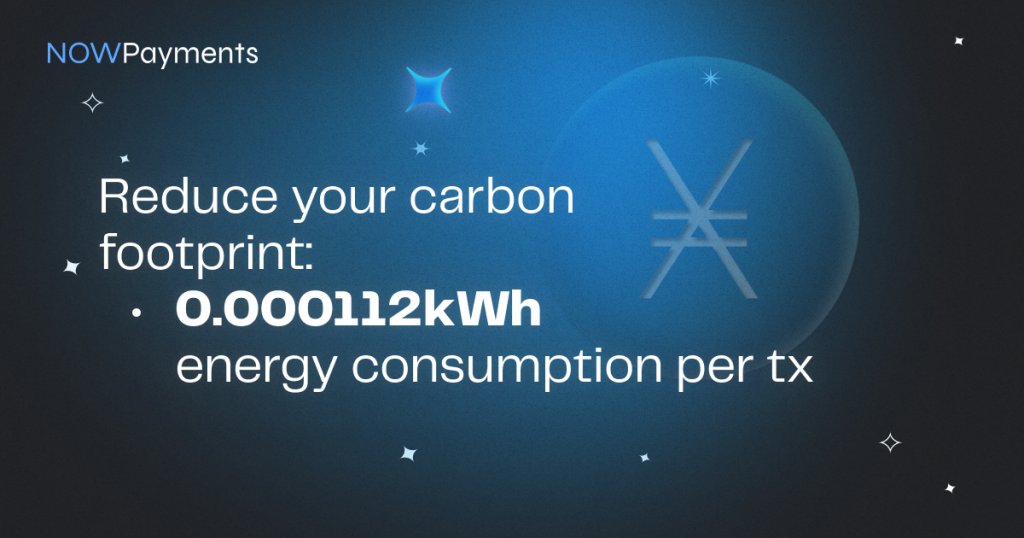 Sustainability is a new and unavoidable trend affecting the business world en masse. Today's consumers prefer to buy products from companies that have a low carbon footprint because they strive to be environmentally conscious. Nano does not require megawatts of electricity to operate.
In fact, it requires just 0.000112kWh per transaction, making nano one of the world's greenest cryptocurrencies. To put this into perspective, you could make 200 smoothies, watch 3 hours of TV, or complete 10,000 nano transactions with the same amount of energy that it takes to power just one kilowatt hour. In contrast, Ethereum transactions are quite energy-intensive, consuming approximately 178 kWh per transaction. This is equivalent to the amount of electricity an average American household uses in about six days. Bitcoin transactions, on the other hand, are even more energy-intensive, with a single transaction requiring 1997.16 kWh. This amount of energy could power an average family for almost 70 days.
As a result, environmentally conscious companies can use XNO as a payment method to meet the most stringent sustainability standards. Enabling nano payments will establish you as an environment-friendly company, which may help you get the attention of more potential customers.
Slash fees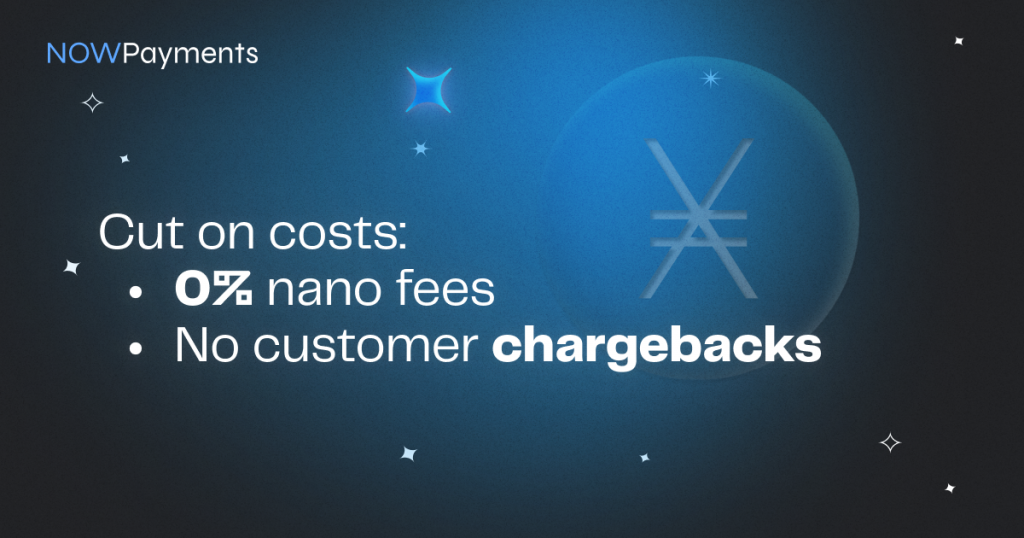 Every business that utilizes banking services is required to pay fees. In most cases, fees are quite tolerable, but, at times, they can get out of hand. Still, even minor fees add up, and by the end of the fiscal year, companies face thousands of dollars worth of fees.
On average, cryptocurrency fees are extremely low. Yet, nano goes above and beyond competitors by offering free nano coin transfers. Simply put, by employing XNO to power your business, you can save a significant amount of money on fees by simply not paying them in the first place. Nano is an ingenious alternative for merchants that want to cut their fee expenses by offering a 0% fee.
Chargebacks can have significant short and long-term implications for merchants, as they result in fees ranging from $20 to $100 per transaction. These fees and administrative costs must be paid even if the chargeback is eventually canceled, causing merchants to bear the burden of the chargeback process.
However, nano helps avoid that. Nano payments are irreversible, which means that merchants using nano can be assured that customers won't file a chargeback on their transactions.
Pay safely
Cryptocurrencies are designed to be anonymous. For instance, users are not required to register on any shady websites or reveal their identities in order to send crypto transactions. As a result, cryptocurrencies are a great option for making anonymous payments.
Accepting XNO coin payments allows you to offer your customers a secure and private way to pay for goods and services. Most people will agree that giving personal information to payment processors sounds quite outlandish and XNO transactions can assist you and your clients in putting an end to this bizarre practice.
Reach a larger user-base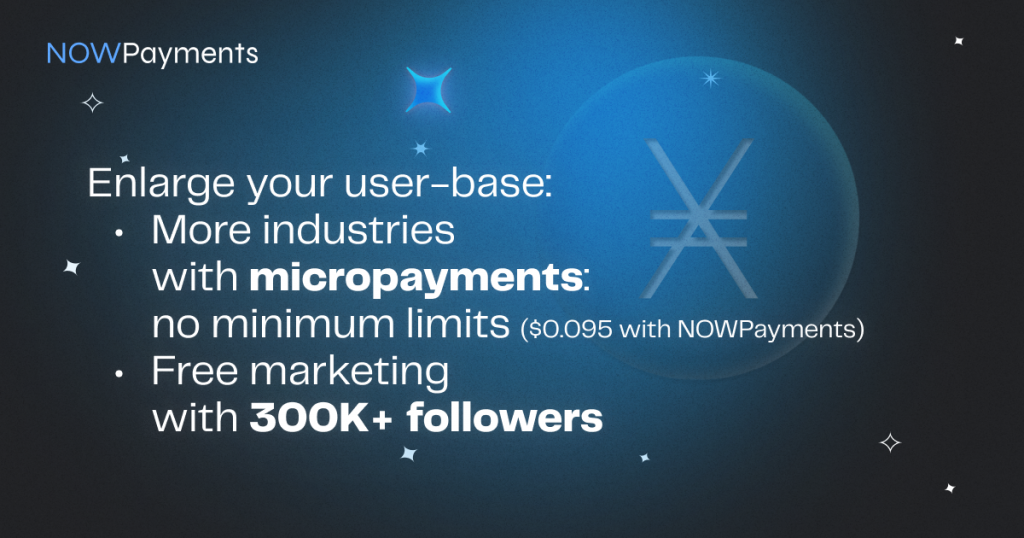 Cryptocurrency payments continue to be a novel technology for most people which naturally generates hype around businesses that opt for them. When any company, large or small, decides to implement a crypto payment gateway, it will almost certainly receive media attention.
Apart from being in the media spotlight, businesses can be featured in nano's official directory of merchants accepting nano. All of these factors can ultimately help you promote your brand and get exposure.
That's Fair. How Can I Accept nano Payments?
Businesses and individuals can accept XNO coin payments using these tools:
 eCommerce plugins: These plugins are compatible with PrestaShop, WooCommerce, Magento 2, WHMCS, OpenCart, Zen Cart, Shopify, and Shopware.
Payment Link and a PoS terminal: Businesses can use a payment link and a virtual Point-of-Sale terminal.
Subscriptions: Some companies may deploy special subscription-based payments.
API: NOWPayments' versatile API enables businesses to create custom crypto payment solutions.
Payouts: You can send mass payouts as a salary, bonus, reward, or rebate automatically to as many addresses as you wish.
Here is a guide on how a Nano Payment Link can be created:
Step 1. Register a NOWPayments account.
 Step 2: Enter your public nano crypto address.
Step 3: Press "Create payment link."
Step 4: Enter the details of your payment link and click "Confirm."
Step 5: You will receive a payment link that your clients will be able to use by simply scanning its QR code.
Conclusion
XNO is an efficient cryptocurrency with zero transaction fees. NOWPayments is a nano payment processor for businesses and individuals wishing to accept nano crypto payments.
Continue Reading about nano Payments