The Kishu Inu token deserves to be considered one of the luckiest projects ever because it has managed to build an amazing community of enthusiasts in such a short period of time. The most notable representatives of the Kishu Inu community are, of course, influencers. Previously, we have already offered our look at the top 10 Kishu influencers. Yet, given how diverse and expansive the Kishu's following is, it is no wonder why we have decided to release Part 2 and let you discover more awesome Kishu influencers. Ladies and gentlemen, here are the top 10 Kishu influencers 2.0 you absolutely must follow right now.
Key points:
The KISHU crypto community features a myriad of excellent influencers.
Stacy Harper, Kishu Shepherd, Chris Leão, and many others provide users with great content on KISHU.
Businesses and individuals can get paid in KISHU by using NOWPayments.
What is KISHU crypto?
KISHU is a unique meme token that provides its holders with instant rewards. In other words, KISHU lets everyone generate passive income by keeping the KISHU Inu crypto in their wallets. The project is powered by its decentralized community, members of which ultimately shape KISHU's future. The KISHU crypto is traded on many exchanges, so everyone can purchase it freely. Overall, the KISHU token totally deserves its current status as one of the top meme coins and it is working hard on reaching new heights.
Who else are the Kishu influencers?
As mentioned above, we have already covered the first top 10 KISHU influencers, but since there are simply dozens of talented influencers in the KISHU community, we could not resist creating another list. If you think you already follow enough KISHU influencers, then think again, because these guys are sure to offer you a lot of fun and valuable insights you won't be able to resist.
KISHUARMY
KISHUARMY proudly calls himself a KISHU holder in his Twitter bio showing his dedication to the project. KISHUARMY is one of the largest fan accounts in the community. He is a big proponent of the strategy that involves investing in KISHU and reaping the rewards every day, getting that passive income. KISHUARMY also supplies his audience members with motivational and inspirational quotes and ideas, which are much-needed during this bear market. KISHUARMY has many loyal fans, so follow him to become one of them.
Chris Leão
Chris Leão is a popular Web3 influencer. He is a person who surely needs to be present on your following list since he shares some top-notch analyses of the crypto market and promotes worthy projects, one of which is our beloved KISHU. Chris has on many occasions made positive comments about KISHU and even noted how great KISHU did during the peak of the bear market. Chris is also a great influencer to follow if you are looking for someone to help you discover upcoming projects with the potential to blow up in the future.
KishuBro
KishuBro is an active KISHU supporter who, despite having a relatively moderate audience, lets the entire world know about the amazing KISHU project. If you also wish more people had knowledge about KISHU, then you need to give KishuBro a hand in his effort to enable the project to gain more exposure. KishuBro also highlights the best tweets made by the community members by retweeting them, thus helping his followers discover more fellow KISHU enjoyers.
Meme coins lover
Meme coins lover is an account that belongs to a true meme coin aficionado. Apart from other meme tokens, he is also a KISHU lover which is great news for everyone in the KISHU community. Follow Meme coins lover if you are interested in staying informed not only about all things KISHU but also about other notable members of the meme-token family. You can safely rely on the expertise of Meme coins lover and his ability to identify high-value projects.
Stacy Harper
Stacy Harper is an influencer known to many KISHU fans. Stacy frequently tweets about KISHU and openly describes the coin as a good investment. Stacy truly has an eye for locating cool projects that have what it takes to become the next big thing in the industry. This means that KISHU holders definitely should be happy about their investment decision. Stacy always offers insightful takes on the state of crypto today that can enable you to have a better understanding of what is going on in the market at the moment.
Heather Fernsby
Heather Fernsby is an entrepreneur, crypto investor, and influencer with over 14k followers on Twitter. Heather has been consistent in her support for KISHU over the past months. Heather calls KISHU a "not your average memecoin" and she is absolutely correct in this assessment. KISHU is not the only coin Heather talks about on her social media. She also shares info about numerous other projects that can be of interest to her followers. Don't hesitate to add Heather to your following list.
Kishu Inu Lovers
Kishu Inu Lovers is another awesome account celebrating the KISHU Inu coin. Kishu Inu Lovers accumulates the best tweets in the KISHU universe and lets you enjoy reading them in one place. It also publishes wise ideas and pieces of knowledge that can assist you in your investment activity. Kishu Inu Lovers is an extremely influential account in the KISHU community that always gains hundreds of likes on its tweets. If you consider yourself a Kishu lover, then join other people like you by following Kishu Inu Lovers on Twitter.
Kishu Shepherd
Kishu Shepherd provides his personal perspectives on different KISHU news. Kishu Shepherd is one of the very few influencers who are not afraid to voice their opinion and this is one of the key reasons why you should follow him. Kishu Shepherd can offer you an unconventional point of view on different things in the crypto world. Make sure to follow Kishu Shepherd to have a source of thought-provoking tweets that can really make you grow as an investor.
Harun Hariss
Harun Hariss is not your average crypto influencer. In fact, he is an actual football player who has a love for crypto. Harun is an avid fan of KISHU in particular and he believes that it is one of the strongest projects on the market. Harun is well-versed in crypto, so he posts info about many projects that he believes deserve a spotlight.
KISHU_NILOOFAR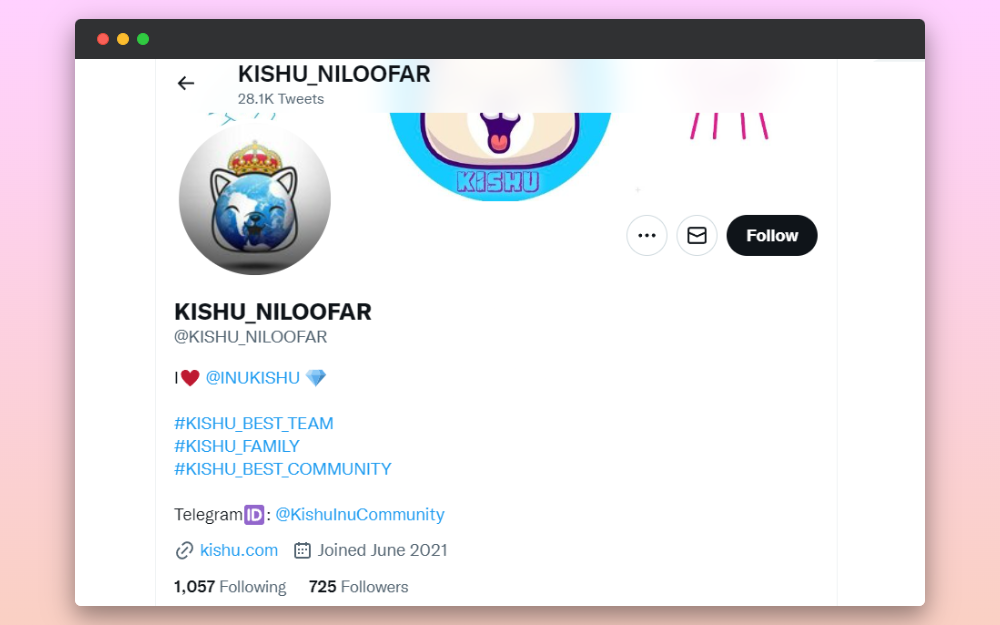 KISHU_NILOOFAR is a well-known member of KISHU FAMILY. Give him a follow if you want to see the latest news, memes, fan art, and all things Kishu-related. KISHU_NILOOFAR, like many other people in this article, is an active Kishu community member. Don't miss to stay tuned!
紀州Mate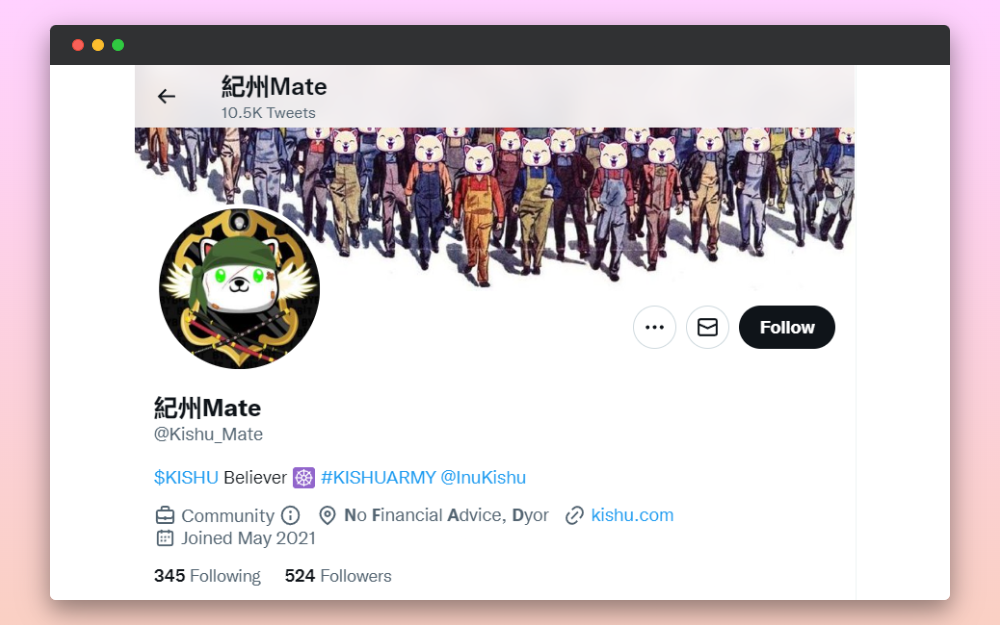 Kishu_Mate or 紀州Mate is also Kishu's Community Member and enthusiast. If you ever get worried about the current Bear market, just go see Kishu_Mate's account to get inspired and see how Kishu community works actively on their way to build their Kishu-fueled future. "Little meme, big dream."—Kishu_Mate's Twitter is a perfect representation of the token's famous motto.
How to accept Kishu token as payment
Companies, as well as individuals, have an opportunity to accept KISHU payments by using these tools:
Conclusion
The KISHU community has an impressive number of brilliant influencers who help users learn more about the project. NOWPayments provides businesses and individuals with a way to accept payments in the KISHU coin.
Learn more about Kishu Inu payments