The easiest thing to do is gain an understanding of the basics of the blockchain through some of the literature articles and the best bitcoin books we'll mention here.
In this article, we'll tell you about the best crypto books to read. Including some of the best crypto trading books, and ultimate guide books on crypto in general. There's some great basic and technical literature out there for any type of reader, new or existing in the cryptocurrency sphere.
What are cryptocurrencies?
So before we get into cryptocurrency books and articles, let us give you a quick breakdown of what a cryptocurrency is and how it operates. The first-ever cryptocurrency to be developed was Bitcoin (BTC) in January 2009, by Satoshi Nakamoto. The currency was developed to remove the traditional third-party entities when making transfers. However, not all cryptocurrencies are used for the same reasons as BTC. There are several other use cases for other tokens. Cryptocurrencies can be used in many industries including:
Medical data handling and tracking;
Internet of value;
International transfers;
Website monetization;
Stable coin alternatives to fiat.
On top of this, there are 1000s of currencies that can be used to stake on platforms to receive rewards and special perks for helping to secure the network. Here are 15 popular cryptocurrencies, what's your pick?
Each of these companies has a different use case for the cryptocurrencies that operate on their blockchain. So to understand the blockchain in more depth, let's run through the best crypto books to read.
Mastering Bitcoin — Book
This book was written by Andreas M. Antonopoulos and published in 2014. It entails everything bitcoin-related by giving an in-depth, technical description of the Bitcoin blockchain and the Bitcoin wallet. It also gives readers an understanding of what the real-world applications are for Bitcoin and is one of the best beginner guides to cryptocurrency. Readers will also find that it is one of the best books on Bitcoin investing, giving great tips.
This book was recently updated and re-released in 2017. Readers can get a more updated to date reflection on everything bitcoin with the updated version of the book, including any changes that were made to the currency within the years since the first book was written.
Cryptoassets — Book
This book was written by Chris Burniske and Jack Tatar and published in 2017. This book is perfect for readers beginning their investment journey in cryptocurrencies. Not only does it tell you about different cryptocurrencies and how they work, but it also assists the reader in learning how to manage their portfolios. Other sections this book gives good information on include:
History of cryptocurrencies and information on how to navigate them.
A Guide on wallets, exchanges, ICOs.
How the blockchain might disrupt the industry.
How cryptocurrencies are evolving and developing.
Chris Burniske and Jack Tatar are experts in the field and know their information on the cryptocurrency industry. So this crypto 101 book will really give you all the information you'd ever need when learning about the blockchain.
Cryptocurrency — Book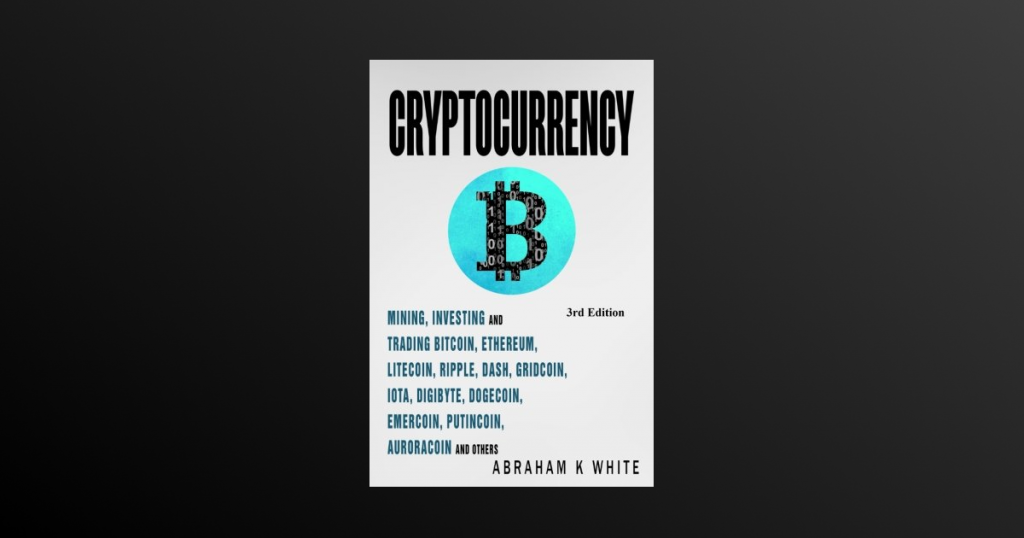 This book was written by Abraham K. White and published in 2017. This crypto book will give you information on the trading, investing, and mining cryptocurrencies that aren't Bitcoin. It's an easy-to-digest book, made for newbies, and is easily one of the best crypto trading books on the market.
This book is awesome if you're trying to learn about some lesser-known cryptocurrencies, not within the top 5 rated ones. As you're probably aware there are more than 1000s of cryptos in the market, and this book really looks into some good up-and-coming projects that could take everyone by storm one day.
All the books mentioned earlier are available as e-books and can be purchased as paper copies on websites such as Amazon.
Bitcoin Billionaires — Book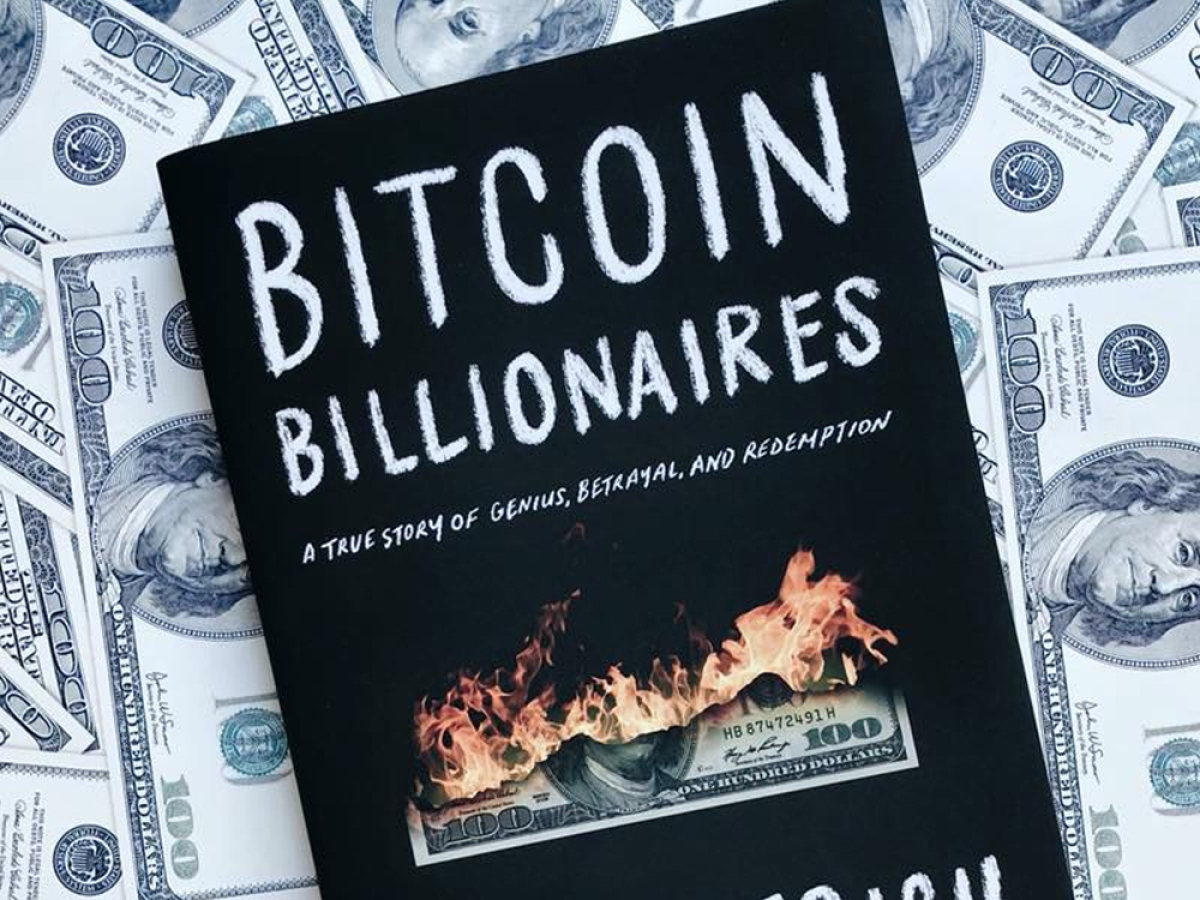 This is a great story about how two brothers in Tyler and Cameron Winklevoss made a huge gamble and invested big in Bitcoin. It gives you a whole run-through of their success story. This book is inspiring and has really gotten people interested in cryptocurrencies and how they've created lots of millionaires over the past decade. This book doesn't go into technical detail on the blockchain but is a great read if you want to learn about the mindset of two brothers and how they made it to the big leagues.
Current status, classification and open issues – Review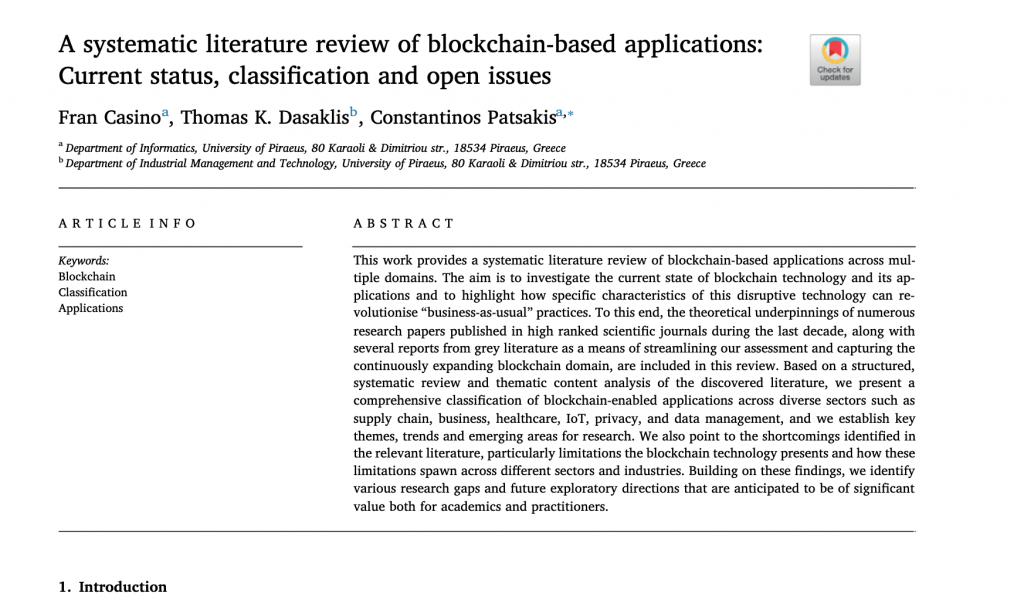 This extensive review on the blockchain was written by Fran Casino, Thomas K. Dasaklib, and Constantinos Patsakis and published in 2019. The full name of this review is; A systematic literature review of blockchain-based applications: Current status, classification, and open issues. This can be found in the telematics and informatics journal published by Elsevier.
This is a very technical and informative review, which needs patience, understanding, and time to get to grips with. We've added this review to the list for users who can go a little more in-depth and really learn about the technology down to the T. Specifically written for an academic audience this review will go over areas such as:
A short introduction to the blockchain.
Investigation of the current blockchain technology.
A review on the applications of blockchains across several domains.
Determining the effectiveness of the blockchain for different applications.
White Papers
Once you've read one of the books mentioned or have a browse of the extensive literature review, you can also head over to the website of the cryptocurrencies for more specific information on what their short-term and long-term goals are.
Most cryptocurrency projects have an extensive white paper that gives a full rundown on what the project is about, what it's aiming to do, how its blockchain works, and tokenomics. This is the best place to go if you want to learn about projects that may not be included in some older books.
Final Thoughts
The blockchain is a forever growing industry, and blockchain books are released almost every week, some making it to the top 10 shelves and others carrying dust. We recommend reading those books mentioned in this and then going to the specific cryptocurrencies website to start your deep dive when learning about projects.