SparkPoint has built an expansive ecosystem of products across different domains of the crypto industry. The versatility of the project serves as its primary source of utility. The products and services offered by SparkPoint are all based on the SRK token, the project's native crypto token. These products and services utilize SRK mainly as payment for various transactions within the ecosystem. Still, SRK payments also can be easily integrated by anyone interested in accepting them. Thanks to NOWPayments, businesses can embed a SparkPoint payments tool in their WHMCS stores providing their customers with a crypto payment method.
Key points:
SRK fuels the ecosystem of SparkPoint.
SRK payments are private and universally accessible.
Accept SRK on WHMCS via NOWPayments.
What is Sparkpoint token?
SRK is the utility token of SparkPoint. It is utilized extensively by the native products of the project. For instance, SparkPoint wallet is an app for managing SRK and SFUEL tokens natively, alongside cryptocurrencies like BTC, ETH, and BNB. There is SparkPlay, an innovative gaming platform with a collection of crypto-themed mobile hyper-casual games that also use the SparkPoint crypto. The coin can be employed as a means of trading, participating in farm and pool staking, and minting NFTs on SparkSwap.
Pros
Make payments universally accessible
Businesses that focus on staying competitive must seek clientele from other countries. Even established players may find it difficult to conduct business in other nations, owing to each country's distinct financial system. However, cryptocurrencies like the SRK crypto can assist businesses in avoiding the expense of opening hundreds of bank accounts abroad.
Because SRK transactions are global, they are available to everyone on the earth. Furthermore, consumers do not need to register a bank account or go through a validation process to utilize the SRK coin. All they want is a crypto address, which can be produced in a matter of seconds. This makes SRK a truly universal payment solution available to all people with the Internet.
Privacy
Recently, one of the most prominent market trends has been the need for confidentiality. Payments, which have historically been the least private aspect of business, raise many concerns among consumers. SRK token transactions can be utilized to overcome the payment privacy issue.
SRK transactions are secure and because they are peer-to-peer, no authority has jurisdiction over how they are handled. Furthermore, SRK transactions are not associated with any personal information about the sender or recipient. Anyone may send and receive SRK in complete privacy. This is why companies may offer SparkPoint (SRK) as a secure and confidential method of payment to their customers.
New clientele
Companies that accept SRK payments may also attract the attention of a certain fraction of the SRK community. Merchants might give SRK holders a discount to entice them to trade their tokens for goods. Businesses that execute such a promotional campaign correctly may see their earnings increase.
There are a plethora of SparkPoint token users, and some of them may be interested in paying for things with SRK.
Cons
Price fluctuations
The lack of central authority on blockchain also results in certain downsides such as considerable price fluctuations. SRK tokens' value may occasionally jump up and down depending on the ongoing market situation. Still, merchants can protect themselves from extreme volatility by using NOWPayments' auto-conversion feature.
How to accept SRK on WHMCS?
Merchants that use WHMCS to sell their products and services can accept payments in SRK. The WHMCS plugin from NOWPayments is fairly easy to set up. Follow these steps to deploy your SRK crypto payments:
1. First, you need to register on the official website of NOWPayments.
2. Then, you will need to enter your public SRK address and generate an API key, as well as an IPN secret key in the settings section.
3. Then, you will need to download the latest WHMCS plugin module from this page.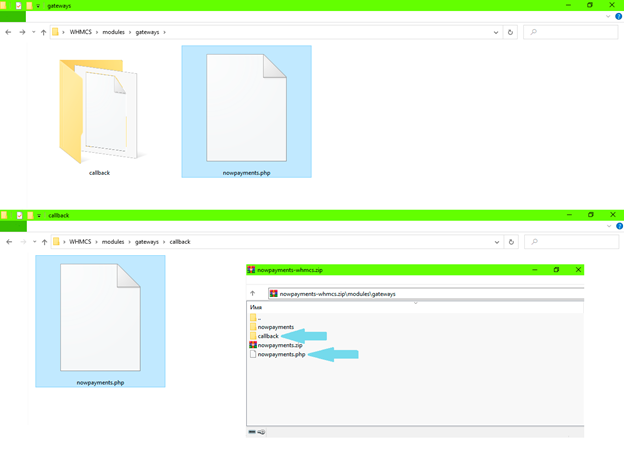 4.1. Once you download the .zip file, you will need to open the root folder of WHMCS on your computer. Copy the first nowpayments.php file from the "gateways" folder in the .zip file and paste it into the "gateways" folder in the root folder.
4.2. Next, copy the nowpayments.php file from the "callback" folder in the .zip file and paste it into the "callback" folder in the root folder.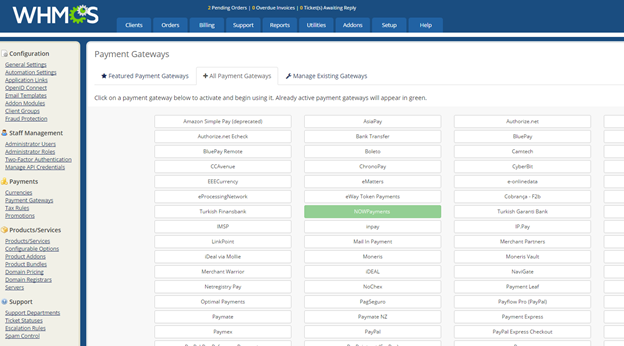 5. Open your WHMCS admin panel and go to the "Payment Gateways" section. There, you will be able to choose NOWPayments and enter your API and IPN Keys. Now you are ready to accept WHMCS crypto payments.
Conclusion
Deploying SRK payments on WHMCS is easy with the help of NOWPayments.
Learn more about Sparpoint and SRK payments