Bitcoin is the absolute darling currency of the crypto community. Bitcoin sets trends, and its price development is always indicative of the entire crypto market's state. The demand for Bitcoin is simultaneously driving the supply of services that accept it as payment. Today, one can pay with Bitcoin for practically any product on the planet. Moreover, one can use a Bitcoin debit card to shop at stores that do not even feature crypto payments. Read our article and learn about online stores that accept Bitcoin and other cryptocurrencies as payment.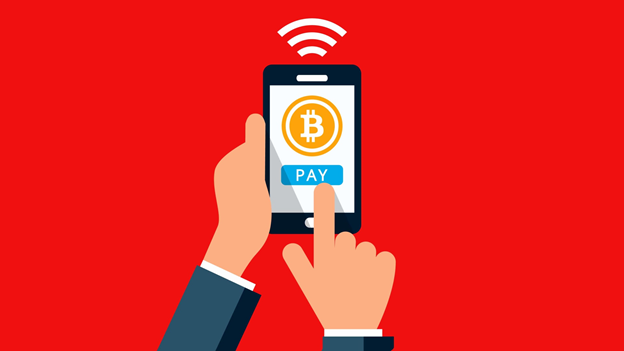 Key points:
There are dozens of online stores operating in different segments, including Gaming, Food & Drink, Electronics, and Fashion, that accept cryptocurrencies as payment.
Today, crypto owners can order furniture and the latest computer parts and pay with their Bitcoin without any obstacles.
NOWPayments provides solutions for merchants that want to deploy their own crypto payment gateways.
Food & Drinks
Pizza for coins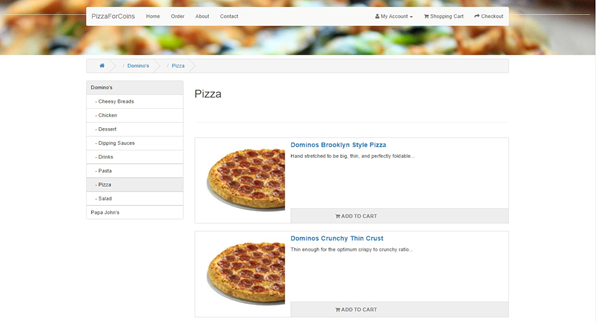 Pizzaforcoins is a special service that enables people living in the United States to order food with Bitcoin from restaurants such as Domino's Pizza and Papa John's. Since these fast-food chains do not accept cryptocurrency directly, Pizzaforcoins acts as an intermediary between them and the client. The service has a large database of locations from all over the country. Pizza is not the only food option you can get from the aforementioned restaurants. The entire menu lists of the venues are available for order. All you need to do is simply specify your address so that the website could provide you with the nearest location. After paying for your order, it will be delivered to your place.
Liferando.de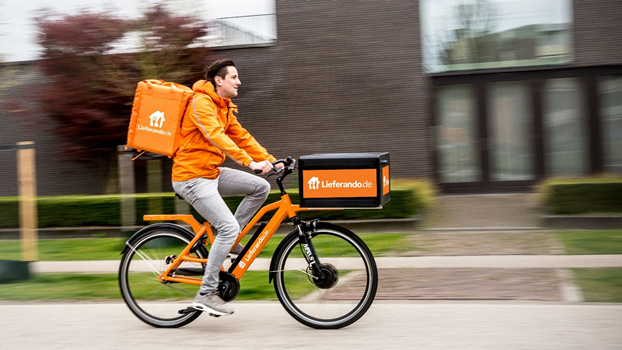 Liferando.de is the German branch of the global Just-Eat food delivery service. The company accepts Bitcoin and lets clients order food from more than 20,000 restaurants around the country. All major cities, including Berlin and Hamburg, are covered by the service. So, clients only have to pick the restaurant of their choice, make a Bitcoin payment, and wait for their order to be delivered. Liferando has its special Punkte Programme that provides customers with a chance to earn points for their orders and then redeem them, receiving great discounts. The service maintains low prices and guarantees that its clients pay the same amount of money per their meals as when they order them directly.
Acker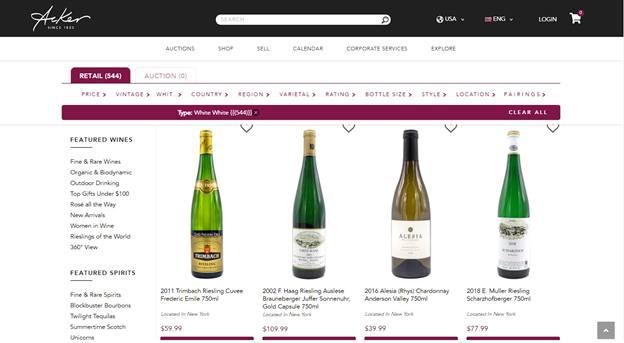 Acker is the oldest American wine dealer that has been in operation for almost two centuries. The company can be considered one of the largest retailers that accept Bitcoin. Acker's online store does not run low on wines of different origins. Acker's clients can purchase bottles of red, white, sparkling wine, as well as rose. Apart from wine, Acker has an ample supply of various spirits, tequilas, bourbons, and scotches. One can also acquire caviar from Acker. The company holds online auctions where it presents the rarest wines on the planet, and you can get any of them with your Bitcoin.
Menufy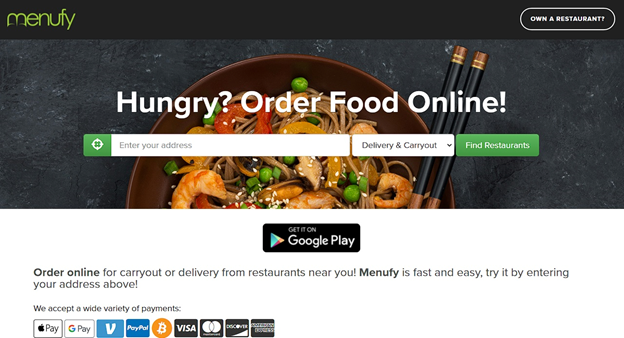 Menufy is an amazing service which permits thousands of restaurants around the United States to accept cryptocurrencies. Apart from the fact that it provides clients with a chance to pay with Bitcoin for their favorite meals, Menufy also turns menus of every restaurant into a separate ordering website. Although you will not find any large fast-food chains in Menufy's database, the platform still has an extensive selection of places. For instance, in New York alone, there are more than 650 restaurants where you can order delivery and pay for your meal with Bitcoin.
Internet Services
HostMeNow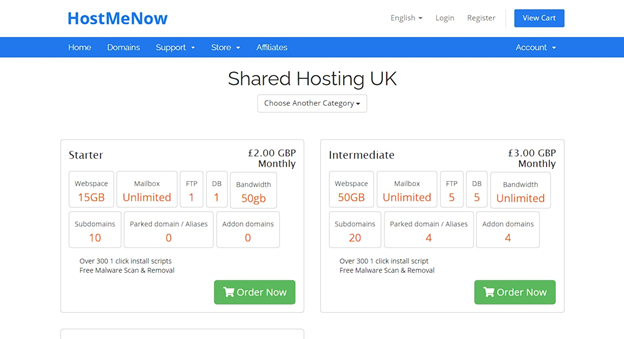 HostMeNow is a global web hosting company. It offers several hosting solutions, including shared hosting with plans starting at a mere 2 GBP; moreover, the plan with unlimited mailbox, webspace, and bandwidth costs only 5 pounds. Users also can register their domain for as little as 7 GBP. HostMeNow is an extremely affordable service and, more importantly, a crypto friendly-one. The company adheres to strict security rules and guarantees the complete integrity of its client's data. HostMeNow is one of the sites that accept Bitcoin, but additionally, it also features Ethereum, Litecoin, and Monero payments.
ExpressVPN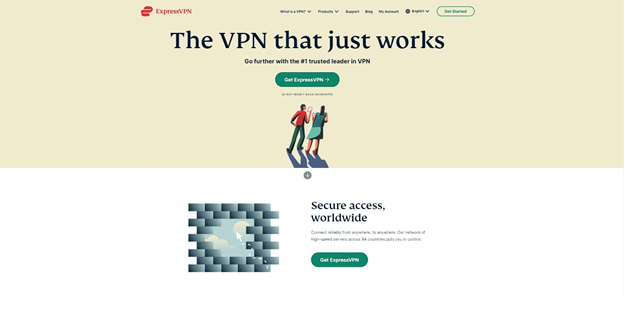 ExpressVPN is one of the most recognizable VPN brands on the Internet. Perhaps, you have seen videos on YouTube sponsored by this VPN provider. The company boasts 160 server locations in 94 countries and delivers unlimited bandwidth to its clients. Other features of ExpressVPN which make its products good deals are 24/7 support and a 30-day moneyback guarantee. At ExpressVPN, you can get a VPN plan for different platforms, including iOS and Android. The company introduces strong encryption to all of its products. Like other companies on the list, ExpressVPN accepts Bitcoin as payment.
Furniture
Beliani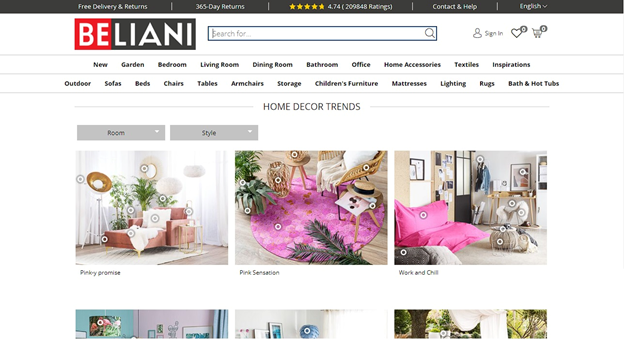 Beliani is one of few furniture sellers with online stores that accept Bitcoin in Europe. If you live in the UK, Germany, Spain, or other European countries, Beliani is your chance to fit out your flat or house with all the necessary furniture. Beliani has beds and chairs of all sizes; it also sells tables, sofas, rugs, and lighting items. Beliani's website is easy to navigate since all furniture is sorted according to different home spaces such as the living room and kitchen. Beliani does not have brick-and-mortar stores, but if you do not like the item you ordered you can return it free of charge.
Overstock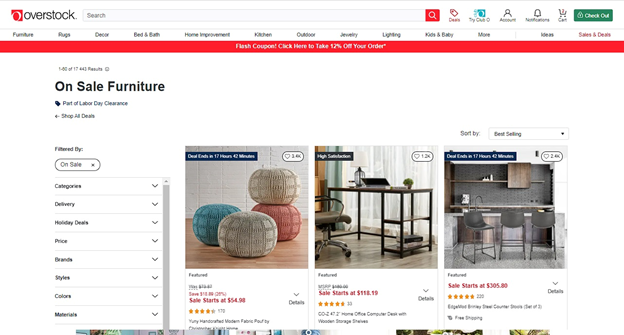 Overstock is another example of online stores that use Bitcoin. The company sells furniture and provides free shipping across the United States. Overstock is one of the largest furniture and home décor retailers in the country. It began offering clients to pay with Bitcoin several years ago, and it seems that the company was not disappointed with its decision. Overstock has a special segment on its website with trending deals where you can grab an item at a 25% discount. So, if you have been searching for a place where you could buy a king-size bed at a bargain price, consider checking Overstock's online store.
Electronics
Newegg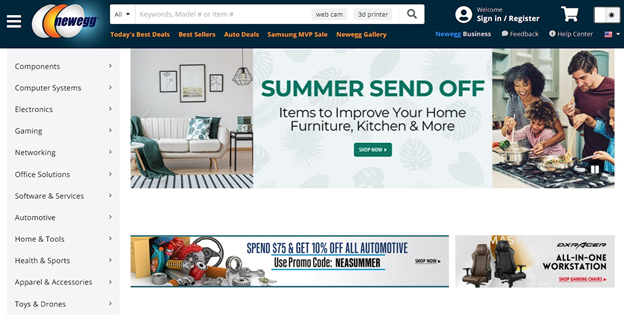 Newegg sells thousands of electronics and other types of products, including auto parts and apparel. Newegg is a large marketplace that has excellent reviews from customers. The company's specialty is PC equipment. At Newegg, you can find all the newest chassis, CPUs, and monitors. Moreover, the company never tries to charge exorbitant prices. Even during the GPU shortages caused by crypto mining, Newegg offered graphics cards at their standard retail prices. Although Newegg is a US-based company, it can ship orders to numerous countries around the world. Newegg accepts Bitcoin payments for all of its assortment items.
Digitec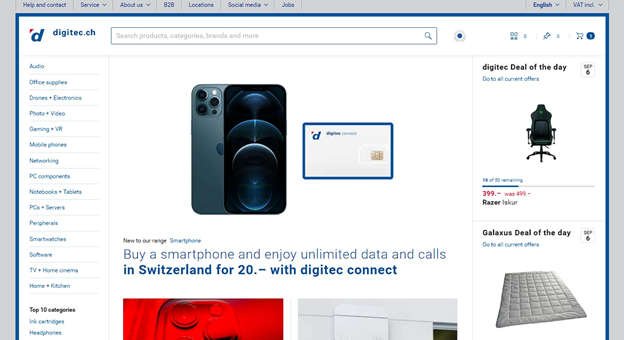 Digitec is another hub for all quality electronics. Digitec is based in Switzerland, and it offers the option of free delivery to all places in the country, as well as to Lichtenstein. At Digitec, you can get the latest mobile phones and VR gear, as well as items such as digital cameras and drones. Digitec keeps its prices at a reasonable price level and regularly lists items on sale. There is also a platform for secondhand products on Digitec's website. At Digitec, clients can pay with Bitcoin. If you live in Switzerland, Digitec is a good option to stock up on electronics with crypto.
Travel
Alternative Airlines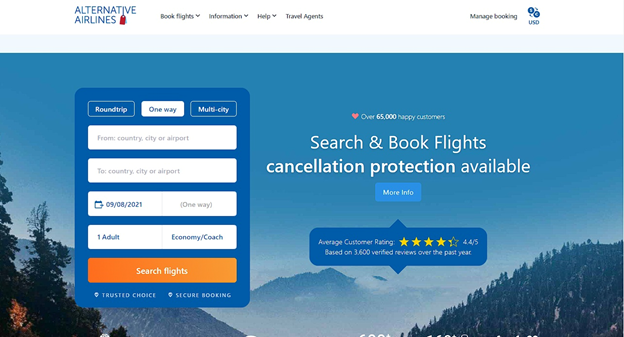 Alternative Airlines assists its clients in booking flights around the world without spending a fortune. The website accepts Bitcoin alongside other 40 payment options and 160 currencies and has great reviews from its customers. It enables users to choose a multi-city itinerary which significantly facilitates the process of finding the right tickets. Alternative Airlines' search engine carefully processes offers of more than 600 airline carriers around the world and finds bargain deals. The company has already helped more than sixty thousand people to plan their journeys. Alternative Airlines makes traveling with Bitcoin really easy.
Travala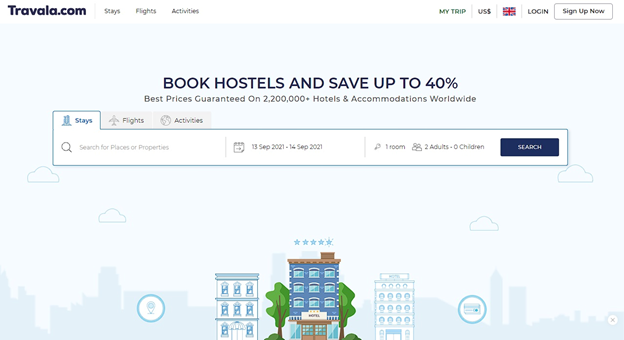 It is impossible to overlook Travala when searching for ways to rent a house or book a hotel using Bitcoin. Essentially, Travala is the absolute market leader in the sphere of accommodation booking. It features more than two million hotels and other places on its platform where clients can stay when traveling to other countries and cities. The list of cryptocurrencies with which Travala customers can pay with is truly massive. Bitcoin, of course, is one of the currencies available to clients of the service. Travala has helpful customer support that is ready to answer your questions 24/7.
Qeeq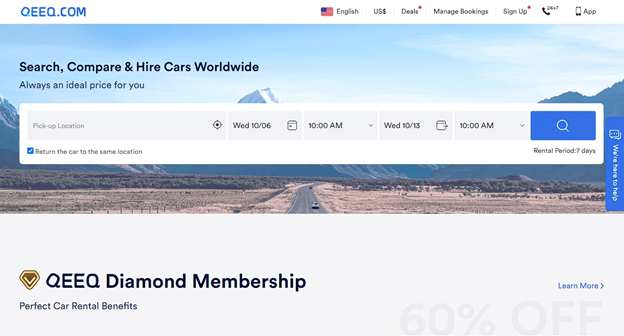 Qeeq is another name on the list of websites that accept Bitcoin as payment. Qeeq users can rent a car for any period of time in thousands of cities around the world. Qeeq works in partnership with numerous car rentals in different parts of the planet. Qeeq users do not have to provide a deposit and can cancel their order at any moment. Qeeq has its special Diamond Membership that, on average, can save members $50 on each rental. It also involves free upgrades in terms of car class and insurance.
CheapAir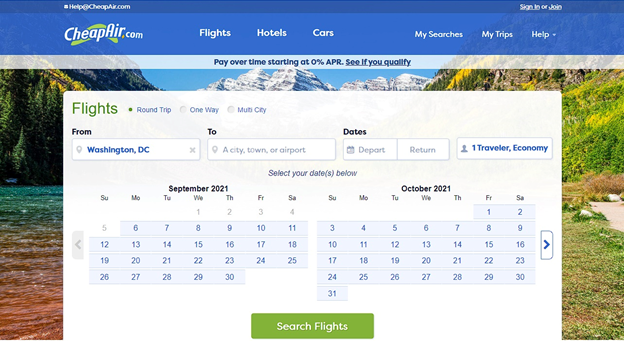 CheapAir is another flight tickets aggregator with a powerful search engine that browsers through offers of hundreds of carriers. CheapAir has several important features that distinguish it from competitors. The service's clients can finance their tickets and pay later for them without being charged interest. The company's customers also can enjoy the assistance of their personal travel advisors ready to help at any time. CheapAir compensates the price difference to its clients if their tickets' fare drops after they purchase them. CheapAir accepts Bitcoin and many other cryptocurrencies. Apart from flights, CheapAir clients can book hotels and hire cars.
Gaming
G2A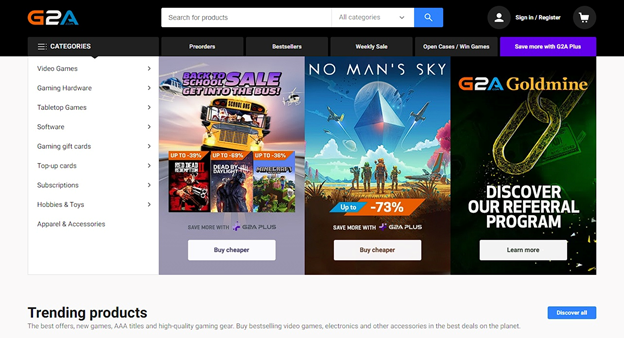 Not everyone knows that often it is much cheaper to buy video games from third-party merchants rather than from mainstream platforms such as Steam. G2A is a major seller of video game keys. The prices here are much more affordable, for instance, you can get RDR 2 for mere 39 dollars, twice as less than on Steam. G2A also has tabletop games in stock and gaming gift cards. There is always a weekly sale going on, so it makes sense to check the website from time to time. All products at G2A can be bought with Bitcoin.
Joltfun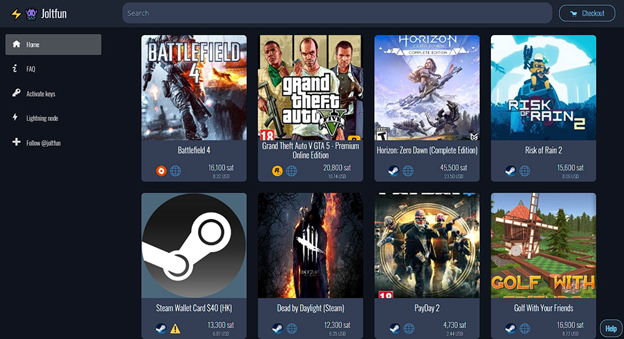 Joltfun is a gaming merchant that sells games for Bitcoin, or rather for Satoshis. The website also has an impressive range of products. Namely, at Joltfun, you can choose from more than twenty thousand games, both old and new ones. Joltfun does not sell PC games only. Instead, games for ten different platforms, including PlayStation, can be found on the store's website. One of the main advantages of Joltfun is that it runs its own Lightning node. Basically, customers can buy games with Bitcoin without spending massive amounts on transaction fees or waiting several minutes for their transaction to get processed.
Fashion
The Bitcoin Wardrobe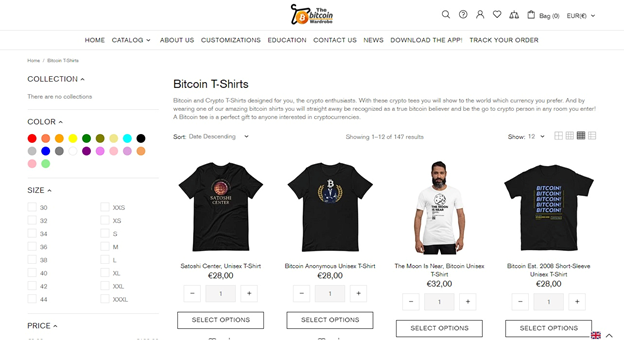 If you want everyone to know that you love to HODL Bitcoin and other cryptocurrencies, the Bitcoin Wardrobe is the place where you can get a T-shirt that says exactly that. You can also purchase sweatshirts, polos, hoodies, and even Bitcoin-themed leggings. There are also clothes with the Dogecoin logo. Those who have friends interested in blockchain and Bitcoin can buy them special gifts such as mugs and stickers. The Bitcoin Wardrobe even sells Valentine gifts. The Bitcoin Wardrobe is, of course, one of the shopping sites that accept Bitcoin and other virtual currencies.
Pita Barcelona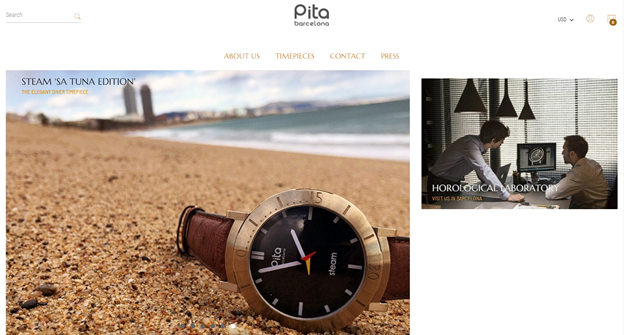 Pita Barcelona is a luxury watch brand founded and run by independent watchmakers Aniceto and Daniel. Aniceto became the first person to utilize magnetism techniques in a mechanical watch. He even patented his innovation. All of Pita's watches are hand-made, which means that customers can order all kinds of customizable features. Pita has its own horological laboratory where it designs new solutions and contributes to the field of horology. The company even sells a watch which is resistant to pressure of 5000m underwater. Pita is another example of online stores that accept Bitcoin payment.
Gift Cards
Bitrefill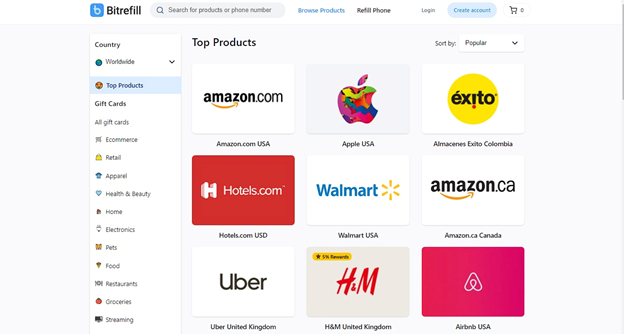 It is a well-known saying in the crypto community: "If you cannot get something with Bitcoin, get it with a gift card." Bitrefill is the perfect spot for following this advice. The website features gift cards from hundreds of merchants around the world. Every gift card can have a different value, so when you only need to buy a $20 product from Amazon, you do not need to buy a $500 card for it. Bitrefill accepts Bitcoin, which makes it possible to pay with Bitcoin at all mainstream merchants, not directly, of course, but it still is cool.
Coinsbee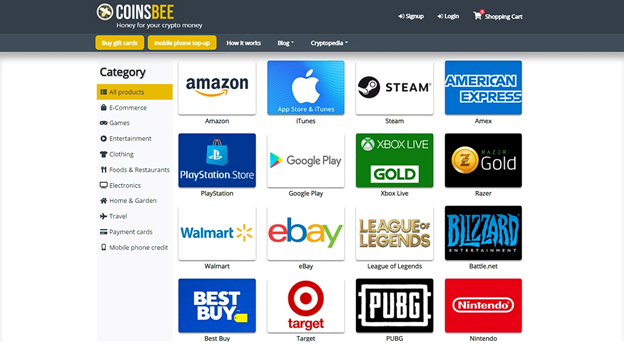 Coinsbee is a reliable source of gift cards on the Internet. Coinsbee offers cards of 1500 different brands from 165 countries. Coinsbee is powered by the Lightning Network, so its clients do not end up paying large transaction fees. Gift cards from Netflix, Best Buy, Walmart, Nintendo, and many other companies are all available for purchase at Coinsbee. Apart from gift cards, there are also payment cards from Visa, American Express, and PayPal, which allow people to pay with them virtually at any merchant. Finally, Coinsbee lets clients top up their mobile phone balance with crypto.
Conclusion
As evident from the list above, crypto owners have plenty of options when it comes to online shopping. There are numerous online stores that welcome people wanting to spend their crypto. Be it a new iPhone or a luxury watch, a video game, or plane tickets, all of these products can be bought directly with crypto.