Bitcoin is a powerful cryptocurrency that can help anyone who owns it to purchase all kinds of goods and services. Nevertheless, the number of vendors that directly accept crypto for their products is still smaller than those who stick to the traditional payment methods. This enables different individuals to seek alternative ways of using crypto funds to buy their daily necessities. Various companies and platforms respond to this demand and offer their custom solutions. The two most common of them are acquiring gift cards with Bitcoin and registering actual Bitcoin debit cards. This article presents a list of various popular services which allow their clients to utilize these two options.
Gift Cards with Bitcoin
Bitrefill
Numerous companies, both large and small, sell their gift cards which their clients can redeem at any convenient moment. Crypto enthusiasts view gift cards as an opportunity to circumvent the use of fiat money and obtain products by spending their coins.
Bitrefill is one of the services which is in the business of selling gift cards for cryptocurrencies. The platform's selection is impressive and spans across cards of multiple vendors from all parts of the world. Cards from Amazon, Starbucks, Google Play, and Asos are available at Bitrefill. Customers can acquire them by paying in Bitcoin, Ethereum, Dogecoin, Litecoin, and Tether.
eGifter
Apart from Bitrefill, there is a host of other gift card services and eGifter certainly deserves to be recognized as one of the best out there. It features cards from Adidas, CVS Pharmacies, Hulu and many others. Customers also can buy cards in bulk, and eGifter always runs various promotions offering significant discounts. Additionally, it has an option of creating a group gift where several people can contribute to raising money for a present for their colleagues or relatives. eGifter accepts a long list of cryptocurrencies, including Bitcoin Cash and Dash. Registered members on the eGifter website earn points which they can later spend to get cards for free.
Gyft
Gyft is another alternative to the two aforementioned services, which boasts a considerable assortment of gift cards. Gyft has a mobile app that allows users to keep track of their cards and send them to other people. Bitcoin is the primary payment option on Gyft's platform.
Exchanging Gift Cards for Bitcoin
Apart from buying gift cards with Bitcoin on the Internet, there is also an opportunity to sell them at a great price to earn some crypto. There are many services that are ready to pay you in crypto of your choice for gift cards. Paxful is one of them, and it provides a platform for users from all over the world to trade gift cards. Crypto Voucher is a website where people can exchange their gift cards for Bitcoin vouchers which they can redeem on demand.
Buying a Bitcoin Gift Card
Moreover, some vendors sell Bitcoin Gift Cards to their clients. Mybitcards.com and CGift offer their clients the option of buying Bitcoin vouchers of different value. This can be a perfect present for any person and on any occasion since customers can send them to others and attach their messages.
Bitcoin Debit Cards
Crypto.com
Today, a considerable number of companies provide their clients with Bitcoin debit cards which allow them to quickly transfer funds from their crypto wallets and exchange them for fiat money. This technology seeks to facilitate the process of spending cryptocurrency for day-to-day transactions by integrating it with the major payment platforms such as Visa and Mastercard.
Crypto.com is an established exchange service that has been in operation since 2016. It issues its own crypto cards in partnership with Visa. The particular type of the company's card is "prepaid" which is not the same as debit. The key difference lies in the fact that the prepaid variant does not entail the necessity to link it to a checking account, as the debit card does. Instead, its owner must simply top it up to use it. Crypto.com's card can be loaded via other credit/debit cards, bank account transfers, and cryptocurrency. There are several card tiers, from free Midnight Blue to Obsidian which requires a purchase of $400,000-worth of the platform's native CRO tokens. The latter option will furnish clients with a 10% reimbursement for Airbnb bookings and an 8% cashback on spending. Nevertheless, the less expensive choices such as Ruby Steel also provide decent benefits, including full reimbursement of Spotify subscription.
Coinbase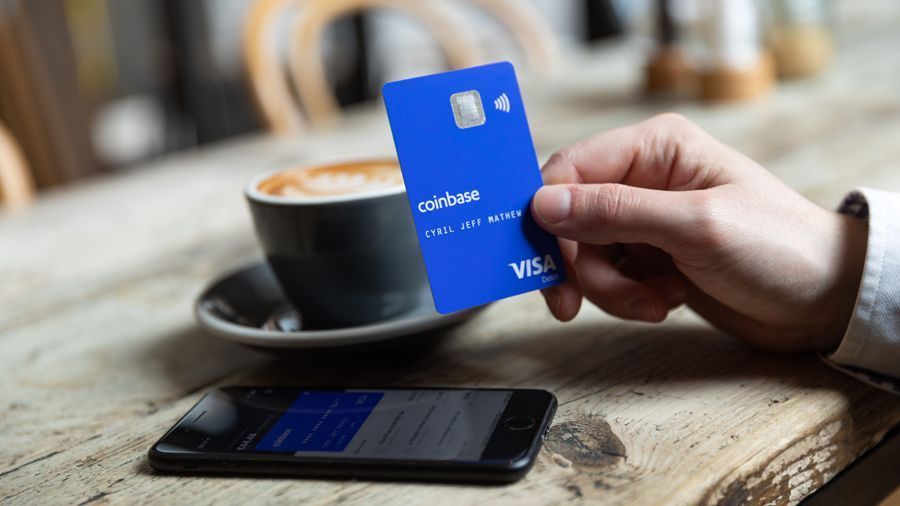 Coinbase is another popular exchange platform that also partnered with Visa to deliver its crypto debit card to clients. Unlike its competitor from Crypto.com, the card does not have to be topped up with fiat before using. Instead, it converts cryptocurrency on demand removing the need to perform a tiresome process of exchanging coins for dollars or euros prior to making a purchase, thus saving the users' time. Additionally, it allows its owners from the US to spend thirty different cryptocurrencies, including Bitcoin and Ethereum, while the cardholders in Europe have to choose only from nine available types of coins. There is also a user-friendly app that facilitates the managing of the card, lists all past transactions, and features two-step verification to ensure ultimate security. Coinbase presents those who use its card with an opportunity to earn a 1% cashback in Bitcoin on all of their purchases from hundreds of thousands of Visa vendors worldwide.
Wirex
Wirex is a company from the UK that provides crypto wallets to customers from Europe. As a result, its Visa debit card is available to people living in this region and countries such as Australia and New Zealand. Unfortunately, US citizens cannot own a Wirex card and utilize the platform's services. One of the most attractive aspects of the Wirex card is the absence of issuance and monthly fees. The Wirex card incorporates both of the aforementioned methods of spending cryptocurrency. Cardholders can transfer their crypto funds to their Wirex fiat account or pay directly with crypto. In the case of the latter, Wirex will automatically convert the amount in Bitcoin or other coins to euros or dollars. Wirex users also can earn a 1.5% Bitcoin cashback on their purchases, yet to do it, they must own and hold the platform's native token WXT. Wirex supports several cryptocurrencies, including Ethereum, Litecoin, and XRP.
Conclusion
Cryptocurrencies are an exciting method of payment, yet, currently, not many vendors accept them, although their number is growing every day, with big names in various industries entering the game, like Tesla. While there is no doubt that the situation will improve in the future, enthusiasts can already utilize a variety of ways to use their crypto funds. The two most apparent and common of them involve buying companies' gift cards with Bitcoin and applying for a crypto debit card. Utilizing these two methods can help avoid the necessity to turn to fiat money for day-to-day transactions and can assist the crypto community in expediting mass adoption.