The recent cryptocurrency craze and the growing interest in digital assets among the general population triggered a new wave of companies accepting cryptocurrencies as a form of payment. Perhaps, Tesla is the most prominent example of a major brand that embraced crypto payments. It is unclear whether the trend of well-established companies adopting digital assets is here to stay, but it is quite likely that we will see several new companies announcing their crypto plans in the near future. Walmart is the name that the media frequently associate with crypto adoption. Although Walmart does not offer its clients the option of paying with crypto, some experts believe that the company may start doing it soon. Read this article and learn about the tricky Walmart-Bitcoin relationship and how to use Bitcoin at Walmart.
Key points:
Walmart is one of the biggest names in the retail industry.
The company does not feature crypto payments at the moment, yet there is strong evidence of supporting crypto—Walmart might begin to accept crypto payments at some point that might come relatively soon.
You can deploy a Bitcoin and altcoins payment gateway thanks to NOWPayments.
Walmart and Crypto
Walmart accepting Litecoin
In September 2021, the news about Walmart accepting Litecoin broke the Internet. The value of the cryptocurrency rose by 20% when a press release was published online that said that the retailer was partnering with Litecoin to bring crypto payments to its stores. Sadly, the announcement turned out to be fake. The company's representatives later explained that Litecoin payments were not part of their strategy and the press release was simply fraudulent. At the same time later on Monday, Litecoin Foundation had to make a statement reiterating that a social media team member "was a little too eager and shared the story from the Litecoin Twitter account. This was quickly deleted and we have taken steps to correct future issues."Although the whole situation was a significant disappointment for crypto investors around the world, there is still some hope.
Walmart hiring a crypto expert
Despite the fake press release, Walmart was, in fact, considering venturing into the crypto sphere. The news about the matter spread in August 2021. Such rumors spread after the company's recent job posting for the position of Digital Currency and Cryptocurrency Product Lead. Essentially, Walmart is looking for a person who would be able to design a strategy on how the company could approach crypto. According to the job description, the company wanted to find a person who would be able to "identify crypto-related investments and partnerships."
Will Walmart accept crypto?
Walmart's use of blockchain
Walmart has already had experience with integrating blockchain technology in its operations. Several years ago, the company partnered with IBM to create a private blockchain system for controlling and managing the supply chain of the retailer. The results after the implementation of the technology showed that the blockchain had a positive effect on the performance of the company. This indicates that Walmart has staff familiar with the concept of blockchain and its basic principles.
In January 2022, CNBC shared that Walmart is entering the metaverse via creating its own cryptocurrency and NFTs. In their statement, Walmart emphasized the importance of emerging technologies and ways they may "shape future shopping experiences."
The possibility of Walmart accepting crypto

Taking into consideration the previous experience of the company with blockchain and its recent job posting, it is possible to assume that Walmart is viewing and assessing the option of cryptocurrency payments. Walmart's management understands that the crypto industry is rapidly developing and thus presents an ideal opportunity for the company. Featuring crypto payments would certainly yield Walmart a new source of competitive advantage. Therefore, it is pretty likely that the further growth of crypto will make Walmart take Bitcoin and other cryptocurrencies as a payment method.
How to pay at Walmart with crypto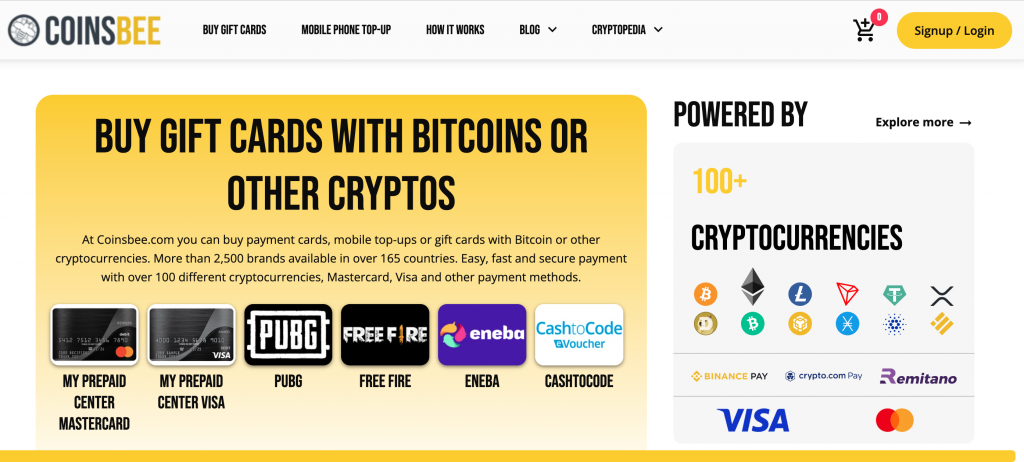 Nevertheless, devoted crypto fans can already use Bitcoin at Walmart. We are speaking, of course, about gift cards. Today, there are numerous websites that let users get the right Bitcoin gift card Walmart accepts. For instance, Coinsbee offers Walmart gift cards from the United States, Canada, and China. Users also can choose the value of a gift card. Coinsbee features dozens of cryptocurrencies as a form of payment, including Litecoin and Dash.
Accept crypto as payment
If you own a company and want to start accepting cryptocurrencies before Walmart starts doing it, you can utilize NOWPayments' solutions. Crypto invoices are a tool ideal for small businesses. Crypto invoices are reusable and contain all the essential payment details necessary for conducting a transaction. Brick-and-mortar stores can utilize a web-based Point-of-Sale terminal for issuing individual crypto invoices.
Stores deployed on PrestaShop, WooCommerce, Magento 2, WHMCS, OpenCart, Zen Cart, Shopify, and Shopware can accept crypto with a plugin.
Charities, bloggers, and Twitch streamers can accept donations with the help of widgets, buttons, and links.
Here's how you can create an invoice using NOWPayments solution:

Log in or register at NOWPayments — it's free of charge
In your Dashboard, go to the "Store Settings" section and add your crypto payout wallet. NOWPayments supports different wallets, including the cold ones.
Right under the "Payout wallet" window, create an API key by clicking on "Create new API key".
Go to the "Invoices section" and click on "Create invoice"
Enter the Order description and Order ID (both are optional), choose your favourite crypto as the Pay currency (required), and finally enter the price in your base currency (USD, or any other).
Click on "Create invoice" once again.
In the appeared window copy the permanent link and send it to your customer
Wait until the customer pays for your goods, and then receive your crypto right in your wallet!
FAQ
Does Walmart accept Bitcoin?
No, Walmart doesn't accept Bitcoin directly. However, you can use crypto gift cards, such as Coinsbee or Bitrefill, in order to pay with Bitcoin in Walmart.
Does Walmart accept cryptocurrency?
As of July 2022, Walmart doesn't accept cryptocurrency directly. You can pay with crypto at Walmart via buying gift cards (Coinsbee or Bitrefill being one of them). There are high chances that Walmart will be accepting cryptocurrencies soon as their CFO Brett Biggs mentioned in December 2021 that the company was open to allowing shoppers to pay in cryptocurrency if customers demand it. However, the company doesn't take the steps of crypto adoption in a rush.
What stores accept cryptocurrencies?
In 2021, over 18000 companies accepted cryptocurrency payments. Among them, some big players can be found, such as:
Travala
Microsoft
Wikipedia
Whole Foods
Rakuten
Starbucks
Paypal
Overstock
AT&T
Twitch
Amazon
Does Walmart have Bitcoin ATM machine?
Yes. In October 2021, Walmart partnered with ATM company Coinstar and installed 200 Bitcoin ATMs around the United States.
Can you buy Bitcoins at Walmart
Yes, you can. In order to do that, you have to find a Coinstar kiosk within the local Walmart. You also need an account with the cryptocurrency exchange Coinme. Please note that each purchase has a 4% fee and a cash exchange fee of 7%. Once you get there, you will receive a voucher that can be redeemed for BTC instantly at Coinme.
NB! You can only use paper cash to buy Bitcoin at Coinstar—metal coins are not accepted for BTC purchases.
Conclusion
Walmart is a big name in the retail industry. For now, the company does not feature crypto payments, yet there is evidence in support of the conjecture that it will begin doing it soon. NOWPayments offers its partners to deploy a Bitcoin payment gateway and outpace Walmart in the crypto race.