The crypto industry has been subject to a great deal of criticism because of security issues. Hacks, fraud, and other types of activities have caused millions of dollars worth of cryptocurrency to end up in the pockets of criminals. Yet, in reality, many crypto hacks happened not because of blockchains' failure but due to users' poor security measures. Businesses that want to deploy Bitcoin payments need to carefully approach the matter of security. First of all, they have to choose the right crypto payment gateway provider. Check out the key tips about how to pick a safe provider.
Key points:
Bitcoin payments gateway is a crypto payment processing service.
Merchants need to choose non-custodial services with instant payouts.
NOWPayments is a safe Bitcoin payment gateway letting you accept over 100 different cryptocurrencies.
What are Bitcoin payments? Do I really need them?
Bitcoin payments, what are they?
Bitcoin payments are similar to standard fiat payments. Essentially, businesses can accept Bitcoin payments from their clients using special services called crypto payment gateways. These services process crypto payments of their partners and facilitate the entire payment procedure. In some cases, crypto payment gateways enable businesses to charge their customers in Bitcoin and receive payments in fiat.
Advantages of Bitcoin payments
These features of Bitcoin payments can help you to decide whether you need to set up them or not:
First of all, to make and accept Bitcoin payments, one does not need to undergo any strict verification process. You can start sending and receiving Bitcoin transactions in a matter of minutes once you have your Bitcoin address.
Bitcoin payments are borderless, meaning that they can be transferred across the entire world without any delays or obstacles.
Bitcoin payments are anonymous since Bitcoin does not ask users for their personal information.
Bitcoin transactions are irreversible and decentralized, which makes it impossible to conduct chargebacks and thus solves the problem of chargeback fraud.
All Bitcoin transactions get recorded and stored on the Bitcoin blockchain, so it can help you with maintaining proper accounting at your business.
Ok, I need Bitcoin payments. So… how to choose the safest provider?
Pick non-custodial services
Your private keys are the most important thing when it comes to crypto security. A private key enables you to access your crypto funds. Therefore, it is essential that you store it in a safe place and do not disclose it to anyone. A custodial Bitcoin payment processor requires you to share your private keys with it. Basically, it gains full ownership over the cryptocurrency you receive as payment. Such an arrangement is not safe. Thus, you should always choose non-custodial providers, those that let you retain your private keys. By remaining the sole owner of your private keys, you make sure that no one will be able to steal your hard-earned Bitcoin.
Check providers' reputation
Another essential step you need to make when looking for Bitcoin payment solutions is to check every candidate's reputation. You can do it by going to special review websites and reading people's feedback about their experience with different providers. Usually, when a provider can be trusted, people will be happy to provide positive reviews about it and recommend it to other businesses. Additionally, you can try contacting heads of companies which already use Bitcoin payments and asking them about their choice of providers.
Make sure they guarantee instant payouts
The majority of Bitcoin payment gateways, even the non-custodial ones, use the following payment processing model. They first receive the payments and then send them to their partners. Essentially, companies that use crypto payment gateways do not get paid by their clients directly.
Instead, they rely on a BTC payment gateway to serve as an intermediary between them and their clients.
The safe payment processing services always guarantee instant payouts to their partners. Essentially, there should not be shady schemes which involve the need for businesses to send special requests to claim their crypto. Bitcoin payment processing solutions with proper safety and security automatically transfer the funds they process to their partners.
Verify providers' legality
The Bitcoin payment gateway you consider using to accept Bitcoin payments should always be legal. This means that these services have to be officially registered entities with physical addresses and all of the necessary licenses allowing them to conduct their operations. Usually, all of the legal information should be presented by providers on their websites. At the same time, you can contact them and request the information. By verifying the legality of the provider, you will be able to make sure that you will not face any legal issues when using the provider's services.
Analyze providers' partners
Finally, you can determine how safe the provider is by looking at the companies which are listed as its partners. For instance, Bitcoin payment gateways often partner with various exchanges to provide a crypto-to-fiat conversion tool to their clients. The solution that lets merchants automatically convert their Bitcoin payments to fiat currencies.
If your provider partners with a trusted exchange with a proper reputation, it is likely that the provider will be a safe option for you. Moreover, some Bitcoin payment gateways list major businesses that use their services in a special segment on their website. By looking at the list, you will also be able to understand whether you can trust the provider or not.
How to accept Bitcoin payments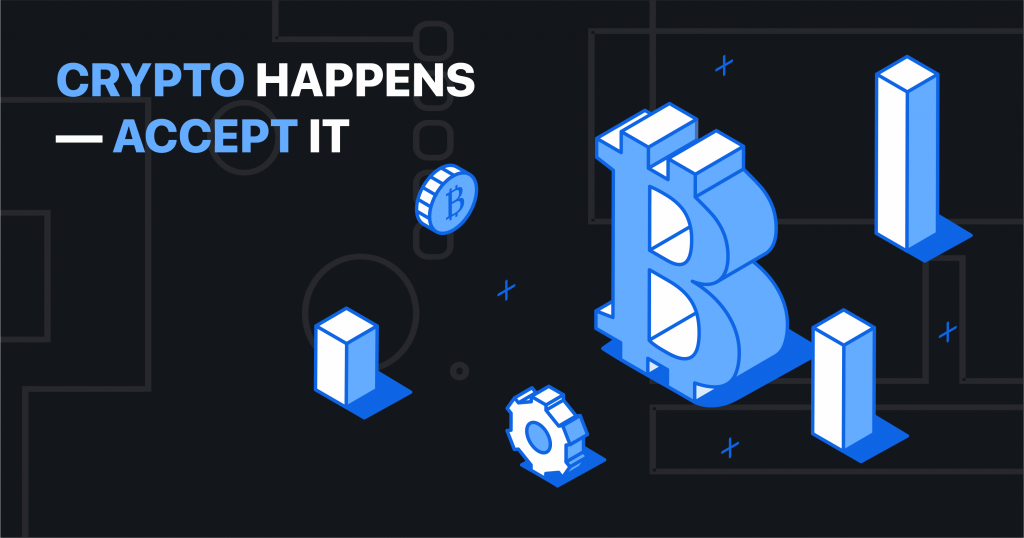 NOWPayments offers several tools for accepting BTC payments.
eCommerce plugins: These plugins are compatible with PrestaShop, WooCommerce, Magento 2, WHMCS, OpenCart, Zen Cart, Shopify, and Shopware.
Crypto invoices and a PoS terminal: Businesses can use crypto invoices and a virtual Point-of-Sale terminal.
Subscriptions: Some companies may deploy special subscription-based payments.
API: NOWPayments' versatile API enables businesses to create custom crypto payment solutions.
Donations: There is also an option of deploying coin donation widgets, buttons, and links.
Payouts: You can send mass payouts as a salary, bonus, reward, or rebate automatically to as many addresses as you wish.
Here's how you can create an invoice using NOWPayments solution:

Log in or register at NOWPayments — it's free of charge
In your Dashboard, go to the "Store Settings" section and add your Bitcoin payout wallet. NOWPayments supports different wallets, including the cold ones.
Right under the "Payout wallet" window, create an API key by clicking on "Create new API key".
Go to the "Invoices section" and click on "Create invoice"
Enter the Order description and Order ID (both are optional), choose your Bitcoin as the Pay currency (required), and finally enter the price in your base currency (USD, or any other).
Click on "Create invoice" once again.
In the appeared window copy the permanent link and send it to your customer
Wait until the customer pays for your goods, and then receive your crypto right in your wallet!
Conclusion
Crypto payments are on the rise, and businesses need to choose their crypto payment gateway provider carefully. NOWPayments is a non-custodial payment gateway that guarantees instant payouts to merchants and lets them accept Bitcoin and 100 other cryptocurrencies as payment or donation.