Klever Finance is a project with the purpose of creating innovative, easy-to-use, and secure products powered by peer-to-peer and blockchain technologies. KLV is the utility token powering the Klever Exchange and other products in the realm of Klever. KLV possesses numerous characteristics that make it a highly-versatile asset. For instance, the KLV coin can be successfully used as a means of donation. Non-profit organizations that strive to be at the forefront of technological progress can offer their donors a chance of making donations in the Klever coin.
Key points:
The Klever crypto is a viable solution for donations.
The KLV crypto donations can help non-profits boost their funding.
NOWPayments' tools make accepting Klever crypto donations easy.
What is Klever (KLV)?
As mentioned above, Klever is the cryptocurrency fueling the entire Klever ecosystem. This means that the Klever crypto is the prerequisite for any user wanting to engage with the Klever products. For instance, all coins supported on Klever Exchange have a direct trading pair to and from KLV. Additionally, KLV is necessary to conduct transactions and operations occurring within the Klever ecosystem. Specifically, all Klever Exchange trading fees, exchange fees, swap fees, and withdrawal fees are covered in KLV. Market makers can add liquidity to liquidity pools using KLV where users are able to participate in KLV mining pools and KLV staking.
How KLV donations benefit your non-profit
Increase your stream of donations
The KLV has massive support among crypto investors. So, there is a large number of people who closely follow all developments in the Klever ecosystem. Every new addition to the list of KLV use cases is a major event in the Klever community that attracts a great deal of attention. Non-profits can capitalize on this by rolling out KLV donations.
This can enable them to draw the gaze of a considerable share of the KLV community members to their organizations' causes. As a result, it is likely that many KLV investors will choose to support these organizations. They will donate KLV as a way to contribute to a good cause and show their token of appreciation for the creation of a new KLV use case.
Make your organization global
Every non-profit that wishes to accrue enough resources needs to go global and seek support from as many people as possible. This is why they need to have a reliable infrastructure for accepting donations from people from virtually every part of the world. The traditional donation solutions such as PayPal and bank transfers have many inherent obstacles such as delays, complicated registration processes, and geographical restrictions. So, it is a sound idea for non-profits to consider accepting crypto donations. For instance, by using KLV, organizations can provide every person on the planet with a chance to donate. Setting up a KLV address using the Klever wallet takes mere seconds and only an Internet connection is needed to conduct a transaction.
Reduce costs
KLV transactions can save non-profits and their donors a lot of money. The mainstream solutions for processing donations are quite costly since they charge users substantial fees. As a result, donors end up donating less money because a good share of their donation sums gets consumed by fees.
Moreover, in many cases fees prevent people from donating in the first place because they believe that the final donation sum will be so negligible due to fees that it does not make much sense to donate their money. With the help of KLV, non-profits can provide their donors with a low-fee donation option. KLV transactions are inexpensive since they have low gas fees, so it is a great option for organizations that do not want to lose funding.
Boost transparency and accountability
Transparency stands at the heart of any non-profit organization. One of the key responsibilities of these organizations is to inform their donors and supporters on how the funding is used. Usually, non-profits hire auditing firms that create independent research and publish final reports yet such services can be quite expensive. KLV offers a free way to achieve exemplary transparency. Basically, information about every KLV transaction gets recorded and stored on the blockchain. This information is made public and everyone can access it. By supplying its donors with its public KLV address, a non-profit organization can present them a chance to monitor all of its financial activities done in KLV.
Set up private donations
Despite the fact that KLV transactions are public, they are also anonymous. In other words, there is no way to tell who sent or received KLV since transactions are not tied to the names of the transaction participants. Klever does not ask users to share their personal details to begin using KLV.
There are no KYC procedures or other barriers. This is why KLV is a great choice for non-profits that want to have a private donation method. By sending KLV donations, your donors will be able to maintain their confidentiality and avoid exposing their personal information.
So… what are my options for accepting KLV donations?
There are several ways you can accept KLV donations using NOWPayments:
Here is a step-by-step instruction on how to create a KLV donation link:
Step 1.  Download and install the Klever Wallet app from this page.
Step 2. Open the app, read the Privacy Policy, agree to the terms, and tap on the Continue button. 
Step 3. Tap on Create Wallet button to create a new wallet with a new 12-word SEED. Then, create a PIN code of your choice. Remember your PIN code.
Step 4. Next, you will be shown the 12-word SEED of your wallet. It is so important to carefully write those 12-words on a piece of paper and store it somewhere safe. After, input the 12-words for confirmation and tap on the Verify button.
Step 5.  Congratulations, you now have your own KLV address.
Step 7. Enter your public KLV address (Please note that NOWPayments lets you use only the Tron Network-based KLV addresses).
Step 8. Go to Store Settings and create an API key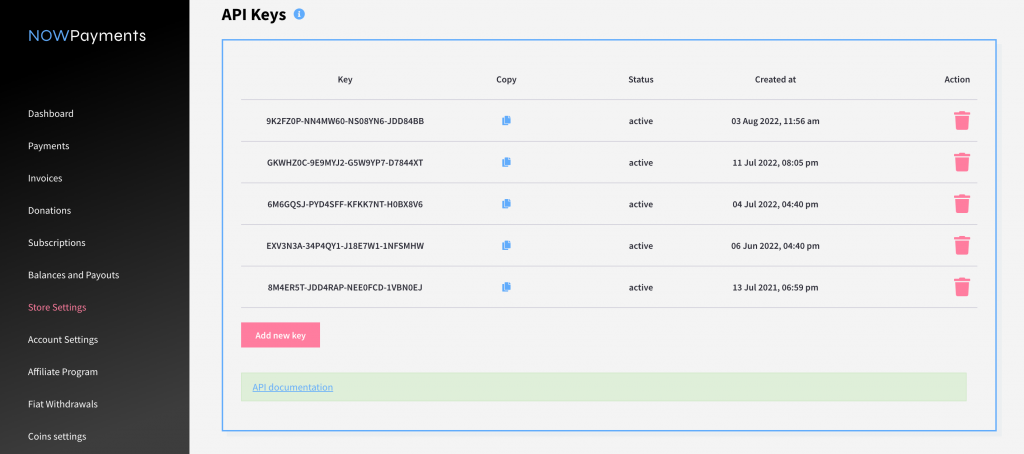 Step 9. Go to the Donations section and name your donation link however you want.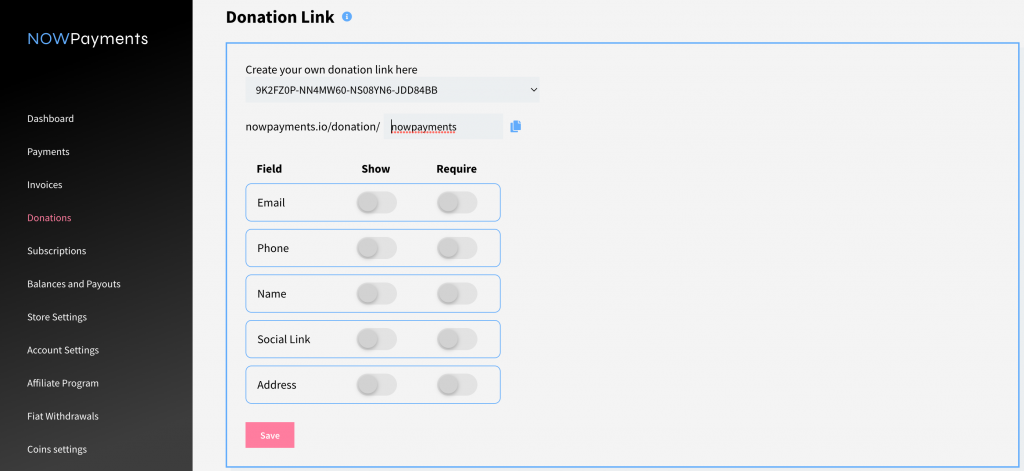 Step 10. Add the details to your link. Those are optional features that your donors will be able to fill in if needed (for example, if you want to thank them later in the video or something like that).
Step 11. Accept donations in KLV!
Conclusion
NOWPayments facilitates the process of accepting KLV donations for non-profit organizations.
Let's get Klever by reading these articles