Most of the major gaming platforms don't allow buying games with Bitcoin. However, you can buy pretty much any game you want with Bitcoin on third-party services. Websites such as Joltfun, Mmoga, and IndieGala offer thousands of games, including the latest and the most popular ones, at rather competitive prices. At Bitrefill and Keys4Coins, you can spend Bitcoin for Steam, Xbox gift cards which you can further use at the original platforms.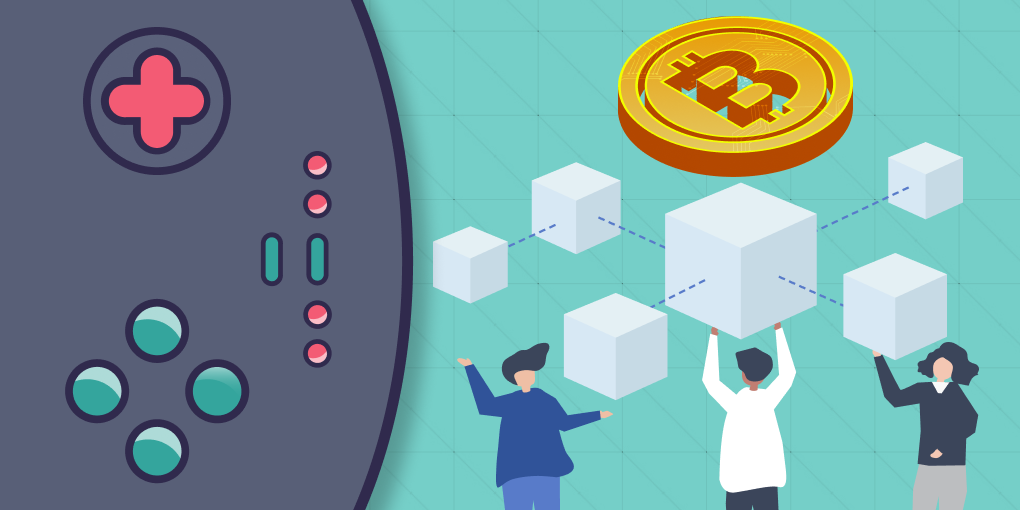 Platforms Selling Games for Crypto
Now, let's take a closer look at these services.
Joltfun
Joltfun is designed specifically for crypto enthusiastic gamers — it offers to buy PC games with Bitcoin right from the front page. Coinjournal crypto media calls it a "#1 shop to buy PC games with Bitcoin" as it "takes the crown based on its selection, overall prices, and user support."
At Joltfun, you buy games with Bitcoin directly — upon the purchase, you get a video game key. Here, you can buy Xbox One games with Bitcoin, buy Origin games with Bitcoin along with 8 other popular gaming platforms: Steam, PlayStation, Battle.Net, and more.
Choosing from 22,368 games means that basically, you can find here anything you may need. Joltfun offers Cyberpunk 2077 for $39.6, World of Warcraft: Shadowlands for $40.7, and Red Dead Redemption 2 Ultimate Edition for $50.9.
You can pay with Bitcoin on-chain or instantly with Lightning Network. With the latter, you get the game code immediately, while if you pay regularly with Bitcoin, it takes from minutes to hours depending on the network load.
IndieGala
IndieGala is another platform where you can buy game keys directly. It might not have every popular AAA trending on the market right now, but here are some perks of the platform that you may find attractive:
Bundle deals. 6-, 9-, and even 11-games packs are available for purchase at very competitive prices. You may not need all of them at once, but purchasing a pack may help you get a game you need with a nice discount.
Regular sales. For instance, at the time of writing, you could buy MotoGP with a 78% discount — for $12.49 instead of $49.99.
Gala Quizzes. This is a free way to get some GalaCredit — an internal currency you can spend on games and items. Earning up to 200$ worth of GalaCredit is possible!
Massive gameplay giveaways that last for a few hours each day. Here, you can win a Steam key if you beat the challenge.
IndieGala accepts payments in Bitcoin, Ethereum, Litecoin, and Bitcoin Cash.
Mmoga
Mmoga has been around for 12 years and has attracted over 7 million customers worldwide. The choice of games and gaming platforms here is abundant: you can find keys for the latest top games, classics, and even gamecards. Mmoga also sells virtual currencies like WoW Gold, Aion Kinah, Final Fantasy 14 Gil, and many more.
Mmoga has discounts for the recurring customers: if you spend 250€ in a period of 90 days, you get a 2.5% discount; 1,500€ in spendings in 90 days result in a 7.5% discount; and "Lifetime Patrons" who have spent 3,000€ have a 10% discount irrespective of the period: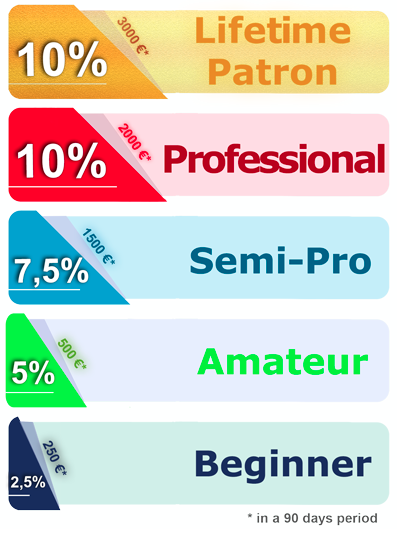 This may look too much for the one-time buyers, but the deal is quite good for those who have many repetitive expenses in gaming — Mmoga features a vast range of products for prices slightly higher than on Joltfun.
Mmoga accepts Bitcoin and a few major altcoins.
G2A
G2A is another place with an extensive collection of games which accepts Bitcoin. The website is easy to navigate and search for games by genre. Additionally, the platform sells tabletop games, as well as gaming hardware, including PlayStation 5.
Gift Cards
Bitrefill
There are also websites selling gift cards of major platforms which can get you video games. Bitrefill allows you to "buy gift cards for anything under the sun." This means that this platform is not really a gaming store and not specifically crypto-focused, but you can buy games on Steam with Bitcoin by buying a Steam gift card on Bitrefill. Fortnite, Battle.net, Minecraft, Xbox, and many other games are available.
To buy PS4 games with Bitcoin at Bitrefill, same as many other games, no account is necessary as stated — however, you will be asked for an email address for order status updates.
Other than gaming, Bitrefill offers to buy gift cards for traveling, entertainment, food, and a dozen other categories. When you choose your country, Bitrefill will show you all the local shops and services which you can buy gift cards for.
Bitrefill allows payment using Bitcoin, Litecoin, Ethereum, Dogecoin, and Dash.
Keys4Coins
Keys4Coins is something in between Joltfun and Bitrefill: here, you can purchase both game codes and gift cards. The platform offers over 19,000 products for Steam, 500+ Origin games and items, 76 Battle.net products, and more.
Can you buy Steam games with Bitcoin on the Steam website? You could use Bitcoin on Steam in 2017, but when the ICO craze hit the crypto market, the service quit using it. "High fees and volatility" were the reason. Thus, you can't buy games on Steam, but here's the gift card opportunity for crypto that provides a good alternative:
Prices at the platform are somewhere in the middle of the pack. While you can find quite nice deals on sale, prices, in general, are a little higher than on Joltfun and some other platforms. Cyberpunk 2077 goes here at $44.7.
Keys4Coins not only has plenty of keys but paying with a wide choice of currencies is possible here, including USD/EUR/GBP, BTC, ETH, XMR, DOGE, LTC, BCH, DASH, LTC.
Gyft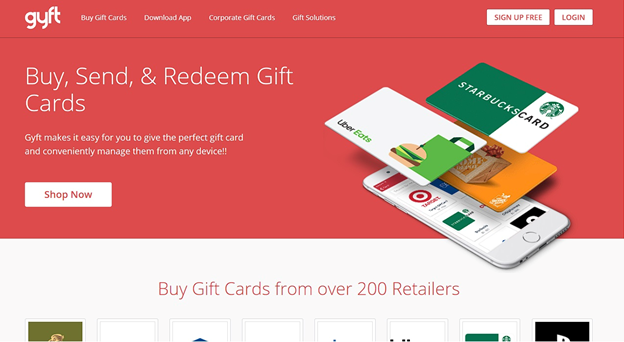 Gyft has truly one of the largest assortments of gift cards on the market, and the gaming segment here is also full of good deals. You can stock up on cards from GameStop, a beloved brand of all home-grown investors, or from Nintendo, PlayStation, Xbox Live, and a host of other major platforms. Gyft features Bitcoin payments, so any crypto investor will feel welcome there.
eGifter
eGifter is also a viable option for spending Bitcoin on some gift cards and then redeem them to get quality gaming titles. The platform sells gift cards from Google Play, Origin, PlayStation, and even Roblox. It also lets its clients pay in Bitcoin, Ethereum, Bitcoin Cash, and Litecoin, so eGifter truly boasts a great choice in all respects.
How to buy games with Bitcoin?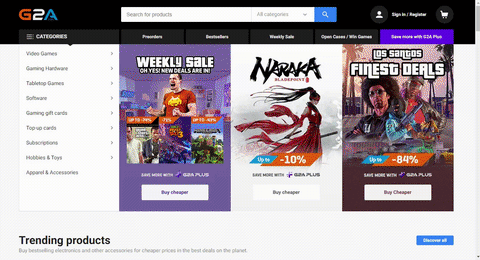 At the platforms listed above, this move is very simple and similar to making any other Bitcoin payment — you choose an item, proceed to the cart, choose the payment option, and then either scan a QR code or type in the seller's BTC address in your wallet. That's it! In minutes, your purchase details will be in your email.
But let's take G2A as an example to see how it works.
First, you need to locate the product of your choice and then click on it.
Then, you need to place the item in your cart by pressing the "Add to cart" button.
Once you settle on the products you want to purchase, you need to go to the cart and press the cart icon in the top right corner.
Next, G2A will ask you to enter your e-mail.
After providing your email address, you need to press the "Continue to payment" button.
Choose Bitcoin as your preferred currency and press "Continue."
Then, you will be given the sum you need to pay in Bitcoin and a QR code to make your transaction.
Once you pay for the product, you will receive its code in an email.
Gaming is only one of the many fields where you can pay with crypto. Check out where you can pay with Ethereum, Litecoin, and even Dogecoin.