Tesla does not need an introduction. It is a company with a following of a scale which can only be compared to Apple. There is hardly one person who does not like Tesla, especially in the crypto community. Everyone was over the moon after Elon Musk had declared that Tesla was going to accept Bitcoin as payment for the brand's iconic electric cars. Yet, only two months later, Musk once again went on Twitter to share an announcement about Tesla stopping Bitcoin payments. Such news triggered an unfortunate chain of events which led to a small crypto market crash. Read our article to learn the answer to the question "Why is Tesla no longer accepting Bitcoin?"
Key Points:
Tesla began accepting Bitcoin payments since its CEO, Elon Musk, supports cryptocurrency
The company stopped featuring the Bitcoin payment method two months later due to environmental concerns.
Tesla is likely to resume accepting Bitcoin once Bitcoin mining becomes more sustainable.
Why did Tesla accept Bitcoin?
It is possible to say that Tesla's decision to accept Bitcoin lay with Elon Musk alone. Musk is a great supporter of cryptocurrencies. He has a long history of posting tweets about Bitcoin. Perhaps, the most controversial tweet emerged in 2018 when Musk wrote "Wanna buy some Bitcoin," which ultimately got his account suspended because Twitter thought that Musk's account was hacked.
In 2020, Musk also tweeted, "Bitcoin is my safe word," which prompted many people to assume that Musk was truly an admirer of the first cryptocurrency and something was about to happen soon.
The further timeline went this way: In January of 2021, Musk changes his Twitter bio to "#bitcoin," and writes that it was inevitable. The real meaning behind the billionaire's move is hard to decipher, but it certainly must have been a precursor of the further actions made by Tesla. Then, in February, Tesla buys Bitcoin, $1.5 worth of it. Finally, in March of 2021, Musk goes on Twitter to say that consumers now can purchase a Tesla with Bitcoin.
Considering the history of Musk's tweets about Bitcoin, it becomes clear that the motivation behind Tesla's adoption of the cryptocurrency stems from the CEO's support for Bitcoin. Moreover, the increasing number of Bitcoin holders also might have contributed to Tesla's bold move. Given the fact that the Bitcoin community is growing in size, more people are willing to use their crypto as payment to buy goods and services.
Reasons to stop accepting it?
What are the climate concerns about Bitcoin?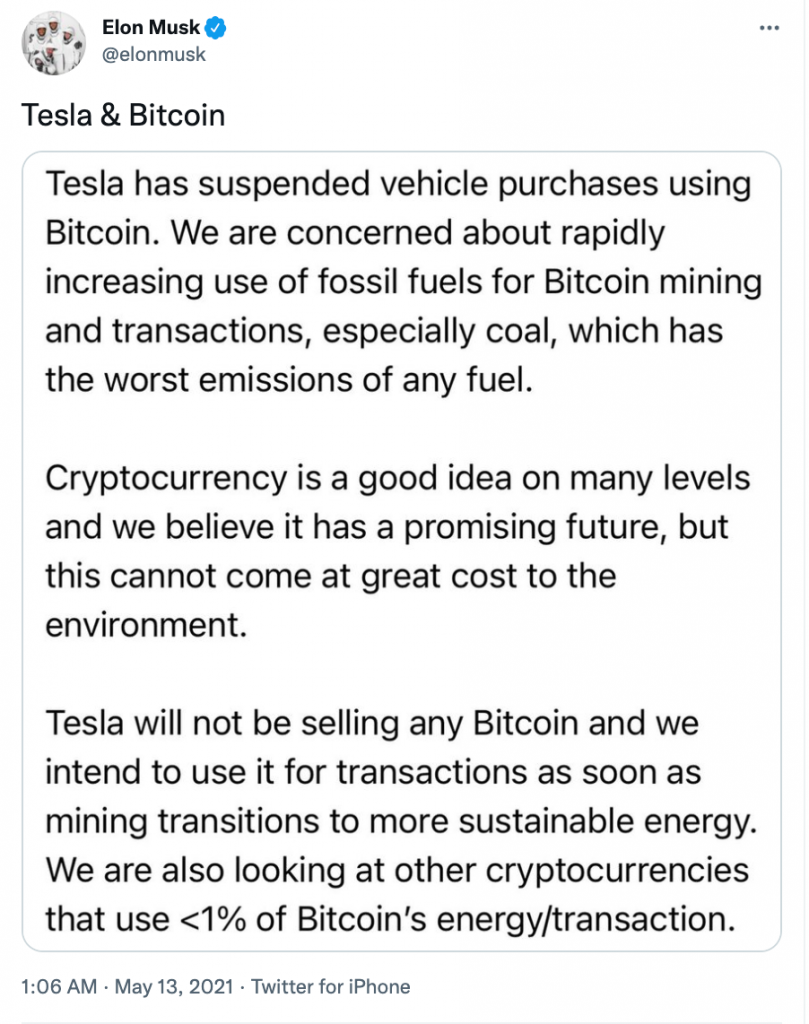 As mentioned above, Tesla featured Bitcoin payments only for two months, and in May of 2021, Musk announced that the company was stopping accepting cryptocurrency. Musk went in-depth to explain the decision. According to the CEO, Bitcoin mining is not sustainable. Namely, Musk believes that a large portion of the mining capacity on the Bitcoin blockchain comes from mining facilities that utilize power produced as a result of the burning of fossil fuels such as coal.
Such a view on Bitcoin mining does have certain grounds. For instance, before a massive government crackdown, many Chinese miners used electricity from coal power plants. Yet, in 2021, China introduced strict regulations virtually banning any kind of cryptocurrency mining activity. The restrictions in China led to the surge of mining in other countries such as Kazakhstan, where 90% of the nation's energy comes from coal burning.
Nevertheless, Musk's concerns can be quite blown out of proportion since, in the majority of cases, Bitcoin mining is powered by clean energy. For example, in Iceland, where 8% of all Bitcoin is mined, geothermal and hydroelectric power generate 100% of the country's energy. That is why saying that Bitcoin mining is not sustainable might not be entirely correct.
When will Tesla begin to accept Bitcoin again?
As of September of 2021, Tesla has not resumed accepting Bitcoin as payment for its vehicles. Yet, there is a considerable chance that it will soon do it. First of all, Musk has repeatedly said that a scenario where Tesla sells Bitcoin bought previously in its entirety is not possible. In other words, Tesla will continue holding cryptocurrency on its balance sheet. Additionally, in June, Musk wrote on Twitter that Tesla was most likely to accept Bitcoin once again in the near future. There is even one condition. It must be confirmed with evidence that at least 50% of Bitcoin mining comes from clean energy. Once Musk sees such a confirmation, Tesla will continue accepting Bitcoin as payment.
There is also a possibility of Tesla accepting other cryptocurrencies, including Dogecoin, for which Musk also has an affection.
How to accept Bitcoin
If you are looking for a solution for accepting Bitcoin payments, you can use NOWPayments' services. NOWPayments provides several tools which enable companies and individuals to deploy their own cryptocurrency payment gateway.
You can set up crypto invoices or special plugins for platforms such as Shopify, WooCommerce, and PrestaShop. While streamers or charities can accept crypto donations using NOWPayments' widgets, buttons, and links. You can also add the crypto-to-fiat conversion feature, which will automatically convert crypto payments of your clients into a fiat currency.
Conclusion
Tesla is one of the biggest automotive companies in the world, and it is led by Elon Musk, a man whose name is synonymous with innovation. In 2021, Tesla began accepting Bitcoin payments but soon had to close this option for its clients due to environmental concerns. The company's CEO stated that Tesla was most likely to feature Bitcoin payments again, especially if Bitcoin mining becomes more sustainable.