In 2021, there was an unprecedented rise of meme coins, the market was literally flooded with them. Their popularity is largely due to influential people leaving their opinions on social networks. Why are meme coins so popular and is it worth investing in them? Let's consider further.
Key Points:
The popularity of the cryptocurrency meme is growing largely due to the influence of influencers and powerful community.
Meme coins are more volatile assets, which can bring both large profits and losses.
NOWPayments provides an opportunity to start accepting meme coins.
What is a meme coin?
As a rule, meme coins have no innate value or even usefulness. As you can guess from the name of these cryptocurrencies, they are often (but not always) inspired by Internet memes: jokes and pictures from social networks.
The very first meme coin, Dogecoin (DOGE), is based on the long-running meme Doge — a photo of a dog of the Shiba Inu breed. At the same time, a separate blockchain is used in Dogecoin, thanks to which the cryptocurrency stands out from all other meme coins using existing blockchains.
The two most popular meme coins at the moment are the Dogecoin, Shiba Inu (SHIBA), an ERC-20 token created on the basis of Ethereum blockchain. But there are also dozens of other similar cryptocurrencies.
What is the difference between cryptocurrency and meme coins?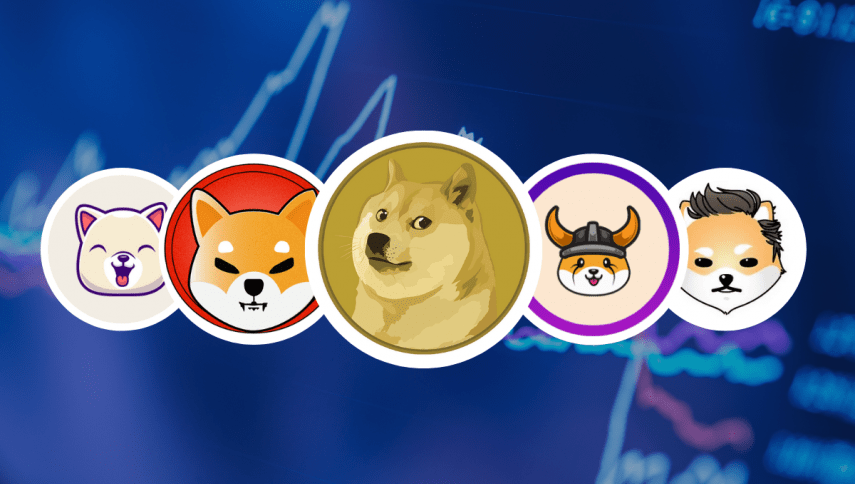 All cryptocurrencies rely on their user communities and on the support of influencers. However, meme coins have gained popularity largely due to strong associations with influential people like Elon Musk. The CEO of Tesla simply needs to make a tweet on any topic (even about the children's song Baby Shark), as the price of a token based on this topic will begin to soar at the speed of light.
Meanwhile, the creators of meme coins are doing their best to get into the news summary in order to increase the price of tokens. So, the creators of Shiba Inu decided to give half of all SHIB tokens to Ethereum co-founder Vitalik Buterin. But he ruined their plans by burning and donating most of the tokens received, after which he publicly appealed to all cryptocurrency developers, asking them not to transfer tokens to him without his consent. He ended the address with the words "I don't want to be a locus to be a locus of power of that kind".
To date, meme tokens accounted for about 2.5% of the cryptocurrency market capitalization, and the value of the entire sector was estimated at $38 billion. But sharp jumps in value in this market are a common thing.
Any meme cryptocurrency is characterized by a large number of tokens in circulation and often this number reaches quadrillions.
Should you invest in meme coins? Won't you get burned?
Whether or not to invest in any crypto asset is up to you. We cannot give any guarantees on investment issues, neither in the case of ordinary cryptocurrencies, nor in the case of meme coins. But we can say with confidence that such assets are worth considering for several reasons:
They have a powerful and dedicated community. All the same Dogecoin, for example, has more than 3 million followers on Twitter, which is not far from the crypto Bitcoin. Shiba Inu with its 2.8 million subscribers is not far away either. As we all know, one of the reasons for the rise in the price of cryptocurrencies is the value that people themselves put in it, and with such large communities, we can say that the value of meme coins will only grow.
Often the price of meme coins is more volatile, which can make good money. Naturally, as with other investments, there are risks, but it is worth noting that the price of a meme coin is very susceptible to news and statements from popular personalities. After Elon Musk's tweet with just the word "Doge", the price of the meme coin increased by almost 50%.
They have practical applications. Meme coins are very popular among merchants, for example, Dogecoin is accepted for payment by more than 1400 companies around the world (according to Cryptwerk). In addition, meme cryptos are often widely distributed in the sphere of philanthropy.
Why are meme coins good for payments
As mentioned earlier, meme coins are widely used as a payment instrument. There are a number of reasons for this:
Community
Meme coins have many-millioned armies of subscribers who are only happy to see their favorite coins as a payment option. It is simply unprofitable to miss such a crowd of potential customers, so many companies are introducing meme coins as a payment method. 
Fees
Transactions on the crypto meme networks are often more profitable than in Bitcoin or Ethereum. In addition, the price and fees of such cryptocurrencies allow you to make micropayments.
Security
For the most part, meme cryptocurrencies are located on the Ethereum blockchain, which is one of the most reliable and secure on the market. Therefore, users should not worry about the safety of their funds. 
NOWPayments provides a number of payment tools that are able to meet any needs. You can configure the acceptance of meme coins in your store by installing one of our crypto plugins. In addition, just a few lines of code and you will be able to set up payment acceptance via the API on any website, application, and so on. We also provide the opportunity to create invoices that favorably differ in their simplicity and conciseness. Even brick-and-mortar store owners can accept meme coins using our Point-of-Sale terminals.
10 Best meme coins
The most popular and also the largest by capitalization meme coins today are the following ones:
Dogecoin
Shiba Inu
Kishu Inu
Baby Doge Coin
Floki Inu
Keanu Inu
Hogecoin
Dogelon Mars
Samoyedcoin
MonaCoin
NOWPayments provides an opportunity to accept most of the listed coins (and listing more each month!), if you have not found the cryptocurrency you need in our list, you can contact us and we will do our best to list it soon.