Every blockchain that enters the market wishes to distinguish itself by offering unique features. Some networks fail and go to the back of the Coinmarketcap list, while others reign supreme thanks to their cutting-edge technology.
Zilliqa belongs to the second type of blockchains. Being the first in the industry to implement sharding, Zilliqa has earned a reputation as a state-of-the-art network. Naturally, Zilliqa has a large fanbase, and many Zilliqa supporters have successful social media accounts. Check this list of top 10 Zilliqa influencers and discover the accounts you need to follow to get to know the project better.
Key Points:
Zilliqa is undoubtedly a popular digital asset with a large following.
Many personalities on social media, including Chase Raz, support Zilliqa.
NOWPayments enables businesses to accept ZIL payments.
10 Zilliqa influencers
Amrit Kummer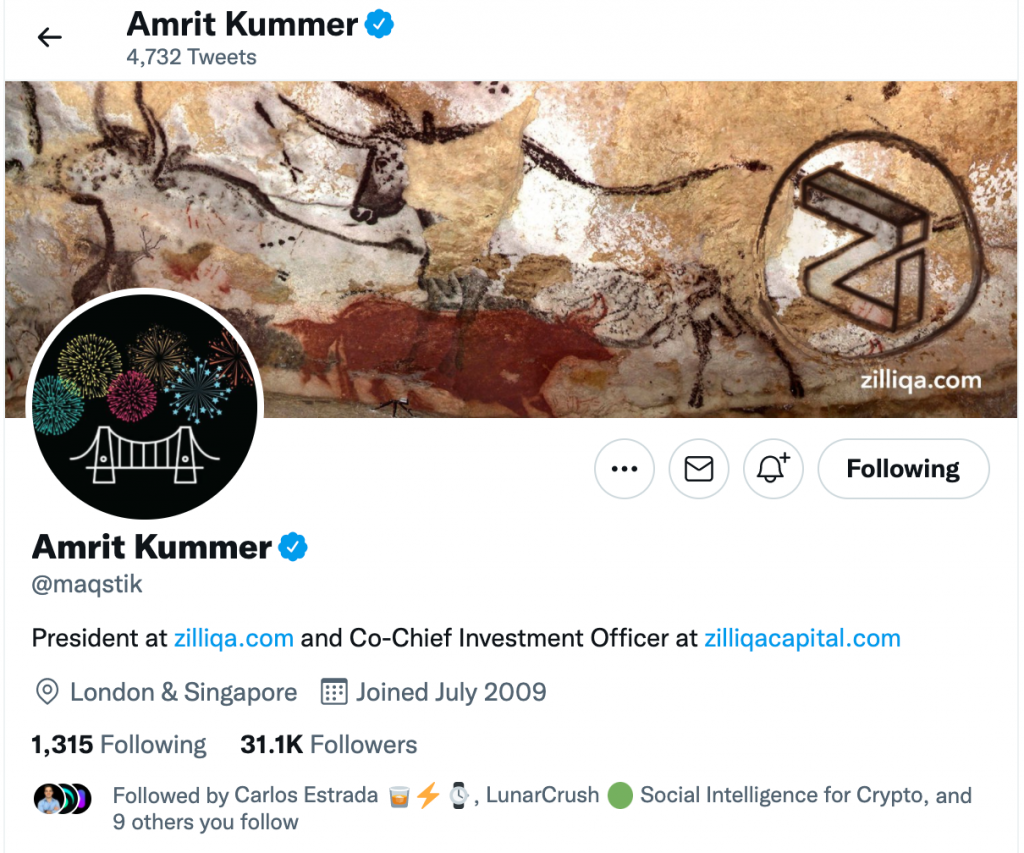 It is of course impossible to talk about Zilliqa without mentioning Amrit Kummer – President at Zilliqa and Co-Chief Investment Officer at Zilliqa Capital. This is the account for everything Zilliqa!
Nycjude
Nycjude is a Twitter account run by a devoted fan of Zilliqa Jude, who is using the project's ecosystem to the fullest. Jude is always posting insightful tweets and making retweets of interesting info related to Zilliqa. Jude has his way around Zilliqa staking and NFT issuing, so if you want to learn more about his perspective on different features of the blockchain, you can ask him in the replies section. Moreover, Jude is also passionate about other crypto projects, so those who wish to diversify their portfolio beyond Zilliqa can follow Jude to be more up-to-date on all of the exciting crypto projects right now.
Zekromo
Zekromo is a Twitter personality which is a must to follow for every Zilliqa enthusiast. Zekromo regularly provides an extensive account of Zilliqa's price dynamics which enables investors to predict the value fluctuations more accurately. Zekromo also publishes reports on the development of the project and its ecosystem. For instance, this thread constitutes a fantastic source of info on Zilliqa's news over one week. Zekromo should definitely be on your list of Zilliqa influencers because this account is practically all you need to stay aware of Zilliqa's development.
Wildnwity.crypto
Wildnwity.crypto is an "admirer of Zilliqa" who often shares relevant news with the project's community. On Wildnwity.crypto page on Twitter, you can discover both rumors concerning Zilliqa, as well as the hottest updates. For instance, Wildnwity.crypto was among the first in the community to tweet about ZIL getting into the top 10 of coins according to Galaxy score. Wildnwity.crypto's tweets are not limited to Zilliqa alone, so you can also come across many other pieces of quality content from the crypto realm.
ChocoBoy.Zil
ChocoBoy.Zil is another prominent member of the Zilliqa community and a "Self-proclaimed ambassador of Zilliqa." ChocoBoy.Zil often tweets about various ecosystem projects of Zilliqa, such as ZilDucks. ChocoBoy.Zil's Twitter account is your choice if you are a seasoned Zilliqa investor who is already involved in the project. ChocoBoy.Zil also retweets many other Zilliqa influencers and fans.
Zoutaoji2015
Galin, also known as Zoutaoji2015, is the head of marketing for Zilliqa in China. He is attracting new community members and is working hard to bring the project to the Chinese audience. Galin actively promotes Zilliqa and makes it popular among people from China. Galin is part of the Zoro team, a group of Chinese Zilliqa fans who engage in different activities to let more people know about the project. Essentially, their goal is to establish Zilliqa's presence in China. Galin sometimes holds AMA sessions, so you can always ask him a question about Zilliqa. If you live in China and wish to be better informed about Zilliqa's news, you should definitely consider giving Galin a follow.
Chase Raz
Chase Raz is the name which is well-known in the Zilliqa community. Chase is perhaps one of the biggest Zilliqa enthusiasts who publicly root for their favorite blockchain. Chase even launched his own podcast titled The Zilliqa Observer, where he discusses topics related to the project and blockchain in general with exciting guests. Apart from being an amazing host, Chase is also an avid user of Twitter, where his account amassed an impressive following of more than 6000 people. Those who follow Chase's Twitter never miss a single piece of news about Zilliqa. Chase's tweets also can inspire you to study the unique technology of Zilliqa more closely.
Patricia Viennet
Patricia Viennet is the official community ambassador of Zilliqa as well as the head of the francophone community of the blockchain. Patricia's Twitter account is the ultimate destination for all French-speaking Zilliqa investors. There, one can learn about all the updates of the project and gain insights into the development of Zilliqa and its ecosystem. Nevertheless, following Patricia irrespective of your knowledge of French is also a good move since she Tweets in English too. So, if you have questions concerning the project and you wish to ask them in French or English, you are more than welcome at Patricia's Twitter account.
Jun Hao Tan
Jun Hao Tan is an absolute legend of the Zilliqa community. He is one of the founders of the project and vice-president. Currently, he also works as the Security & Platform Engineer at Zilliqa. Jun Hao Tan often shares interesting information on blockchain security. Additionally, he also posts general news about Zilliqa and its ecosystem. Jun Hao Tan's Twitter account is ideal for those who invest in Zilliqa and stake their coins since Jun Hao Tan frequently publishes information about the performance of Zilliqa's DeFi initiatives. For instance, Jun Hao Tan writes about ZilSwap's liquidity pools and provides data showing their current state.
Ben Livshits
Ben Livshits should be the first person on Twitter that Zilliqa investors have to follow. Ben is the CEO of Zilliqa and has a background in working with blockchain projects, including at Brave. Ben was appointed Zilliqa's CEO only recently, therefore, he does not yet have many Tweets about the project. Nevertheless, it is always wise to follow the person in charge of a project in case they decide to publish important news.
Max Kantelia
Max Kantelia is another founder of Zilliqa, who perhaps, has the most entertaining Twitter account in the community. Max is a fan of cars, so be ready to explore ZIL news and enjoy automotive beauties at the same time when browsing through the Twitter feed of Max. So, it is mandatory for you to follow Max if you also have a soft spot for ZIL and fast vehicles.
How to accept Zilliqa as payment
The influencers presented above have audiences of several thousand people consisting, for the most part, of Zilliqa investors. Individuals who own ZIL also want to spend their crypto funds, and businesses can offer them such an opportunity. NOWPayments provides companies with tools to deploy Zilliqa payment gateways.
A point-of-sale terminal is a popular solution for businesses that want to issue individual crypto invoices to their clients.
Owners of online stores hosted on PrestaShop, WooCommerce, Magento 2, WHMCS, OpenCart, Zen Cart, Shopify, or Shopware can make use of crypto plugins to accept ZIL payments.
Charities and bloggers, in their turn, can collect ZIL donations using widgets, buttons, and links.
Conclusion
Zilliqa is a popular blockchain that utilizes a unique technology of sharding to facilitate its operations. The project is supported by numerous people around the world, many of whom can be considered Zilliqa influencers. Businesses that want to get their share of ZIL can accept Zilliqa as payment.