Most non-tech people associate donations with online games. But today, accepting donations in crypto is no longer child play. Online donation is a voluntary transfer of money by the user to support who/whatever they want, be it a creative artist or a nonprofit organization. Donation revenue and interest in philanthropy continue to grow across the board. You can use various platforms and tools that empower nonprofits to securely accept cryptocurrency donations and receive funds the same way you donate BTC to your favourite bloggers and streamers. In this article, we will find out how to legally accept donations online from around the globe.
Key Points:
Donations are beneficial for both the giver and the taker: artists, gamers and bloggers make money doing what they love, and the audience feel emotionally connected to them and have fun watching their streams and admiring their skills.
Nonprofit organizations make a huge positive impact on society with the help of online donations and philanthropy initiatives like Twitch livestreams.
NOWPayments offers different donations tools: widgets, buttons, links, as well as custom solutions.
What to look for in the donations?
A donation can be seen as a way to monetize your hobby. For instance, in esports, money is transferred to the player's or the broadcast host's account so that they continue to do what they love and entertain the audience. In January 2019, the American streamer Exotic Chaotic received a donation of $ 75,000 from one of the viewers during the broadcast of the Fortnite gameplay walkthrough. This is the largest one-time donation in the history of the Twitch platform, but there have been quite a few similar cases.
The old-school way to raise money for your project is crowdfunding. Sites like Kickstarter help artists and creative entrepreneurs of all sorts get a certain amount for a specific purpose like making a movie or printing a book. Modern video makers prefer online donations during online broadcasts. Content creators like bloggers and streamers thank their audience via spending the donated money on buying equipment for their shows.
According to the demographic fundraising statistics, "the average donor in the United States is 64 years old and makes 2 charitable gifts a year". The impressive 54-55% of American millennials, gen x, and baby boomers donate online, inspired by social media and email.
So what's in it for the givers? The most important motive for a sponsor is to get a little closer to the talented person they admire. The audience is ready to pay for content thanks to emotional attachment: they listen to their favorite podcast when they walk the dog or go jogging. It is built into their routine, they get used to the fact that their actions are accompanied by a certain voice.
Those who donate during live streams can be motivated differently. Most people who watch streams and podcasts on Friday nights come home after work at the end of the long week, grab a beer, sit back, relax, and enjoy the show. They use live chat and often donate to get the opportunity to communicate with the show host. To some people, it is vitally important to help raise money for a good cause. As you will see from the following chapter, charitable donations have been on the rise in 2021.
Why accepting donations online is so important for nonprofits & fundraisers?
Nonprofit organizations make a global contribution by providing people with equal rights and opportunities. NPOs create a barrier-free environment for the disabled, assist in recreation and health improvement for older people. A number of social projects have been launched to help people during the pandemic. This year's fundraising numbers show overall giving has grown by 4.1%, while online giving has skyrocketed by 12.1% over 2021, the 6th consecutive year of growth.
According to the Global Trends in Giving Report, based on a survey of 13,468 donors worldwide in 2020
63% of US and Canadian philanthropists choose to donate online;
40% of donors in the US and Canada have donated at least once via Facebook and 12% via Instagram;
In Europe, the figures are 44% and 12%, respectively
Nonprofits come up with solutions to existential problems facing the world. Most importantly, online donations are the most suitable way to support these organizations. The recent game-changing one-time-donation was a gift from Twitter and Square co-founder and CEO, Jack Dorsey, with his #startsmall initiative. Dorsey's $3MM grant is meant to support 20k girls' education in rural regions of sub-Saharan Africa.
Another transforming initiative is live streams that are called "the new telethons". To solicit donations, gamers and bloggers use their massive media presence for the betterment of others. For instance, Twitch philanthropy long-play raised $75+ million for different charities between 2012 and 2017.
Why crypto donations?
The first advantages to mention about crypto donations are low fees and faster transactions processing. Donating cryptocurrency is a non-taxable event, meaning you do not owe capital gains tax on the appreciated amount and can deduct it from your taxes. This makes Bitcoin and other cryptocurrency donations one of the most tax-efficient ways to choose.
In addition to that, the transition to cryptocurrency payments allows you to expand your target audience, attract new customers, stay ahead of the competition and become a little more independent from traditional banking institutions. Large corps are embracing cryptocurrencies, with Microsoft, Whole Foods, and Tesla at the top of the list.
Ways to accept donations online
1. NOWPayments' Donation Widget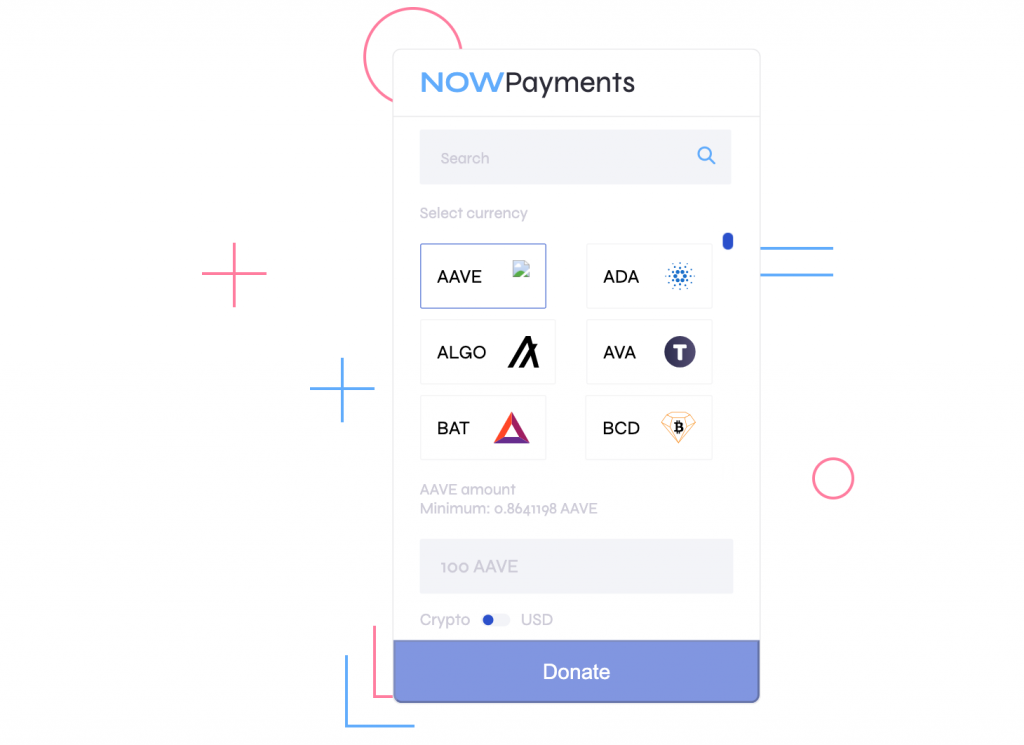 Receive donations anywhere on the Internet with NOWPayments simple and easy-to-use donation widget. Input your API key into the code snippet, embed the code into your website, and receive crypto donations in any coin from our asset selection from your audience directly to your wallet!
2. NOWPayments' Donation Buttons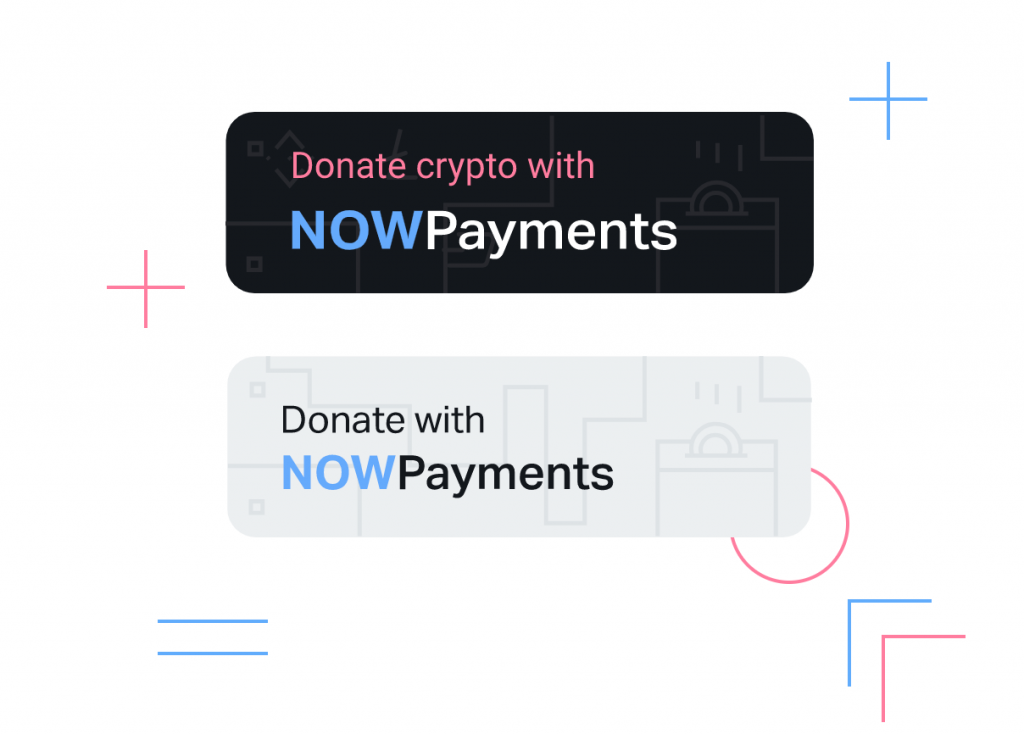 The donation button is a simple donation tool you can add to your website, blog, forum signature, or anything else. Simply paste the code into the platform of your choice and your visitors will be able to donate Bitcoin, Ethereum, or other crypto assets – in a blink of an eye!
3. NOWPayments' Donation Links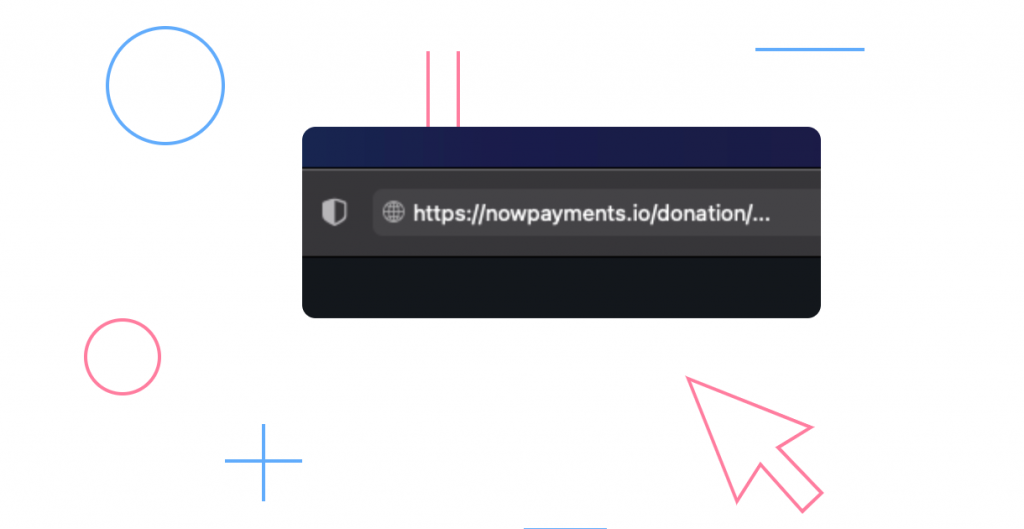 Are you a heavy social media user or don't want to deal with coding? Our customizable donation links allow you to receive donations on Twitter, YouTube, Facebook, or any other social platform or messenger. Share your link with friends and receive donations in an easy and streamlined way!
4. Custom Solutions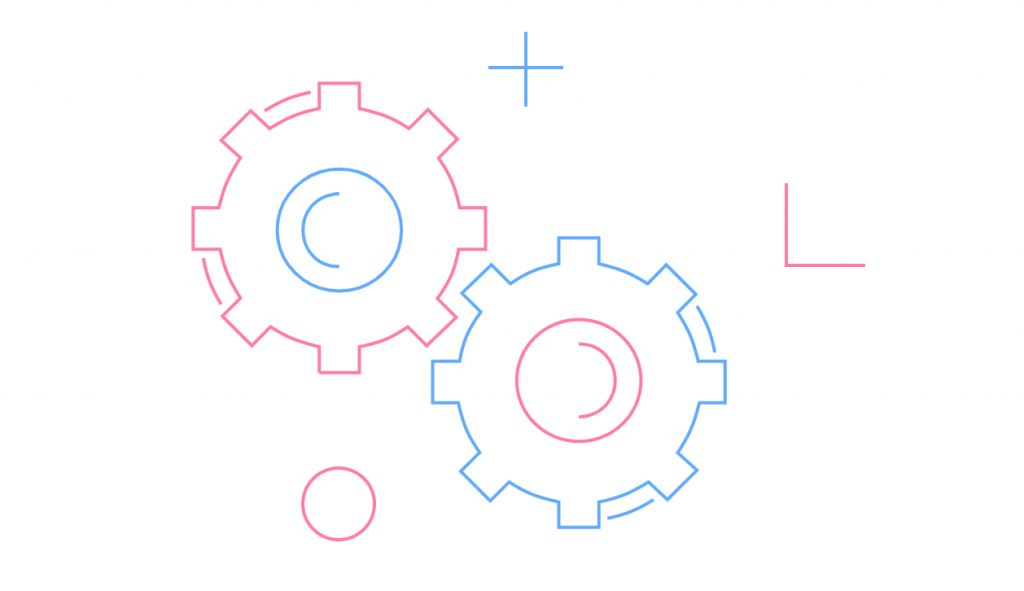 Whether you stream games, art, music, or Just Chat – you rock. Accept cryptocurrency donations for your Twitch streams with the NOWPayments donation button or request a solution of your own. We take pride in being a heavily client-friendly service. If you don't see anything that fits your needs but would still like to accept crypto donations, just hit us up and we'll make something that suits your needs the most!
5. Credit cards that accept crypto 
Credit cards that accept crypto is probably the most conventional way to collect online donations. Users can choose from dozens of cards issued by trading platforms and crypto exchanges. This spring, Visa announced that they're connecting their platform with the US Dollar Coin (USDC), which is a massive crypto mass adoption case.
The transnational payment system has become the first major payments network to settle transactions in cryptocurrency. This way is suitable for non-governmental organizations opting for traditional payment methods. Nevertheless, before putting their card number on a cryptocurrency donation page, developers should make sure donors can support the cause with several preferred cryptocurrencies, not only USDC stablecoin.
6. PayPal (almost there)
Cryptocurrency has officially gone mainstream with PayPal partnering with Paxos Trust Company to enable crypto payments through its platform in the future. The payment system has secured the first conditional cryptocurrency license from the New York State Department of Financial Services, which means potential new cryptocurrency donors for your nonprofit.
Millions of active PayPal users in the US (346,286,000) received an email inviting them to start using crypto. BTC, ETH, LTC, and BCH are on the PayPal wishlist of digital currencies. This way accepting donations will be really easy to implement. Nevertheless, for now, users can only buy, hold and sell cryptocurrency, but they can't donate it, according to PayPal's FAQ on the matter.
7. Twitter
This September, Twitter added the ability to transfer Bitcoins to bloggers through the "tipping" service. According to Twitter FAQ, "Tips is a feature that lets you add links to select third-party payment services to your Twitter profile". Social network users can send and receive BTC using the Strike app powered by the Bitcoin Lightning Network.
Further on, transfers will be made through one of the payment systems or platforms, including Patreon, Venmo, Bandcamp, Cash App, GoFundMe and others. The function is available on iOS for some countries (El Salvador, USA), but it is planned to be connected to Android. Twitter will not charge any fee for such transfers.
8. Crypto.com subscription App
If you are a content maker, a subscription is probably the easiest way to monetize your creativity and get you a fixed amount monthly for doing what you love. You can use your crypto wallet address as a tool to collect monthly donations. Or, even better, use a special tool to help your businesses collect subscription payments from your customers at regular intervals. That's exactly what Time Magazine did when it partnered with Crypto.com to offer crypto payments for digital subscriptions.
This is how the subscription feature works. You create a subscription payment page and direct your customers there to select the cryptocurrency and approve the subscription via the Crypto.com App. Once it is approved, payment of the first billing period is collected right away. In subsequent billing periods, payments will be automatically created and collected (provided your customers have sufficient funds in their Crypto.com App wallet).
9. Coinbase Commerce
You can sign up at Coinbase Commerce, a free tool to let you accept Bitcoin and other cryptocurrency donations. To do that you need to:
Create a checkout page.
Share it with your friends and customers.
Start getting donations.
10. Blockchain.com QR code
The setup sequence is as follows:
Go to the blockchain.info website and create a Bitcoin wallet (if missing), copy its address.
Enter the address of the wallet for receiving donations in the corresponding field.
The system will redirect to the page with summary data and transactions.
The page also contains a QR code ready to be used on the donation site.
Next to the QR code there is a link "Donation button". By clicking on it, a button code will be generated, which can be placed on the site.
What do you need to have on hand to withdraw funds?
One simply accepts crypto donations and exchanges them for US dollars according to the rules of the service they are using. When accepting Bitcoin donations, you must ensure that the site is secure. Otherwise, the wallet can be changed, intercepted during donation, and so on. Use an HTTPS certificate as a minimum.
Final words
We hope this article will help you choose the most suitable way to accept crypto donations. Choosing one of 10 tools will enable you to receive digital coins as means of payment for goods and services, separate payments, and save the funds received.
To sum up the bonuses, cryptocurrency donations offer minimum taxation, global availability, transparent monetary transactions, higher speed of transfers in comparison with fiat money, high potential for increasing the value of donations in the long term, due to fluctuations in exchange rates.
Last but not least, crypto donations boost the mass adoption of cryptocurrency. As you know, cryptocurrencies are money based on trust. The more widespread crypto is, the higher the prospects for its further growth. Given the above, we can conclude that cryptocurrencies are the future of the charity in the broad sense of this term and the future of donations as well.