The rapid adoption of cryptocurrencies helps the sphere of decentralized finance to move forward. Poodl is on a mission to build the DeFi of the future. To achieve its ultimate goal, Poodl is building a solid ecosystem of products that will offer investment opportunities to people. PoodlToken's vision strikes a chord with thousands of crypto enthusiasts who support the project and invest their money in it. NOWPayments enables companies and individuals to accept POODL as payment. Moreover, businesses can charge their clients in POODL and receive money in fiat thanks to NOWPayments' auto-conversion feature.
Key points:
POODL is a BEP-20 token powering the POODL ecosystem.
POODL payments are quick and borderless.
NOWPayments assists businesses in accepting POODL coin payments.
What is POODL?
POODL history
Many crypto enthusiasts still view POODL as another meme-coin, but in reality, the project has moved beyond this status and now can be considered a powerful force in the DeFi segment. Yet, the story of POODL is not all sunshine and roses. In fact, the original creators used POODL as a typical pump-and-dump coin during the meme-coin craze. Yet, thanks to the efforts of the community, the token survived and was able to reboot itself. In a short span of 1 month, the community built all social channels, and a new website, conducted an audit, filed a trademark and listed the new coin on several exchanges. The original team was replaced, and POODL 2.0 was launched, the version which is enjoyed by thousands of investors today.
POODL's vision
POODL is not stopping at simply being a successful coin, the team of the project has much bigger ambitions. It is clear that if POODL continued following the meme-token model, it would not be sustainable. So, to make the project actually valuable, the team is building a recognizable brand supported by its community. People from all over the world all contribute time and resources to create music, memes, official merchandise, NFTs, applications, and much more. POODL also has many active partnerships with charities to which the community donates. Basically, POODL is a long-term commitment of its community, and it is here to stay.
POODL tokenomics
The POODL token is the native cryptocurrency of the POODL project. It exists on the Binance Smart Chain, and it is a BEP-20 token. The total supply of POODL is 100,000,000,000,000 coins. Yet, since it is a deflationary cryptocurrency, its supply is expected to dwindle in the future. Currently, 20,000,000,000,000 tokens have already been burnt, which is excellent news for investors. Moreover, POODL has a redistribution mechanism that encourages people to invest in the coin and rewards them for holding it. Thus, sustainability is achieved, and any major exodus gets prevented.
POODL use cases
POODL has many use cases. For instance, the project has a collection of 3D NFTs called $POODL AR Pets. The project wants to make them compatible with the POODL augmented reality app. Holders will be able to use NFTs in the real world. The NFTs will also act as an element of on-chain gaming enabling players to earn from others while still retaining ownership. These NFTs will help usher in NFT 2.0 since they are usable, pinnable, scalable, movable, placeable, and viewable in the real world.
Advantages of POODL
Borderless transactions
POODL transactions are borderless since they have no limits, which are common in the banking industry. This means that POODL tokens can be transferred between users in several minutes without any delays. Moreover, the speed of POODL transactions is not affected by the distances between the two parties or jurisdictions' laws.
No chargeback
POODL can help businesses to get rid of chargeback fraud. POODL transactions are irreversible, meaning that once a sum in POODL crypto is sent to another address, it cannot be returned without the recipient's approval. Businesses that often suffer from chargeback fraud can solve this problem forever by enabling POODL payments.
Quick settlement
As mentioned above, POODL transactions take mere minutes. Every company wants to get paid as fast as possible, and POODL offers a real opportunity for streamlining your operations. Banks are the main institutions that process payments for businesses, yet they often have slow services. Companies looking for a quick way to get and send money can use POODL.
Privacy
POODL transactions are anonymous. So, users that send and receive POODL do not need to share their private information to do it. In the case of payments carried out with the help of banks, the two parties' personal information is always known to their banks. POODL payments are different since they are completely confidential.
True ownership
POODL tokens can be stored in non-custodial wallets, thus guaranteeing complete ownership to their holders. When businesses keep their money in banks, they subject their funds to risks such as possible bankruptcies and attacks on banks' infrastructure. Yet, by holding the POODL coin in special wallets, businesses can stay sole owners of their cryptocurrency and avoid issues inherent to traditional finance.
How to let customers pay Poodl token and get fiat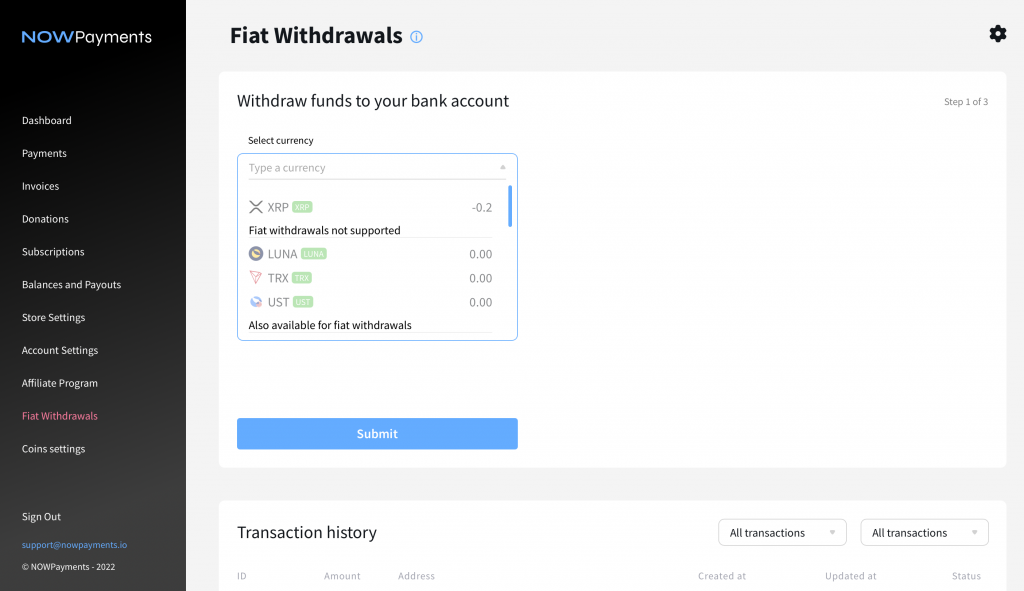 NOWPayments enables businesses to accept POODL token payments. Additionally, merchants can automatically convert the POODL they receive into fiat. NOWPayments has partnered with Switchere to facilitate the conversion process for clients. Although POODL is not supported by Switchere, merchants can still use the auto-conversion feature. By employing the built-in balances feature of NOWPayments, POODL can be converted to an asset supported by Switchere (e.g., XRP). Once the exchange is conducted, you will be able to withdraw your money in fiat.
This is how to enable fiat withdrawals feature:
Register and verify with our partner Switchere — safe, licensed, and trusted crypto exchange service.
Then, the merchants should enter the same email in NOWPayments account that they registered on Switchere.
Once registration is done, merchants can cash out to fiat as often as they want without any more doublechecks. The process will be conducted automatically and money will land into the chosen SEPA bank account.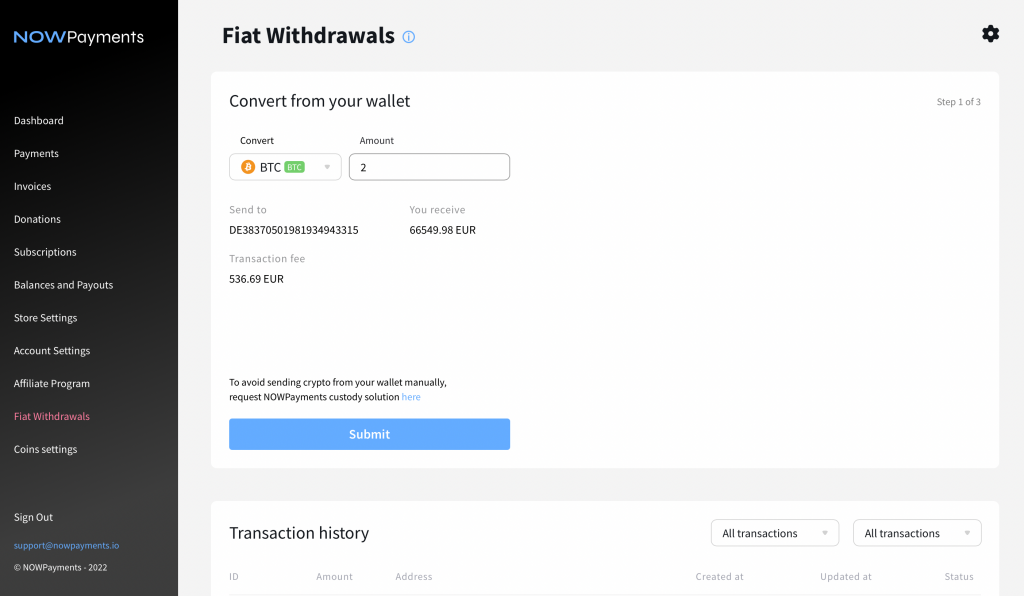 Conclusion
POODL is working on advancing DeFi. NOWPayments lets businesses charge their clients in POODL crypto and get paid in fiat.
Want to read more about POODL?