Tired of using PayPal and Bank account donation options on Twitch.tv? Do you want to receive crypto donations on your channel for a change? If so, this article is for you. The article explains how to accept crypto donations such as Bitcoin on your Twitch using a donation button by NOWPayments.
The word is embracing gaming and e-sports as a fulling and well-paying career as streaming platforms such as Twitch.tv, D.Live, and Mixer provide ways to monetize content. One of the most popular ways of monetizing content is by accepting viewers' donations on your channel. Donations make up for the larger part of the gamers' revenue on these streaming platforms.
Over the years, fiat donation options such as PayPal and Skrill have dominated streaming sites, as content creators ignored newer payment options such as crypto. However, interest in crypto is steadily growing across the gaming generation (Millennials and Generation Z) as developers create solutions that make accepting donations and cashing out crypto easier.
What is Twitch.tv?
Twitch.tv is a live streaming service controlled by Twitch Interactive, a subsidiary of Amazon Inc. Since its launch in June 2011, Twitch.tv has grown into the largest live streaming platform offering diverse use cases including broadcasts of e-sports competitions, live music broadcasts, and other creative content. Recently, there has been an uptake of "in real life" streams featuring top worldwide stars.
According to Statista, Twitch.tv has over 15 million daily active streamers, as of June 2020. As one of the fastest moving markets in the streaming world, Twitch offers a sublime opportunity for the adoption of cryptocurrency payments. A clear pattern (explained below) is forming between the live streaming service and cryptocurrencies in a bid to replace fiat payment options.
Twitch.tv and Crypto connections
The world of crypto payment has long been untapped especially by gaming and streaming services across the globe despite the large potential lying in the new technology. According to a research study by KPMG, millennials, and generation Z are the most accepting age group on the future of cryptocurrency payments. Over 83% of adults aged 18 to 24-year-olds accepted crypto will be a part of the future payments while 71% of Millennials age 25 to 34 are also interested in the future of tokens.
Unsurprisingly, these are also the group of people that are heavily invested in Twitch – gaming, and music live streaming. While the adoption rate in live streaming is exponentially growing, such rates have not been reflected on crypto payments.
With over $230 billion worth of crypto majorly in the hands of Gen Z and millennials, the question remains – 'What is preventing wide adoption of crypto donations on Twitch.tv?'
The legitimacy of cryptocurrencies, tax reporting, and scalability challenges have been some of the core barriers to the adoption of crypto – especially in live streaming donations. However, all this is changing with faster, safer, and legally accepted token-payment solutions being built by the day.
Advantages of accepting crypto donations on Twitch
The generational connection between Twitch.tv and cryptocurrency will only get stronger as developments to ease donations on the streaming site gets better. As mentioned above, crypto offers a wide spectrum of benefits compared to fiat payment options hence the quick adoption by Twitch users. Below are some of the advantages of accepting cryptocurrency donations on your Twitch channel.
Larger audience: Unlike options such as PayPal, which is not available in all countries, crypto offers a global audience a donation option without any geographical barriers.
Multiple options: While most fiat payment donations are denominated in USD, EUR, or GBP, cryptocurrencies offer a wide spread of over 50+ cryptocurrencies to choose from.
Opportunity for the unbanked: Cryptocurrencies do not need any bank account for you to receive the donation. This means that anyone can receive and send donations on Twitch.
Investment opportunity: Cryptocurrencies such as Bitcoin can be used as both a currency and investment. While other Twitch users liquidate their cryptocurrencies, some hold them longer as an investment.
How to set up donations on Twitch
Twitch offers a myriad of donation options on its site to incentivize content creators on its platform. The official donation option on Twitch is Twitch bits, or cheers, which are purchased and redeemed on Amazon using real cash. PayPal and other third-party Twitch donation extensions such as Muxy, StreamLabs, Stream Elements, and Gaming for Good are acceptable on the live streaming site.
Finally, Twitch also accepts over 50+ cryptocurrencies including Bitcoin (BTC), Ethereum (ETH), and Bitcoin Cash (BCH). Below we discuss a simple method that you can use to set up your donation button to accept crypto.
How to accept crypto donations on Twitch.tv using NOWPayments.io?
Crypto donations are on the rise as users find this option simpler and easier to set up and use. If you have a website, you can easily connect the crypto donation button to start receiving donations. If not, you will need to set up a donation button.
#Step 1: Set up your donation button on NOWPayments
To easily set up a crypto donation button, head on to NOWPayments.io, and follow the steps below:
1. Set up your NOWPayments.io account and log in.
2. Go to "Store settings".
3. Set up your "Outcome Wallet" including all the crypto wallets you want to receive donations. Here, enter your wallet address and specify the crypto you will be accepting.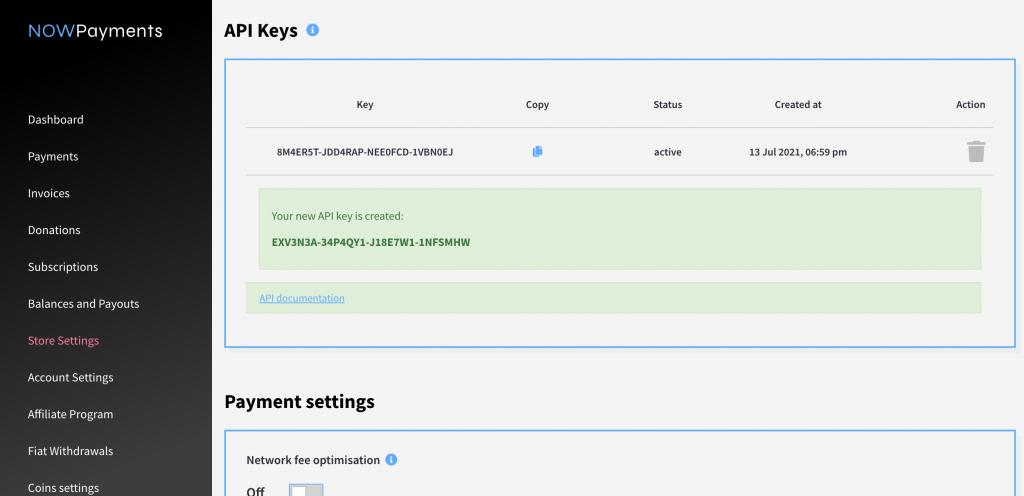 4. Add a new API key and copy it to your clipboard.
NB: Be careful to set the right wallet address and explanation of what crypto you will be accepting.
5. Set base currency.
6. Complete payment settings including the markup (if necessary) and covering options.
7. Save changes.
#Step 2: Generate crypto donation link on NOWPayments
1. Go to the Payment Tools and click "Donation buttons"
2. Add your copied API Key to the space provided.
3. Choose your preferred color of the donation button and save the image.
4. Click the button and copy the link of the page that you will be referred to.
5. Open your Twitch account.
(Images from Step 1 & 2 sourced from NOWPayments.io)
#Step 3: Add crypto donation button to Twitch
1. Log in to your Twitch.tv account dashboard.
2. Click on the top right "Profile icon".
3. Select 'Channels' from the drop-down menu.
4. In the resulting page, scroll below your live stream videos and turn on "Edit Panels".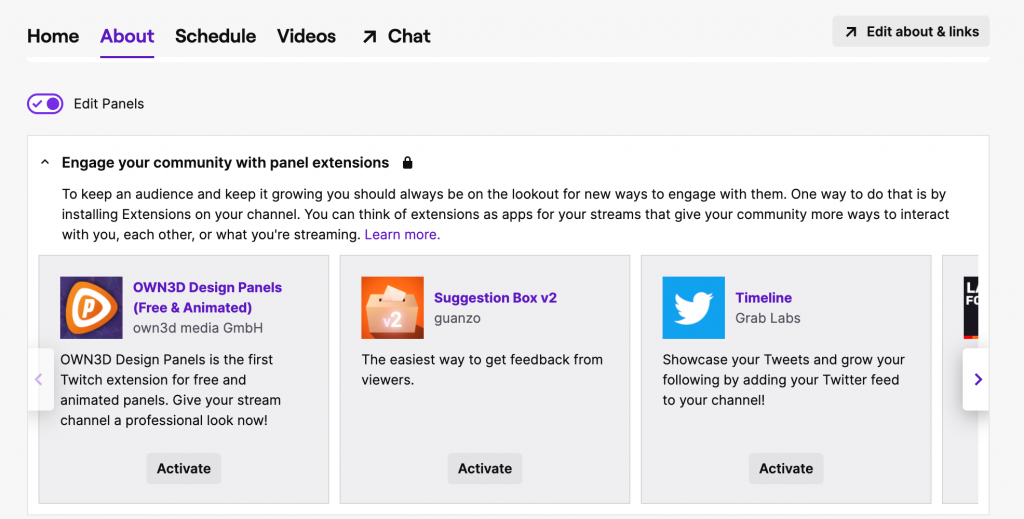 5. Once activated, scroll further below and click on the big "+" image.
6. Click "Add Text or Image Panel".
7. Enter the donation button title. If you are accepting Bitcoin donations, name it "Bitcoin donation button" to reduce confusion.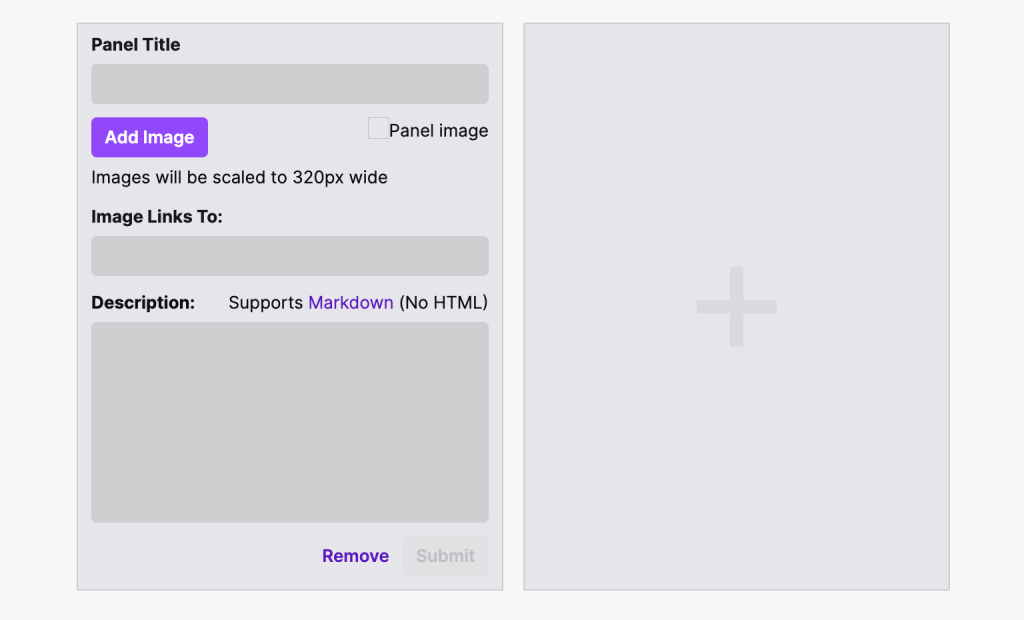 8. Paste the Donation Link that you copied into the "Image Links To" Section.
9. Click 'Add Image' and add your donation button image that you saved.
10. Press 'Submit' and you are ready to accept crypto on your Twitch channel.
(Images sourced from Twitch)
Frequently asked questions
Conclusion
The world is rapidly getting into the groove of live streaming. Similarly, live streaming services such as D-Live, Mixer, and Twitch are increasingly accepting crypto payment and donations. Solutions such as the Lightning Network, a layer-2 scaling solution for Bitcoin, are helping in the adoption of cryptocurrencies on live streaming platforms making it cheaper and faster to transact using BTC. 
Nonetheless, it is the demographics of the two industries that offer the greatest hope of growth in crypto donations on Twitch and other live streaming sites. 
Why use NOWPayments.io?
NOWPayments is the easiest way to accept online payments in a wide variety of cryptocurrencies. This service is custody-free, has competitive fees and is available worldwide.
Over 50 cryptocurrencies are accepted on the platform with an in-built exchange feature;
API, widgets, plugins and a donation button are all easy to integrate;
It is a non-custodial service ensuring the security of your funds;
A very simple setup