Donations can significantly help your project to grow, no matter if it's a personal or a public one. If you want to accept donations in the easiest way, NOWPayments can help you!
Getting donations in cryptocurrency is a perfect solution because it's:
Safe: no centralized organizations can block your account; 
Fast: it depends on the speed of creation of new blocks, but much faster than usual payments (for example, the average Ethereum transaction time is between 15 seconds and 5 minutes);
Convenient: the cost of the transaction depends on the speed of it; so you can choose the most appropriate way for you!
So, if you are interested in implementing our crypto donation button check out this easy step-by-step tutorial: 
 Sign up for a NowPayments account. You can do this via this link.
 Specify the cryptocurrency and the crypto wallet.
 Generate an API Key.
Go to the Donations menu in your Dashboard, choose the donation button style, select an API key, and copy the code.
Place a crypto donation button on your website or blog!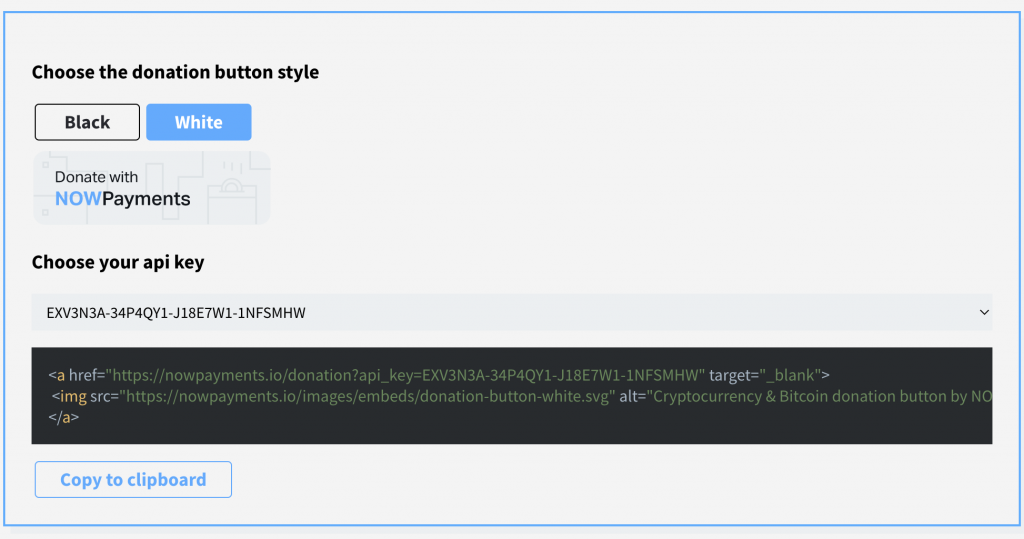 NOWPayments is the best choice to install the donation button, because:
It is easy: you can do it in 4 simple steps;
Minimum info is needed: you log in using only the e-mail address and the name of the company (which can be changed); 
It is convenient: we provide full technical support during the integration stage!
Hit us up at [email protected] if you have any questions, and follow us on social media: