If you were thinking about jumping on the bandwagon and accepting crypto payments, the question arose: "How do I do this?". Of course, the first thought is to add the wallet address directly to your website. But after a bit of reflection, we understand that this is cumbersome, inconvenient, and inefficient. Fortunately, today there are helper services — crypto payment gateways. Read on about their advantages and disadvantages and how it all works.
Key points:
The crypto payment gateway is your guide to the space of fast, secure, and cost-effective payments.
Merchants can significantly simplify their experience of accepting crypto payments using processor services.
NOWPayments is a non-custodial crypto payment gateway that provides 15+ integration tools.
What is a crypto payment gateway?
Crypto payment gateway is a service that allows you to accept cryptocurrencies as a payment option. Depending on the specific platform, users are provided with different integration tools. These tools can be crypto APIs, e-commerce plugins, invoices, various tools for accepting donations, and other solutions. In addition, depending on the specific crypto payment gateway, you can receive different coins for payment. Some support only the most popular coins (Bitcoin, Litecoin, Ethereum, etc.), while some provide more choice and flexibility.
Crypto payment gateways greatly facilitate the payment process. Such services provide various merchant tools and a dashboard, thanks to which you can track each payment stage. Thanks to the gateway, you can also configure parameters such as auto-conversion to fiat or other cryptocurrencies, and in addition, you can use tools to manage crypto volatility.
How do cryptocurrency payment gateways work?
To use the services of a crypto payment gateway, you need to register and choose an integration tool. Once you have integrated the payment solution, you can start accepting payments. So what is going on behind the scenes?
Your client chooses a crypto payment method. Then, the client can choose any of the coins supported by the gateway.
The crypto payment gateway provides your client with detailed information necessary to make a payment (amount, payout address, and so on).
The gateway processes the payment, converts the cryptocurrency (if required), and charges a service fee. Then, depending on the gateway type (custodial or not), your profit is sent either directly to your wallet or your merchant account.
What are the features of a crypto payment gateway?
By accepting crypto as a payment option, you can significantly benefit from all the benefits that cryptocurrency provides. And the crypto payment gateway will serve as a guide that will make this process smooth and efficient. The main features of the crypto payment gateway include:
Reducing the number of intermediaries
Unlike traditional fiat payment processors, crypto ones do not cooperate with a long list of intermediaries. This significantly increases the speed of payment processing and reduces fees.
In addition, if the gateway is non-custodial, like NOWPayments, payment for your goods and services is made on a wallet-to-wallet basis. That is, the gateway does not store your profit. Instead, funds are instantly transferred from the consumer's wallet to the merchant's.
Protection against chargeback fraud
Due to the irreversibility of crypto transactions, merchants using crypto payment gateways can not worry about chargeback fraud. Cases of this kind of fraud can bring huge losses and lead to the collapse of a small business.
Payments sent via the crypto network are irreversible, all data is recorded in the blockchain, and anyone (knowing the recipient's or sender's wallet address) can see the time and amount of the transaction.
Easy checkout
The crypto payment gateway significantly simplifies the process for you and your customer. In addition, by implementing the integration tool that suits you, your store will get the image of a tech-savvy brand. If you want to accept crypto payments directly (by placing a wallet address on your website), you will encounter some inconveniences.
First, you will have to manually adjust the price of your items according to the crypto price (which is highly volatile). Secondly, if you want to accept multiple cryptocurrencies by placing wallet addresses, your website interface will resemble some kind of mathematical spell. In addition, you will be unable to effectively monitor payment details, transaction statuses, and other crucial components.
Simple integration
Crypto payment gateways provide various integration tools, from APIs to plugins and invoices. Thanks to this, you can effectively accept payments on any website, in an application, or even on social media.
Moreover, some gateways provide virtual PoS terminals for receiving crypto payments in brick-and-mortar stores. Such terminals are incredibly cost-effective, as they do not require installation and maintenance costs.
How to set up a crypto payment gateway to my website?
Create your merchant account on NOWPayments.
Go to the "Settings" section and open the "Payment Settings" tab: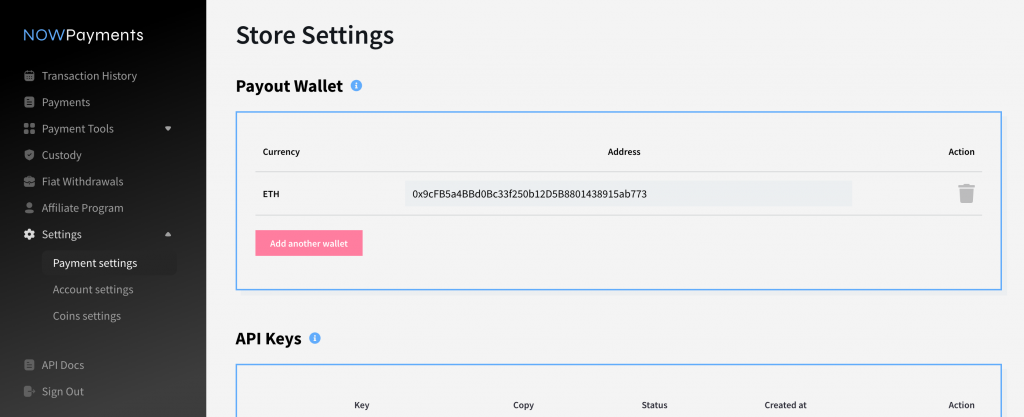 Specify your payout wallet by selecting the currency in which you want to accept payments and entering the address:
After adding the address, you will be able to add a new API key which is required for creating payments and tracking transaction statuses:

The basic settings are almost complete. It remains to choose the fiat currency in which the prices in your store will be displayed. NOWPayments supports 21 national currencies, for example, USD, EUR, AUD, etc.
In the same section, you can configure additional parameters, such as Instant Payment Notification (IPN), payment markup and covering, and others.
Once everything is ready, you can proceed to the selection of the integration tool. NOWPayments provides plugins for major CMS solutions, crypto API, invoices, subscriptions, PoS terminal, and more. You can also accept crypto donations or set up a crypto mass payout.
Conclusion
Crypto payment gateways can be great helpers for those who want to keep up with the times and accept fast, low-fee, and chargeback-free payments. For example, NOWPayments is a top-notch service that supports 100+ coins, provides 15+ integration tools and has the lowest service fees on the market.
FAQ
Which payment gateway is best for cryptocurrency?
Choosing a good crypto payment gateway is the main step toward success. Users should pay attention to how many coins the service supports, how easy to use and diverse the integration tools are, what fees the service provides, and how secure the platform is. Good examples of crypto payment processors include NOWPayments, Coingate, and Bitpay.
How do I accept payments with cryptocurrency?
To start accepting crypto payments, you need to choose a crypto payment gateway and create your merchant account. You will also need to provide the wallet address to which you want to get crypto payments and generate an API key. Next, choose an integration tool that meets your requirements, for example, plugins, APIs, invoices, etc.
What are the pros and cons of crypto payment gateways?
Pros
Allow start accepting crypto payments even to users who do not have any crypto-related knowledge.
Enable you to attract many customers by providing a crypto payment method.
Provide an auto-conversion feature and various tools for managing crypto volatility.
Allow you to track payment statistics, receive IPNs, navigate your orders, and monitor transaction statuses.
Cons
Custodial crypto payment gateways can become a target for hackers, as a result of which you may lose your funds.
Impose an additional fee for their services, which is higher than if you accepted crypto payments directly