When accepting crypto payments, one of the most important things to keep in mind is your wallet. Which one is the best? There are so many: hardware wallets, non-custodial wallets and custodial ones – we'll help you navigate in this awesome and rich world of crypto.
To be able to identify the best cryptocurrency wallet for your needs, you need to know exactly what roles a wallet for cryptocurrency serves.
At its core, a crypto wallet is software that equips an investor with a public and a private key for them to send and receive digital currency by interacting with different blockchain protocols and monitor their balance.
Types of Crypto Wallets
There are two ways of classifying cryptocurrency wallets. One depending on the way they are built, and the second one depending on their working mechanisms. The first segment has three types: software, hardware, and paper wallets, whereas the second segment has two types: hot wallet and cold wallet. Let's have a brief look at each one of them before we delve deeper into the list of the best crypto wallet.
Software Wallet
Software wallets can be of three types: web wallets, desktop wallets, and mobile wallets. The web wallets provide browser-based access to the blockchain without the user having to download or install anything. Desktop wallets need downloading or installation to execute the software locally on the computer. Mobile wallets are almost the same as desktop wallets but designed specifically as smartphone applications. These wallets have some added benefits such as the use of QR codes to send and receive crypto payments.
Hardware Wallet
These wallets come in the form of physical or electronic devices that are not connected to the internet and use a random key generator or RNG to generate a public or private key.
Paper wallet
This is nothing but a piece of paper with the crypto address of the user printed on it along with the private key printed physically as a QR code.
Now, let us have a quick look at how hot and cold wallets are different in terms of their functional mechanism.
Hot Vs. Cold Wallets
The basic difference between a hot and cold wallet is that a hot wallet is online and connected to the internet. They are useful for quick, real-time, exchange-based trading. On the other hand, cold wallets do not have any connection with the internet. It is a type of hard wallet that leverages a physical device to store the keys offline.
Now, each of the above types of wallets has some merits and demerits. Some have more benefits than drawbacks and for some demerits outweigh the merits. We will now look into some examples of these types that are at the top of the list for the best crypto wallet 2020.
A crypto wallet's efficiency is not only to be measured as a wallet for payment. Although the primary objective of a crypto wallet indeed is to conveniently facilitate the user to accept crypto payments and pay with cryptocurrency, other parameters play a crucial role in determining the value of the wallet as well. The impenetrability of the wallet's security protocol is one such parameter.
Hardware Wallets
Among hardware wallets, Ledger Nano S, Keepkey, Ellipal, and Trezor are at the top of the list. 
Ledger Nano S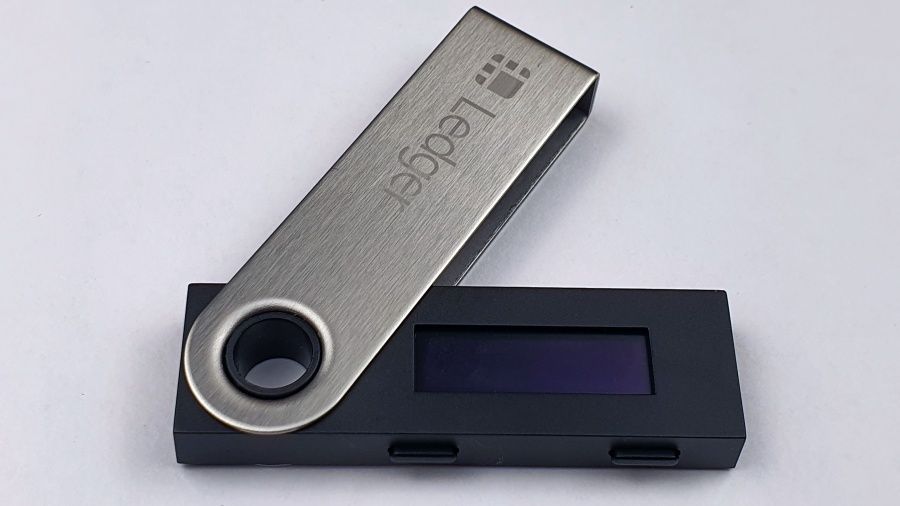 Rated as one of the best crypto hot wallets, Ledger Nano S supports more than 1,500 cryptocurrencies. Cold wallets are anyways known for providing increased security than online wallets. But, Ledger Nano S is one notch above its peers when it comes to staying robustly cyber-attack proof. In case the user forgets the pin or loses the hardware, he or she needs to select a pin code and get a 24-word recovery phrase.
Ellipal
ELLIPAL is a hardware wallet that does not need Internet. All you need is the Ellipal app and the wallet itself. Ellipal Titan supports 7,000 different cryptocurrencies, as well as various convenient functions: market overview, news, exchange feature.
Keepkey
This hardware wallet comes with a huge screen covered by a polycarbonate casing. The public address required for accepting payment in cryptocurrency is printed on the upper surface in such a way that it does not require scrolling back and forth. The wallet comes with a pin code and recovery seeds as well. Most importantly, the wallet keeps changing its pin code from time to time making it one of the most inherently secure devices for cryptocurrency payment and one of the top contenders for the position of best crypto wallet offline.
Trezor Wallet
Another contender for the best wallet for online payment in crypto, Trezor Wallet is specially secured for accepting bitcoin as payment. It is known as a "bulletproof" bitcoin wallet and supports all three popular operating systems of Windows, Linux, and Max. Best crypto wallet reviews often rank it high in their list for its full two-factor authentication, password manager app, and compatibility with ERC-20 tokens. Apart from bitcoin, it also supports Dash and Ether. The wallet comes with a USB adaptor that can be connected via the computer. For more safety, the wallet provides the option to fully reset including the management software.
Among software wallets, the top names include Coinbase, Binance, Guarda, and Electrum.
Software Wallets
Coinbase
Coinbase is a software and one of the top contenders for the best crypto wallet online. One can download and use it for free. However, buying and selling cryptocurrencies is not free. One needs to go to the Coinbase exchange to buy or sell. The exchange charges fees for transactions at an average rate of 3.75%. The wallet has compatible versions for both Android and Apple iOS. For frequent daily users, Coinbase software wallets are especially useful as one can use the wallet and the eponymous exchange simultaneously to partially store and partially trade their holdings.
Electrum
Another highly rated software wallet Electrum is compatible with all the three operating systems of Windows, Mac OS, and Linux. It is a desktop wallet and requires some amount of technical know-how to use. One of the most enticing features of Electrum is its fee adjustment setting. With the increasing congestion in bitcoin's blockchain, fees go up. The more people wait for transaction confirmations to occur, the pricier it becomes to perform the transaction. In such a situation, Electrum allows willing users to reset their transaction fees if they want the transactions to speed up. As one of the most popular bitcoin wallets, Electrum is fast, secure, and serves a wide spectrum of users.
Binance
Although famous as an exchange, Binance is a well-known mobile wallet for online payment in crypto as well. The wallet is named Binance Trust Wallet. The wallet supports more than 40 blockchains which translate to cryptocurrencies and tokens in the range of thousands. Using this wallet, one can purchase a lot of cryptocurrencies without even having to leave the mobile application.
Guarda
It is a non-custodial wallet, a partner of NOWPayments, which is custody-free. Guarda supports hundreds of assets. It is multi-platform, as it supports web, desktop, and mobile versions. Guarda is easy-to-use, and it has great live support.
___________________
Why use NOWPayments.io?
NOWPayments is the easiest way to accept online payments in a wide variety of cryptocurrencies. This service is custody-free, has competitive fees, and is available worldwide.
Over 50 cryptocurrencies are accepted on the platform with an in-built exchange feature;
API, widgets, plugins and a donation button are all easy to integrate;
It is a non-custodial service ensuring the security of your funds;
A very simple setup