Crypto world is full of wonders that never stop to amuse us: on the one hand, you can make transactions in cryptocurrency or earn profit from mining or trading, that is incredibly serious. On the other hand, you can glance at the funny side of the community with the list of funny crypto that keeps on constantly increasing.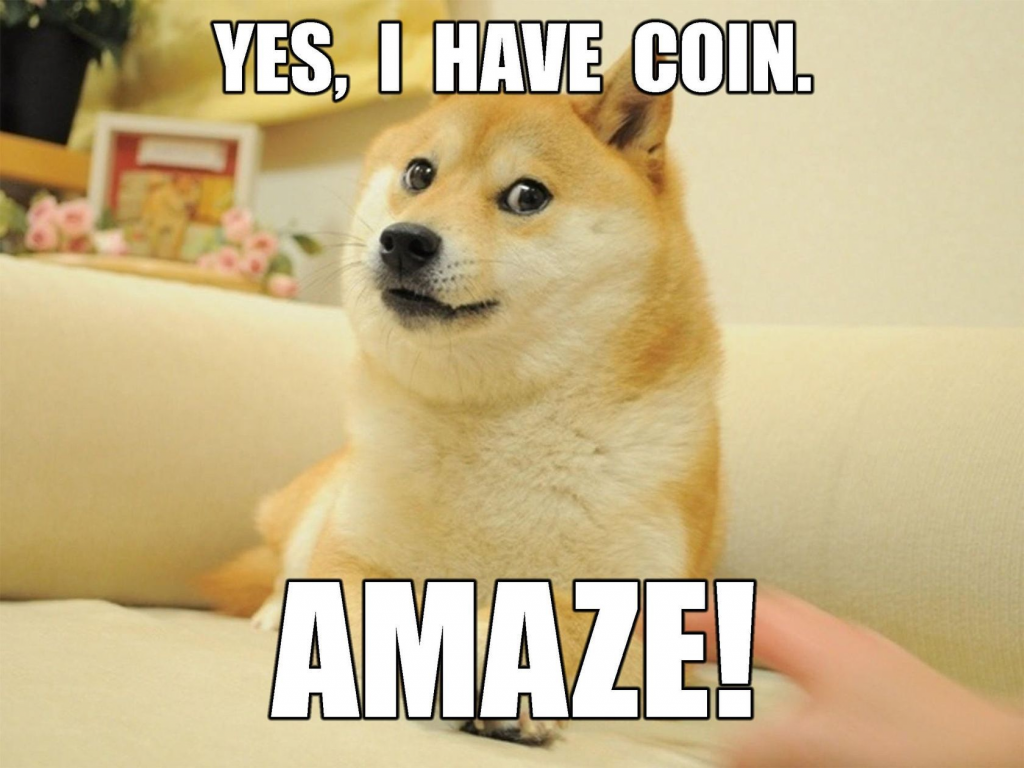 Top 20 Funny and Unusual Coins
Banano
Do you like bananas? The Crypto community has a yummy option for you, a 4th generation fungible cryptocurrency. Yellow and stylish, it has a lot of admirers interested in making and accepting payments in the currency. Want to earn it? You have a black monkey game.
Sounds like a funny choice, doesn't it? All in all, you can easily enter the crypto jungles with the currency. Banano is a fork of the notable NANO blockchain. Banano relies on a novel DAG (Directed Acyclic Graph) system, which means that all users have their own networks. As a result, Banano is one of the fastest cryptos out there.
Guncoin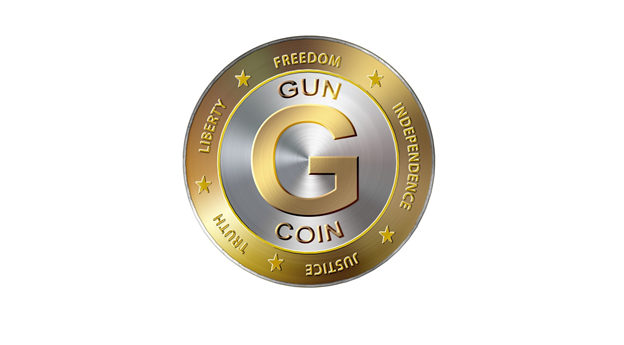 If a gun, then a safe one. This virtual currency has started as a way of expressing love for firearms. The brand's target is to provide the firearms industry with a fast and secure way of accepting microtransactions. The coin whose ticker symbol is GUN has been in existence since 2014. Despite the fact that the currency cannot boast a large following of investors, it is still used and transferred among addresses, as seen in the coin's block explorer.
The official site itself looks like a western movie. Would you like to feel like a cowboy? Give it a try.
Pandacoin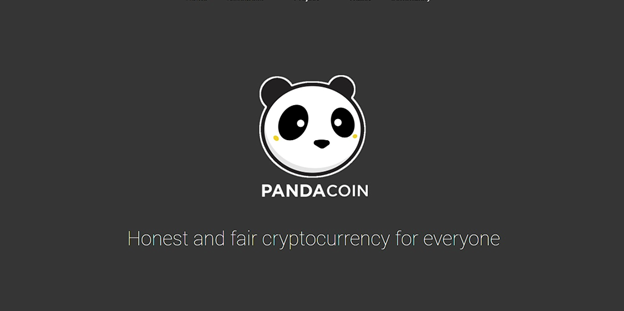 The whole world is in love with pretty tiny pandas that enrich our ecosystem. These pandas can also enrich your wallet. The coin's ticker symbol is PND, and it has a total supply of 34,406,161,850 tokens. The coin is featured on three relatively popular exchanges, Dex-Trade, Altmarkets, and Bitubu. Pandacoin has its own wallets for different platforms, including Windows and Android. Despite the fact that the coin does not get much coverage in the media, it still has value. According to the currency's block explorer, users conduct PND transactions almost on a daily basis. The platform welcomes users who want to create content for the coin.
Garlicoin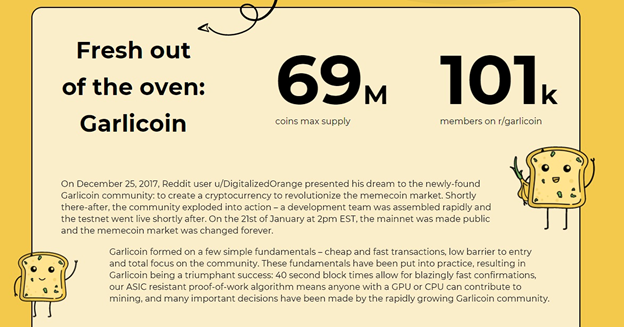 Would you fancy a fresh out of the oven garlic? In 2017 a Reddit user created Garlicoin to conduct fast, transparent, and cheap transactions. Garlicoin's ticker symbol is WGRLC, and its total supply is 69 million coins. The coin is secure, decentralized, and can boast 40 second block times. As well as that, it can provide you with some garlic recipes to obsess over. The coin even has its own Wiki, which is full of insights into the ecosystem of the project. The coin also holds monthly meme challenges and even its own Android-based wallet. In the future, the project wants to release a game featuring WGRLC.
ElonSperm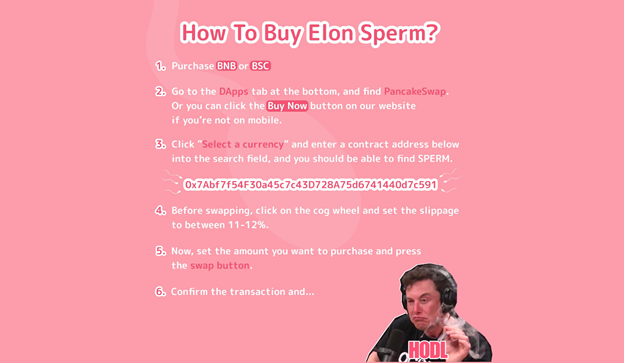 Elon Musk recently became a symbol of the movement for mass adoption, and there is no doubt that he is one of the most beloved personalities of the crypto community. Crypto enthusiasts express their gratitude to Mr Musk in the most mysterious ways, which include creating a coin named ElonSperm. SPERM is a BEP-20 token that has a supply of 1 trillion tokens. Nevertheless, the coin is built to be deflationary, and the creators occasionally burn billions of tokens. The liquidity pool of SPERM is locked for 12 months until May 2022. The coin is relatively popular, and there were more than 10k holders as of August 2021.
Pepemon Pepeballs
Pepemon Pepeballs is a tribute to two iconic cultural phenomena of the last 30 years, Pokemon and Pepe the Frog. The creators of the Pepemon Pepeballs designed a complete ecosystem to accompany the meme-inspired asset. So, investors can stake their PPBLZ tokens and reap the rewards in the form of PPDEX coins. The latter can then be spent on purchasing unique NFTs in the Pepemon.finance store. PPBLZ has a max total supply of 14k units, which makes it a rare currency and stimulates the growth of its price. In the future, the creators plan on introducing a trading card game utilizing NFTs.
PooCoin
Poocoin.app is a popular platform for tracking the latest developments of different tokens deployed on the Binance Smart Chain. Poocoin.app users can view price charts and transactions of their assets. The platform has its own token, which goes by the same name, PooCoin. Such an unsavory name does not actually entail lackluster utility. Even though all PooCoin transactions involve paying an 8% fee, such a high charge maximizes the benefit for the community. 4% of all PooCoin transactions are distributed among all coin holders. Another 4% gets burned, boosting the value of the asset. In July 2021, the coin reached the milestone of 50k holders.
SOCKS Token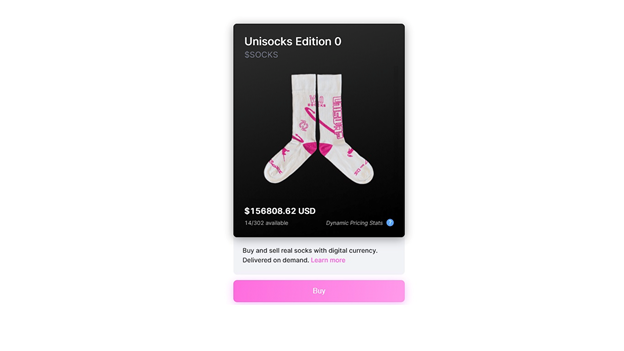 It seems that in today's world, everything has its own cryptocurrency, and socks are not an exception. SOCKS is a special token that grants its owner the right to claim an actual pair of limited-edition socks. The initial price of the token was $12, and a total of 500 units were issued. But, as of August 2021, the price of one SOCKS token was $152933.22, which is truly mind-blowing. Yet, despite the obvious humorous nature of the token, the creators wanted to use it to demonstrate the concept of bonding curves, an idea stating that every purchase of a limited asset leads to a gradual increase of its price for the next buyer.
Dogelon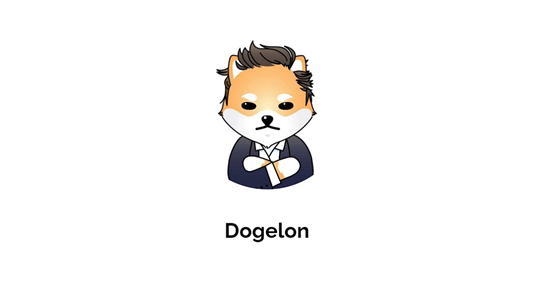 By now, it is common knowledge that the crypto community is crazy only about two things, Elon Musk, and dogs. The creators of Dogelon Mars have decided to bring these together by making an ultimate coin for crypto enthusiasts. The currency has a supply of 1 quadrillion tokens which makes it accessible for a large audience. That is why there are tens of thousands of ELON holders out there. 50% of the ELON supply was sent to Vitalik Buterin, and another half was forever locked in the Uniswap liquidity pool. The creators of the coin encourage holders to donate their tokens to victims of scams.
Cthulhu Offerings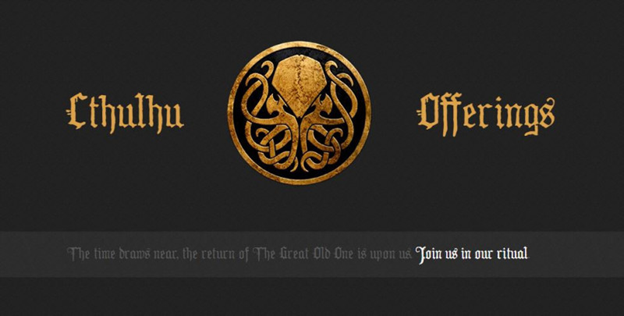 Spooky, scary, and stylish, Cthulhu Offerings was not released for the sake of making money, as their founder, McKinney, has explained. The currency was released because "Cthulhu deserves a way for people to waste electricity in his name." Nevertheless, it seems like the coin has not survived the tough competition of the crypto world. No news about the coin has been published since 2018. Coinmarketcap also stopped tracking the currency's price around the same time. On the one hand, it is unfortunate that the coin went south. On the other hand, though, it is probably for the best that it did not provoke Cthulhu with its crazy growth.
Freecoin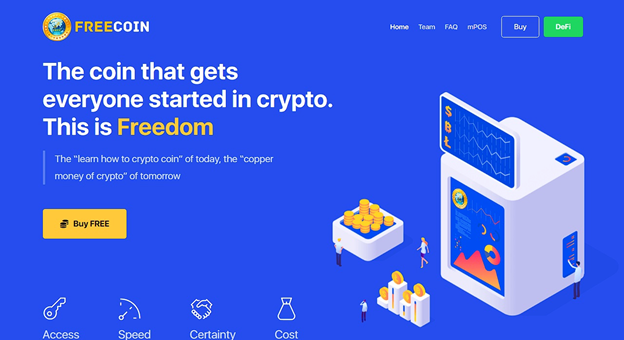 Free money is a dear wish of every person on the planet. Unfortunately, such a concept is hardly feasible, and despite its name, Freecoin is not here to make it a reality. Nevertheless, FREE constitutes a perfect entry-level asset for people starting their crypto journey. It is a cross-blockchain asset which operates on the Ethereum Blockchain, Binance Smart Chain, and on the TRON blockchain. A radically low price of the coin can prompt one to consider it free, especially when compared to Bitcoin. Yet, Freecoin, despite its price, can still yield a proper return on investment during major fluctuations, which, for instance, happened in 2021.
Pickle Token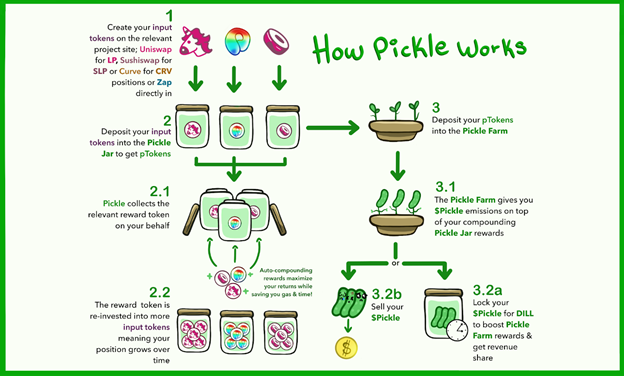 Everyone likes pickles, and if you do not like them, the chances are you will absolutely love them once they start generating money for you. Pickle Finance is a yield aggregator that helps investors maximize their profits by managing different DeFi protocols. PICKLE is an ERC-20 token that users can stake to receive DILL, another currency in the Pickle Finance ecosystem. To get PICKLE, investors need to buy it on decentralized exchanges such as SushiSwap or centralized ones. They can also receive it as a reward for staking pTokens on the Pickle Farm, which can provide up to 900% APY.
PotCoin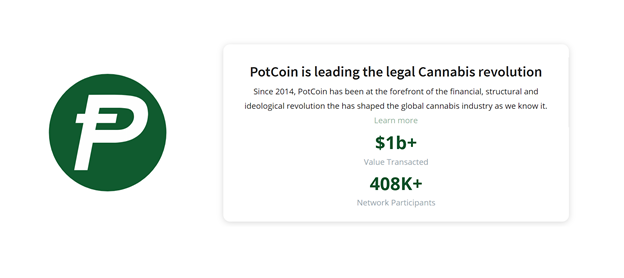 PotCoin is the name which speaks for itself. PotCoin seeks to provide crypto payment solutions for the Cannabis industry. The POT token is a currency which the project uses in different services. For instance, clients of PotCoin can implement their own rewards programs utilizing POT. PotCoin also offers its blockchain-based Seed-to-Sale system, which lets customers track their supply and automate various tasks. In the future, PotCoin is planning to introduce a P2P marketplace for cannabis market stakeholders. DecentralizedFinance platform from PotCoin is also underway, as well as a credit card. Users will be able to get a loan from other community members.
Waifu Coin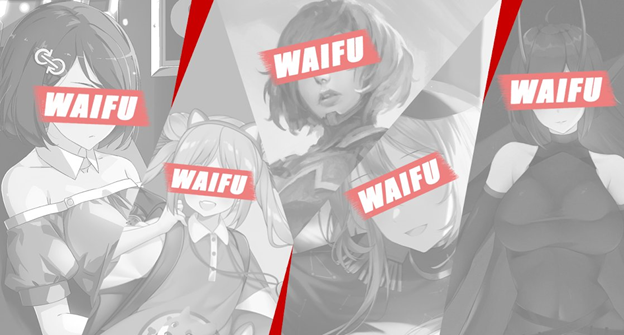 Fans of anime love to get themselves waifus and follow them. Even though it can be tough since often waifus exist only virtually, the WAIFU Project aims at bringing everyone a chance to own a waifu in the form of the WAIFU coin. The WAIFU currency has a ticker symbol WAIF, and it is an ERC-20 token. One can acquire WAIF on Uniswap and then stake it to get HAREM tokens. Users can redeem the latter to get NFTs featuring unique waifus. A total supply of 1 billion WAIF exists, and 90% of it is locked into a Uniswap contract.
Wolf Safe Poor People Token
Wolf Safe Poor People Token can certainly be a strong candidate for the title of the cryptocurrency with the longest name. The Wolf Safe Poor People platform pursues the goal of helping poor people around the world. The WSPP coin has a total supply of 49,999,999,750,000,000 coins, and there were more than 140k holders as of August 2021. The project has the vision to reduce poverty in the world by letting WSPP investors grow their funds by holding the token in their wallets. The project is also planning on introducing donations to poor people at some point in the future.
CHADS Coin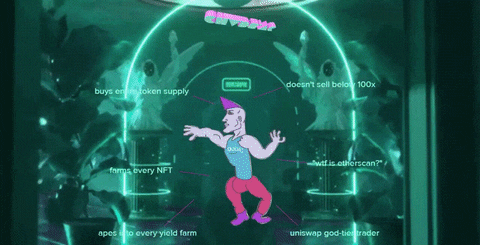 Chad vs. Virgin is surely one of the funniest memes of the past decade, and it would be a shame if it did not get its own token. Introducing CHADS VC, the first coin for true chads. CHADS is an ERC-20 token with an initial supply of 69,000,000 tokens. CHADS VC has a proper ecosystem built for investors. It can be used to acquire UNI-V2 LP tokens which then can be exchanged for Chadlets, a currency that allows its holders to mint NFTs on Chads.Limited. As any chad, CHADS has a close relationship with the STACY coin, the governance token of ChadSwap.
Disbalancer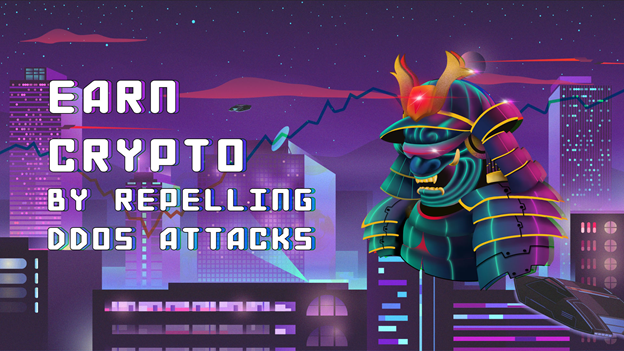 Even though the name of this project does not make one suspicious of its mission, the ticker symbol of its DDOS token instantly provokes interest. Disbalancer is the first platform where people can earn cryptocurrency by participating in DDoS attacks. But before you call the FBI, please note that Disbalancer engages only in authorized DDoS. In fact, anyone who wants to test the resilience of their infrastructure can contact Disbalancer and book their own attack. To get DDOS rewards, users need to install Disbalancer software on their computers. Every time their resources are used in repelling or initiating attacks, Disbalancer will send DDOS tokens to their account.
Cat Token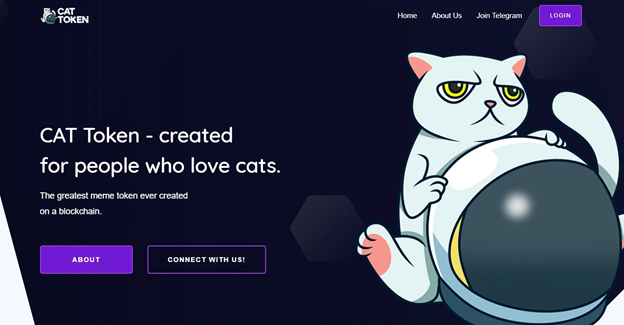 It is clear that the crypto world is dominated by dogs. Dogecoin, SHIB tokens, and many other assets source their inspiration from canines. The Cat token is set to disrupt the puppy status quo by bringing cats to the blockchain. CAT is a meme token that focuses on animal welfare which means that all profits made through its Uniswap exchange get sent to cat charities. The currency even has its feline-mascot called Mooncat. The Cat token project also wants to create cat-inspired NFT trading cards. Some of them are already available on BakerySwap. The initial supply of the coin was 15 million tokens, but then the community decided to burn 4 million of them.
LoserCoin
According to its official website, LoserCoin was made by two poor guys from China who lost a lot of money on Bitcoin. Disappointed with their crypto experience, they decided to make a digital asset for all losers of the world. LoserCoin has a ticker symbol of LOWB and more than 100k holders. It is the native token of LoserSwap, a decentralized finance yield aggregator deployed on the Binance Smart Chain. To earn LoserCoins, investors can stake Liquidity Pool tokens. There is also a LOWB NFT-marketplace. LOWB has a total supply of 100 billion tokens, so losers will not have any problem getting their crypto.
Stem Cell Coin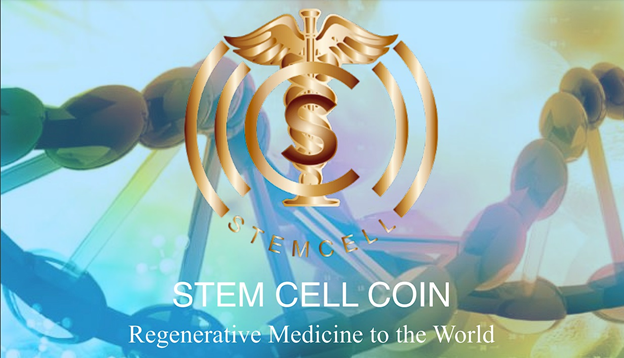 Stem cells also need their own token, especially when it benefits the research of life-saving treatments. The Stem Cell Coin has a ticker symbol of SCC, and it was issued on the NEO blockchain. It has a total supply of 5 million coins, and its price has been experiencing some major fluctuations in the past year. The intention of the project is to deliver settlement of medical expenses in cryptocurrency. According to the creators, the demand for regenerative medicine is expected to grow in the future. SCC can help make stem-cell procedures more affordable and available to a larger population.
Conclusion
As you see, the world of cryptocurrency has many peculiar things to pay attention to. Hope you enjoyed our article about weird currencies. You can read more about such currencies here and here. Be sure to retweet it if you are into articles of this kind, and we will make more reviews of funny cryptocurrencies.