Radio Caca has made waves in the industry by launching its metaverse products such as Metamons and the USM Metaverse. RACA, the native cryptocurrency of Radio Caca, is the fuel of the entire ecosystem of Radio Caca. RACA is an in-demand asset that thousands of people own and keep in their wallets. The meteoric rise of Radio Caca can be attributed to its bleeding-edge technology, which is envied by many crypto projects. At the same time, RACA would not enjoy the current level of success without its loyal community members, many of whom can be considered real RACA influencers. Check out the list of the most notable personalities and social media accounts to follow if you love Radio Caca token and the USM Metaverse.
Key points:
RACA is a cryptocurrency powering Radio Caca's NFT and metaverse projects.
RACA influencers include French Montana, Anesha Gabriel, and many others.
NOWPayments enables businesses and individuals to accept RACA payments.
What is RACA crypto?
Radio Caca is a relatively new decentralized organization (DAO) which has already garnered massive support from investors and crypto enthusiasts worldwide. Radio Caca is a web 3.0 infrastructure solution provider which is backed by OKX Blockdream Ventures. The RACA token can be used by its holders to access different types of services and products of Radio Caca. Radio Caca crypto owners can purchase NFTs, stake their coins to participate in the economy of the United States of Mars metaverse, and engage in many other activities.
So, who are the top 5 Radio Caca influencers?
Radio Caca Official Twitter Account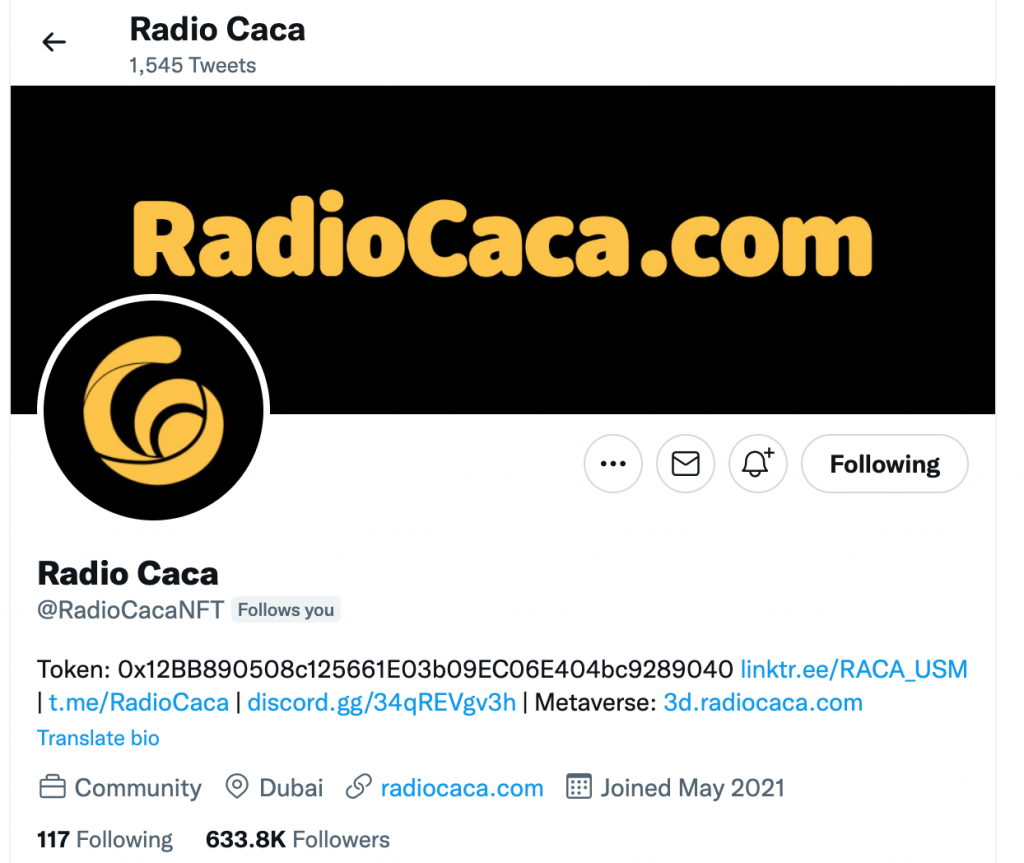 Radio Caca has its official account on Twitter, and it is the best source of the latest information on the project and the key products of its ecosystem. If you want to keep up with all of the developments happening at Radio Caca, do not hesitate to follow this account. Apart from covering everything important about RACA, the account goes in-depth on the metaverse products of Radio Caca. Additionally, the account regularly retweets posts of its followers, and if you want your tweet about RACA to get reposted, then following Radio Caca's Twitter might be a good idea.
Vitaliy
Vitaliy is an entrepreneur and investor and a RACA crypto influencer with thousands of followers on Twitter. Vitaliy is one of those influencers who do not simply make retweets about their favorite coins. Instead, he consistently generates his own quality content, thus promoting the cryptocurrency and letting more people on social media know about it. Vitaliy's tweets contain many insights and are extremely interesting to read. For instance, read his tweet about the reason why RACA is performing so well in the current stormy market. Vitaly knows everything about RACA, and he is happy to share his knowledge with others.
Anesha Gabriel
Anesha Gabriel is another cool RACA community member who helps to advance the Radio Caca ecosystem forward. Anesha's Twitter is filled with information about Radio Caca and every single aspect of its ecosystem. By following Anesha's account, you will stay updated on all recent news surrounding RACA. Anesha's contribution to the promotion of Radio Caca's metaverse projects is invaluable since she does a great deal to make RACA known on social media. The quality of Anesha's account is evidenced by the thousands of people who follow her.
WeRACA Insights
WeRACA Insights is the case when everything is in the name. The account has numerous insights about the Radio Caca crypto and ecosystem. The account shares various data, infographics, and notes about RACA. For instance, you can check out this picture that includes concise info about all Radio Caca and its products. Overall, it is a nice addition to the following list of every die-hard RACA fan on Twitter.
French Montana
French Montana is the most popular person on the list. The chances are you have not only heard about him but also have listened to his music. He is an award-winning artist who has published numerous amazing tracks over the years. French Montana is also one of the key partners of Radio Caca. The famous rapper supports the project and particularly the United States of Mars Metaverse. So, if you enjoy French Montana's music and using RACA's metaverse products, you should certainly follow him on Twitter.
How to accept RACA token as payment
You can accept RACA coin payments using the following tools:
eCommerce plugins: These plugins are compatible with PrestaShop, WooCommerce, Magento 2, WHMCS, OpenCart, Zen Cart, Shopify, and Shopware.
Crypto invoices and a PoS terminal: Businesses can use crypto invoices and a virtual Point-of-Sale terminal.
Subscriptions: Some companies may deploy special subscription-based payments.
API: NOWPayments' versatile API enables businesses to create custom crypto payment solutions.
Payouts: You can send mass payouts as a salary, bonus, reward, or rebate automatically to as many addresses as you wish.
Conclusion
NOWPayments supports merchants and individuals by providing them with tools for accepting RACA coin payments.