The inception of XMR can be traced back to Byte coin, a cryptocurrency founded on anonymity and decentralization that allegedly started in 2012. Two   years later, with an updated application code the project was rebranded as Monero. 
Monero is an open-source cryptocurrency known for its privacy-oriented features. Monero coin displays quick growth, which was much greater than other cryptocurrency, in terms of market capitalization and transaction volume during 2016 due to its privacy features. Monero was used by cryptocurrency enthusiasts as a way to carry out transactions that were 100% hidden and couldn't be tracked. Many Bitcoin users hid the connection between transactions by using Monero.
You can also accept Monero payments.
First thing to know about Monero – every transaction is truly anonymous which means that the sender, receiver, and the amount are all hidden. It's these 3 things together that are the core of Monero's privacy.
Monero anonymity occurs as a result of the encrypted blockchain, which hides the attributes and makes the transaction information of each transaction concealed. This means others can't find out how many funds are being sent in XMR. One of the key goals of Monero is to reach the maximum degree of decentralization that a consumer wants to trust on the network. Privacy is accomplished by many characteristics. Each Bitcoin in circulation has its own serial number, which ensures it's possible to track transactions, while XMR is entirely fungible.
By contrast, sender data, receivers and the sum of crypto transactions are hidden — and Monero lawyers believe this makes it preferable to rivals like Zcash's privacy coins, which are "selectively clear." Thus, funds are not sent at the public address for Monero, as opposed to Bitcoin. Rather, they put the funds in a different, secretly generated account if anyone sends their Monero and lock the account only with a password. This never connects your Monero with your public address. In any Monero transaction, one of these new anonymous accounts must be generated. Monero names stealth addresses for these new accounts. The concept behind the stealth address is to create an encrypted layer between your public address and your own Monero. Publicly accessible addresses on the Monero network are stealth addresses, meaning sensitive details remain unchanged. 
Monero takes privacy seriously but also with a fun approach.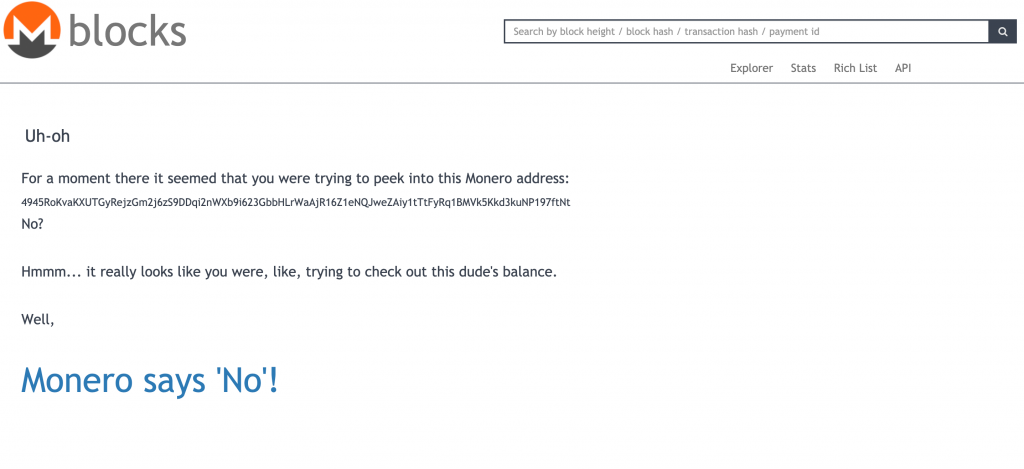 Monero's Advantages Over Bitcoin 
Is Monero better than Bitcoin? Each cryptocurrency has their own advantages, it is important what you choose to focus on.
Bitcoin uses a combination of alphabets and numbers to shield the identity by generating pseudo-names and registering them in the ledger. This provides limited privacy as the transactions can be linked to an account by monitoring it over a period of time. However, the transaction of the Monero coin is non-traceable, thus providing more privacy. Transaction speed? It takes roughly 2 minutes to validate a Monero transaction. However, once the Network has checked the transaction 10 times, a transaction from Monero is not considered entirely authenticated. It takes therefore about 20 minutes for the Monero transaction to be completely validated and expenditure funds to be unlocked. 
On the other hand, it takes about 10 minutes for Bitcoin to validate and after 1 validation funds can be invested. As the transaction rates of Monero are higher, Bitcoin can do this depending on the average time taken for a transaction to be completed with costly funds. 
Monero's Transaction fees
Until recently, transaction costs for Monero and Bitcoin were comparably close (with Bitcoin fees being a bit higher). At the end of 2018, though, Monero adopted a new device known as bulletproof security, which improved privacy but also limited its size. This means that more transactions can fit in with a Monero block (a group of transactions), making the transaction more competitive (or "cheaper"). The average transaction costs of Monero have declined from ~60 cents to ~2 cents by about 97%. It clearly gives an advantage to Monero over bitcoin in terms of transaction fees. 
XMR Mining, XMR Pools and Charts 
Monero's mining method is based on the principle of equality. This is the idea that all should be fair and equal. When Monero was launched to its creators did not take part but made use of donations to build the virtual currency and community support. Monero is using a RandomX mining algorithm. RandomX is ASIC-proof and people with ASICs who want to use Monero won't achieve any great advantage over people using more ordinary computers. This makes Monero's mining process fairer than Bitcoin's. In comparison, it is better for consumers to try Monero without buying it first. One nice thing about Monero mining is that you don't have to procure unique XMR mining gear. A computer is all that you need to do xmr mining, thus giving the opportunity to everyone. With that being said, the faster the processor, the better the result. 
Mining pools integrate more effectively the hashing capacity of all their users.  Each block mined by the community is divided between all pool participants using any payout method. Top xmr pools are Miner gate, Nano-pool, MineXMR, Monero crypto Pool FR, MoneroHash, Support XMR, XMR pool.net. There are a lot of good mining pools for Monero and the preference should be based on server venue, charge fees, pool faith, pool uptime, and pool hash rate. 
Monero is a bit different since XMR did not sell tokens — and there were no tokens. This cryptocurrency is designed to be insensitive to ASICs, typically used for the use of new Bitcoin mining. This implies, in theory, that XMR can be calculated using daily computers. Overall, 18.4 million XMR will be in circulation, with the ceiling on May 31, 2022. This ceiling is planned. Miners are then allowed to use "tail emissions" and a limited quantity of XMR are awarded to the machine every 60 seconds. This method is considered to be more successful than the use of transaction costs.
Final Thoughts
Monero is a viable alternative coin, and its core principles are confidentiality, open source and decentralization. Monero is seen as a tough competitor of Bitcoin and the claims that it is capable of overcoming the network impact of Bitcoin makes it a cryptocurrency with great potential.
So grab the opportunity to be a part of it, better late than never.
Check out which businesses accept Monero as payment.