Irrespective of the country you reside in, lotteries are found all across the globe. It's arguably the most popular form of gambling, as you put in so little with a potential massive upside. Winning the lottery is much harder than it sounds, but so many people sign up in hopes they'll become a millionaire. The lottery can be played in all forms of currencies in today's age. At the moment there are several cryptocurrency lotteries out there that work solely in cryptocurrencies such as Bitcoin and Ethereum, and give out the prizes in those currencies too.
Though it may be jackpots for cryptocurrency lotteries may not be as large as the national lotteries with fiat. It's still an amazing alternative, just remember any funds you win are 100% owned by you and don't need to be stored in a bank. So let's get into things and tell you about crypto lotteries!
What are Crypto Lotteries?
Cryptocurrency lotteries are the same as your typical lottery games, except payments for tickets are made in Bitcoin or Ethereum, and any winning is paid out in cryptocurrencies as well. However, there are other lotteries that will accept payment in Bitcoin, but give out the winnings in fiat currencies. So before signing up to any crypto lotteries ensure to check what their payout currency is.
There are several online Bitcoin lotteries that aren't fully regulated and don't follow strict guidelines set out by the regulative authorities. It may be difficult to distinguish between the different types however, in this article, we'll only provide crypto lotteries that have been fully regulated and are safe to use.
Top lotteries in 2022:
What is the best crypto lottery?
Lottoland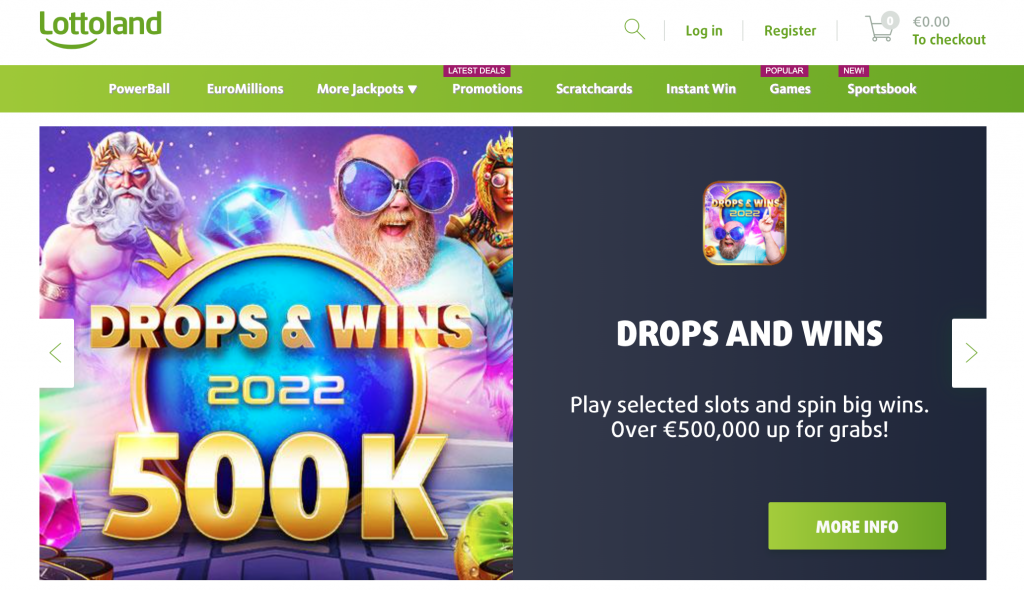 Lottoland developed and hosted the first-ever bitcoin lottery on the internet. Well, we say first, but we mean first regulated lottery. The jackpot for winning this lotto is a massive 1000 Bitcoin. As of writing 1000 Bitcoin is worth $51M which is staggering when tickets are so cheap. It's easy to sign up and join in on the fun of Bitcoin lotteries at Lottoland. Simply create an account, pick 6 numbers, select the date you'd like to play on, and complete the transaction.
The great thing about this Bitcoin jackpot lottery is players can take their winnings in either Bitcoin or as a cash prize. The options entirely up to the winner.
Crypto Games
This is an exciting lottery, that takes place 5 times a week. Players can decide to play in 4 cryptocurrencies including Bitcoin, Ethereum, Litecoin, and Dogecoin. This online casino uses a fully regulated random number generator to pick out the numbers and in the end, players are paid out in the currency of the crypto lotto they decided to join.
This crypto lotto has 3 winners, with 1st place being the biggest payout and 3rd being the smallest payout. The funds are accumulated by the amount of money put into the lotto by players. This means the maximum will only be as high as the amount people are willing to put into their bets.
DuckDice Lottery
Here we have yet another exciting crypto lottery, which has more than just 4 cryptocurrencies you can use to participate. Here there are a whopping 13 cryptocurrencies to choose from. So if you want to join this lottery, Ethereum can be one of the alternative options. There are other currencies including; Ethereum Classic, Monero, Bitcoin Gold, Tether, Dogecoin, Ripple, and many others.
With this lotto, you'll have the option to pick how many numbers you'd like to play, where picking more numbers means the final prize draw increases. You can pick up to 5 numbers and 1 bonus number. If all the numbers come up you're in with a chance to win a massive $100,000. There's also the chance to pick 1 number and get a free ticket to play next time. Oddly you can even pick zero numbers and win a free ticket. The entire jackpot list is shown below:
8Bet Lottery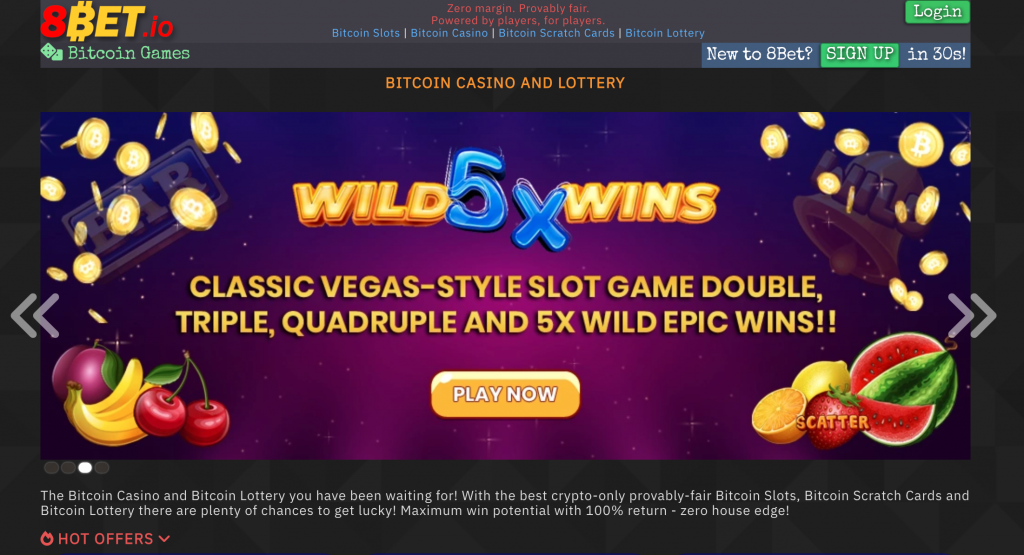 8Bet currently hosts 3 crypto lotteries available for players who sign up today. So let's give you a quick run-through on each one and how much you need to pay and how much you could win.
People's One — Ticket price is 0.2mBTC — Max prize is 8,789mBTC;
Revolution Lotto — Ticket price is 0.5mBTC — Max prize is 8,789mBTC;
Free Crypto Lotto — Ticket price is 0.5mBTC and Free tickets — Max prize is 1000mBTC.
There are currently 4 cryptocurrencies you can buy the tickets in. This includes; BTC, BCH, DASH, LTC, XMR, and ZEC. So you can pick and choose among the cryptocurrencies and see if you get lucky.
The free crypto lotto is great for players who want to get free games out of joining to lotto. This lotto is played twice a day and players who join the lottery get a free lotto ticket which can be used in the game as well. The catch is players won't get free tickets unless they pay for the original ticket. So it's not 100% free.
Lucky Block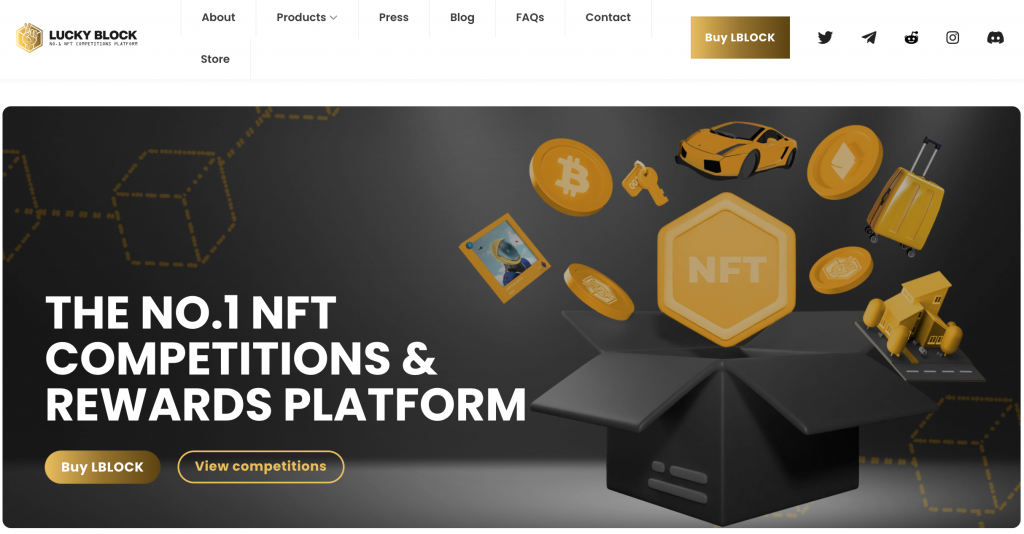 Lucky Block is the world's largest decentralised blockchain-based lottery, powered by the Binance Smart Chain. The Lucky Block project aims to create a platform that is geographically borderless and not tied to specific currencies. Instead of buying lottery tickets for cash, users can invest in LBLOCK, the platform's own token. This asset is used to cover transaction fees.
Since Lucky Block is hosted on a blockchain, prize draws are fairer and more transparent. That is particularly true when compared to traditional lottery systems run by dubious companies. Blockchain technology allows a cryptocurrency lottery to attract participants from all over the world, regardless of gender, occupation, or location. It also speeds up the process of paying out cash prizes.
Quanta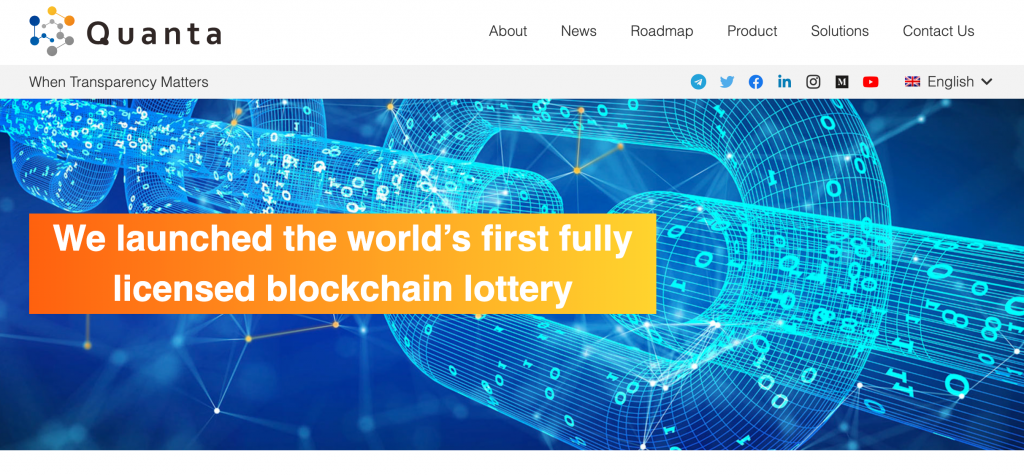 Quanta is a highly reliable and fully legislated crypto lottery on the Ethereum blockchain. Quanta operates in several countries around the world and uses its own RNG algorithm to determine who wins the jackpot.
By complying with current anti-money laundering and terrorist financing legislation, platform users can conduct business in a safe and legal environment. Quanta uses several KYC processes to ensure its customers are protected from cyber-attacks and strict data protection measures.
Gamdom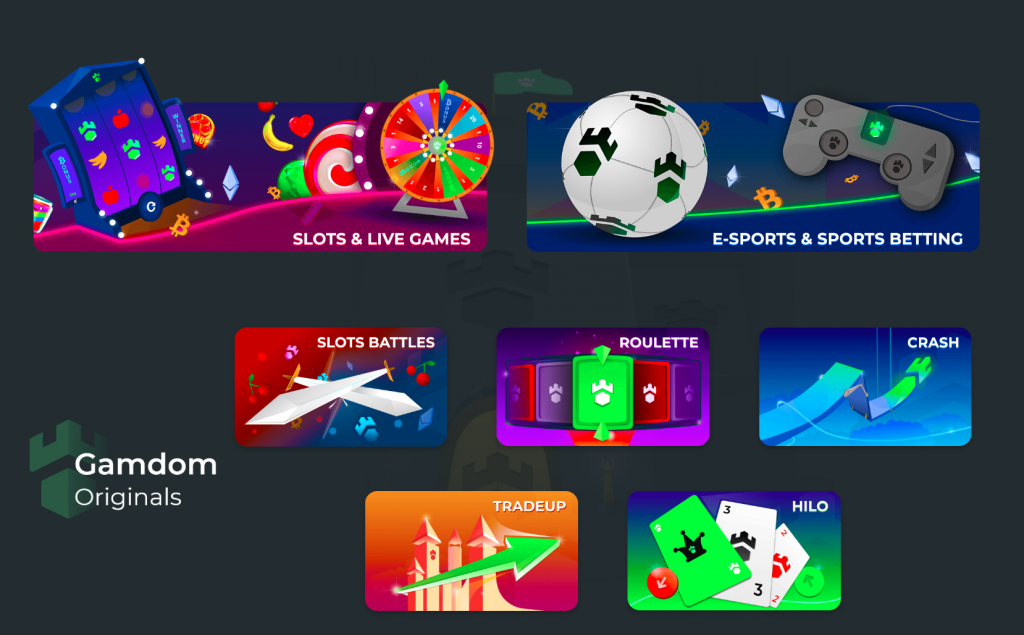 Gamdom online casino was founded in 2016 and is operated by Smein Hosting N.V. The casino only accepts players from countries and regions where online gambling is legal.
It is important to note that in order to withdraw funds from Gamdom casino, a user has to undergo verification. You can open an account in one of 9 currencies, including Bitcoin, Ethereum, and Litecoin. On the home page, the live chat is particularly eye-catching, so it's easy to find friends based on your interests.
Bets.io Lottery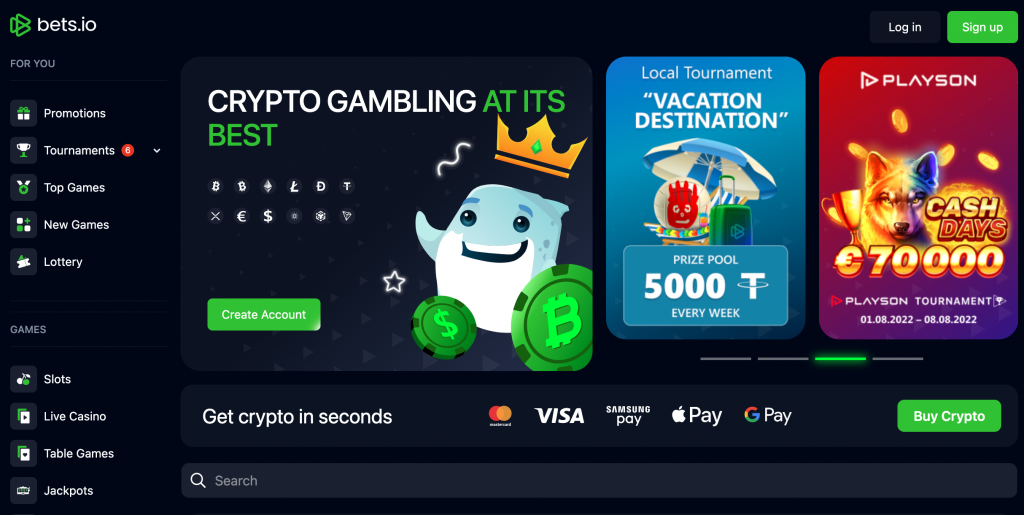 Crypto-casino Bets.io was founded in 2021. The platform operates not only on desktop but also on your other devices as there is a mobile version of the website. However, there are no apps for Android and iOS. The platform accepts six different cryptocurrencies, including Bitcoin and Ethereum, and does not work with fiat currencies.
The company's customer service is available 24 hours a day. Support is available via email and live chat. It is also known among users for its fast withdrawals so it's definitely worth checking out.
PeerGame Lottery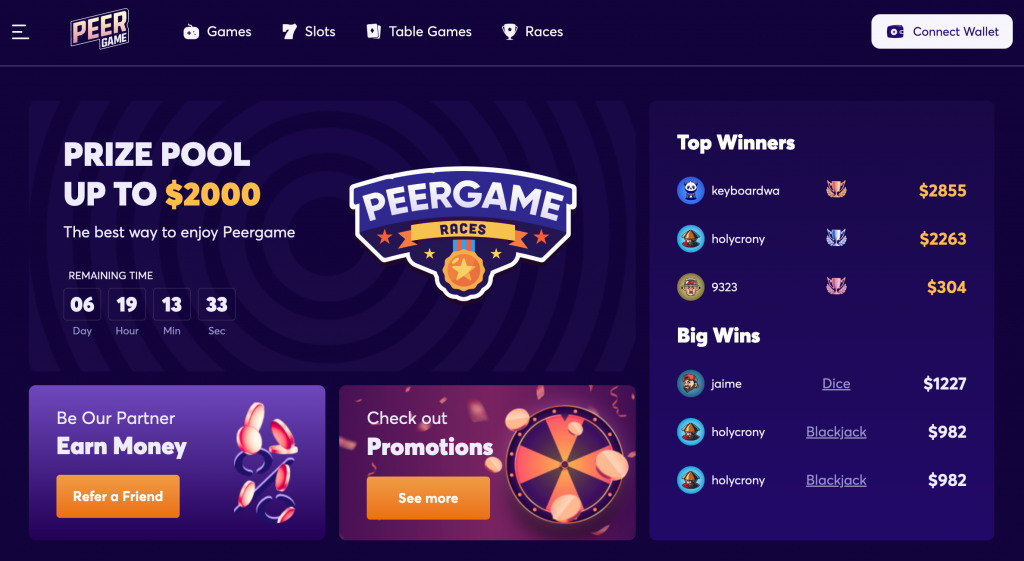 PeerGame is a cryptocurrency casino running on BSV Blockchain. PeerGame users are not required to make deposits or withdrawals. Instead, bets are placed on the site from a bitcoin wallet. If a player wins, payouts are sent back to the same wallet. Bets are placed instantly and payouts are accepted just as quickly.
The creators of the platform call PeerGame Casino 2.0, whose mission is to provide an entirely new gaming experience that is frictionless, fast, and easy thanks to Bitcoin technology that will be "the backbone of the new Internet."
Bitcasino.io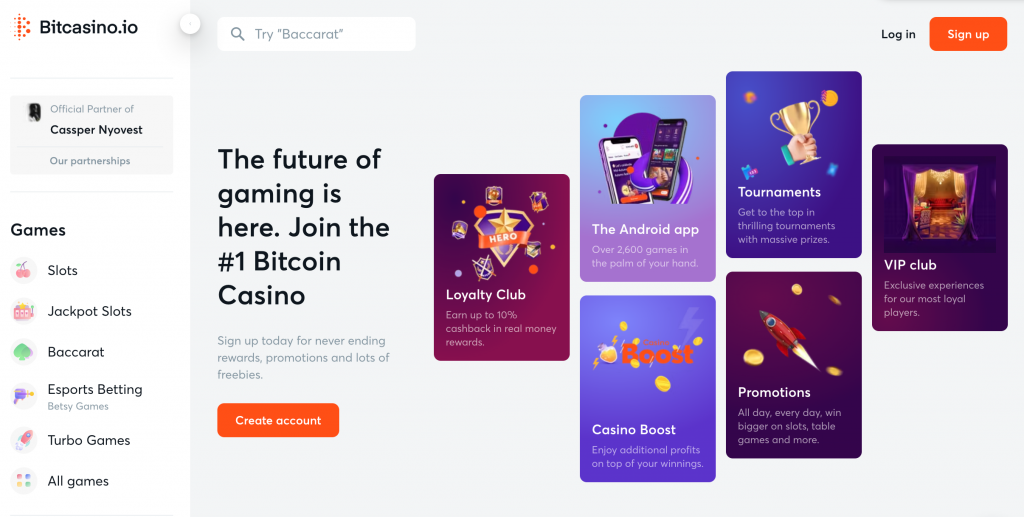 Bitcasino.io is one of the fastest-growing online casinos. Much of its high popularity comes from its widespread use of cryptocurrency-enabled gambling. The site is known for the fact that it often offers players the opportunity to take advantage of bonuses. Bitcasino.io has one of the most advanced loyalty systems. As you play in the casino, you'll earn points for each spin and move up the levels. There are seven in total, each consisting of several stages – the more you play, the more rewards you get. In addition to the loyalty system, Bitcasino.io also offers a VIP lounge for the most loyal customers.
Pros and Cons of Bitcoin Lotteries
Pros
Prize-winning paid out in cryptocurrencies;
Fairness is 100% guaranteed at regulated sites;
Options to choose if you want a crypto or fiat payout.
Cons
Bitcoin's price fluctuates.
Final Thoughts
Cryptocurrency lotteries are great for players who are looking for an alternative way of having fun without using fiat money. Most cryptocurrency lotteries are a part of crypto online casinos which entice players into playing other casino games. So if you're interested in playing a Bitcoin lottery and playing blackjack on the side then choosing some of the sites we provided here today is a great option.