This one goes out to all the people looking to find love through online dating sites. Finding love can be quite difficult in the current circumstances we've all found ourselves in. However, online dating can help with that as you're only a swipe away from finding your one true love. Activating special features and getting VIP treatment at online dating sites usually requires payments. Bitcoin payments are now accepted widely across dating sites to accommodate a wider audience, an audience that likes to have 100% control of their own funds. So if you're one of those people who want to use Bitcoin to pay for dating websites then this article is the one for you.
Why Use Bitcoin to Pay for Dating Sites?
There are a few advantages of using Bitcoin over traditional fiat currencies. For starters, once you own bitcoin and the tokens are in your personal wallet you are solely in charge of those funds. When you put your fiat money into a bank account that money no longer belongs to you. The banks loan the money out to other people. Here are a few other reasons to use Bitcoin as a payment form for dating sites:
Fast Transactions 
Focuses on Peer-to-Peer transactions 
Transactions are recorded on the blockchain 
Removes any expensive bank fees
Very low transaction fees (miniscule)
Dating Sites that Accept Bitcoin Payments 
Bitcoin has become highly popular over the past year with its price pump to above $50,000, many websites have noticed it, done their research, and started accepting bitcoin as part of their payment services. You can use Bitcoin at some of your favorite centralized dating apps, and also use them at decentralized bitcoin dating sites. These sites accept Bitcoin payments and have their own dating cryptocurrency. A huge downer is that Tinder doesn't accept bitcoin at the moment. To Tinder Bitcoin may not be a currency they're ready to take onboard. Nonetheless, we will go through both centralized and decentralized options, so you can pick and choose from the best crypto dating apps and sites.
OkCupid
This is one of the more popular dating sites on the internet. The people who designed the algorithm claim that it finds people their perfect match once you've answered tons of personal questions about yourself. The site is entirely free to join, however, you can make payments to activate special features like any other dating site. You can make payments with Bitcoin on OkCupid, which has been offering cryptocurrency payments since 2013. The website has around 50 million users actively using it at the moment, so it's a good hub to make decentralized payments.
Badoo
Yet another great dating site, made specially for users who want to find people within a close radius to themselves. The website is available in 190 countries and has more than 499 million users currently active. Payments for this site can be made through several devices inducing Android, Apple, and Blackberry. Bitcoin payments were first made available in 2015, making them an early adopter of the cryptocurrency. Users can use Bitcoin payments to activate different areas of the site and reveal people who've been looking at their Badoo profile. 
Luxy
Luxy is a site designed specifically for the wealthy community of the world. This includes rich people, celebrities, CEOs, supermodels, and many other categories of popular individuals. To qualify for an account users need to make more than $200,000 a year, and accounts need to be confirmed before any dating can start going on.
Cryptocurrency payments can be made on the website. Specifically, Bitcoin payments can be made when downloading the Xcel wallet through Apple and Android devices on the App Store and Google Play Store respectively.
SmartDates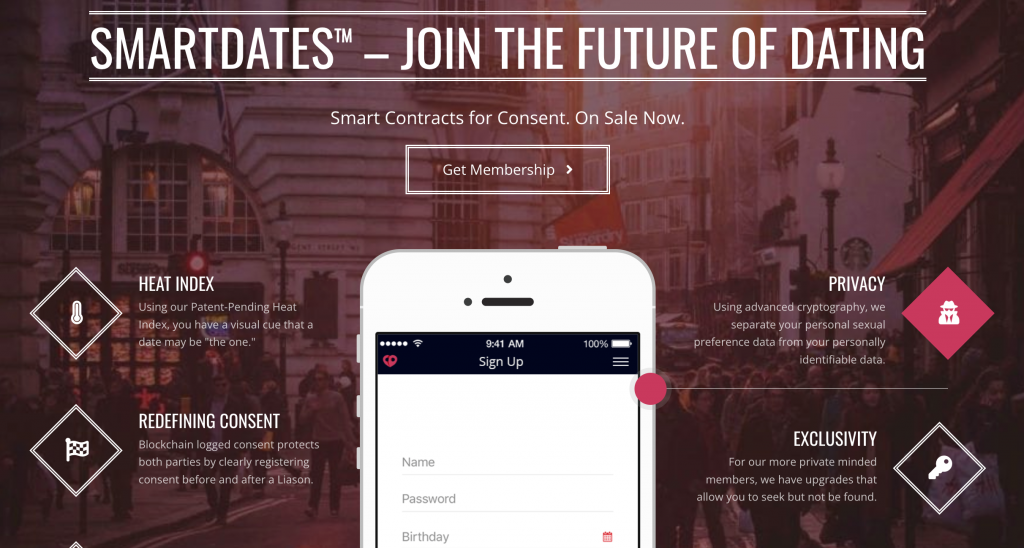 SmartDates is a decentralized crypto dating app, and it claims to be the future of dating. The site is designed on the blockchain which allows users data to be kept safe and secure. People who sign up for the app can opt in to get a lifetime membership. This membership costs $99.00 at the time of writing and can be paid in cryptocurrencies. You'll be able to pay the $99 in Bitcoin and other cryptocurrencies. When you've made the payment a bonus of the SmartDates tokens are also awarded, which you can use on the website straight away. 
Final Thoughts
Dating online can always be fun for users who are aiming to find love. Cryptocurrency dating apps make it easy to pay for the special things on site and make your dating experience that little smoother. Take full advantage of the perks Bitcoin provides the dating world and happy dating!