NOWPayments is delighted to announce a new feature – from now on, you can take a crypto loan using funds from your Custody as collateral. This means you may not only store your funds but invest them in your business – and all this without selling the coins.
Loans are provided by our trusted partner CoinRabbit. The lending platform won't ask you for any KYC or credit check, and it issues loans within just a few minutes. The APR ranges from 12% to 13.8%, there are no monthly payments. Your funds will be stored in cold wallets, and you can repay the loan anytime.
How Do Crypto Loans Work?
Crypto loans help you to make the most of your capital. Let's take an example.
Alice is a merchant who stores Bitcoin in her NOWPayments Custody. She needs some free money to invest in her online store's growth, but she sees Bitcoin as a long-term investment and doesn't want to spend it. Alice needs a way to use her crypto now without selling it.
The most optimal solution here is taking out a cryptocurrency loan. Alice finds a trusted lending service, sends her Bitcoins for temporary storage, and gets some stablecoins in return. Now, she can use them to increase the revenue of her business. When Alice is ready to repay the loan, she will send the borrowed amount of stablecoins plus the APR to the service – and will get her Bitcoins back.
What Is CoinRabbit?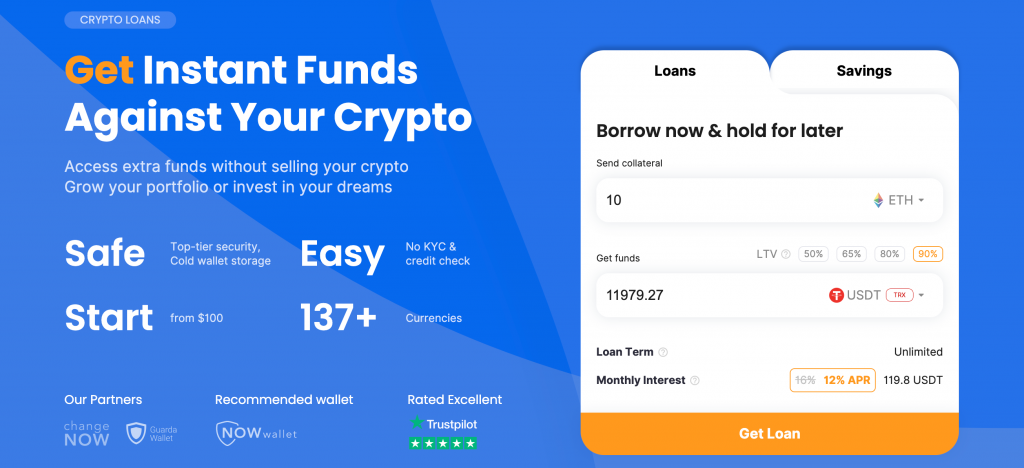 CoinRabbit is a crypto lending service operating since 2020. Since its launch, the platform has been closely cooperating with ChangeNOW, our parent company and a trusted instant crypto exchange service.
CoinRabbit values usability and security equally high. You can get a loan in just a few minutes – there's no KYC and credit check, all you need as proof of your solvency is some cryptocurrency as collateral. The minimum loan amount is $100. 130+ crypto coins may serve as collateral. The loan is termless – you can repay it whenever you want, even in a few months or years.
The loan's APR varies from 12% to 13.8% and depends on the loan-to-value ratio: the higher the LTV, the lower your APR. We will explain this in detail below.
CoinRabbit stores all customers' funds on its dedicated cold wallets and never uses the money in any market operations.
Why Should I Take a Crypto Loan?
Taking a loan with funds stored in your Custody means you use them in the most efficient way.
First, you can invest the borrowed money in your business – to bring new clients and increase your throughput by increasing liquidity up to +90%. Once you boost your revenue, you will be able to repay the loan and enjoy taking the rest.
Second, if you need to make an expensive purchase for you or your business but there's not enough funds at the moment – a crypto loan is the solution. Borrow some money, buy what you need – and return your collateral at any moment in the future. The loan period is unlimited.
How CoinRabbit Loans Work in NOWPayments
You can take out a loan in CoinRabbit from your NOWPayments account if you've enabled Custody and funds have already started to accumulate there. You will see the "Get Loan" button in your Custody – it will redirect you to the lending platform.
In CoinRabbit's intuitive interface, you will be offered to choose the collateral currency, amount, and the LTV of your loan. When you're all set, withdraw funds from your Custody to CoinRabbit – this crypto will serve as your loan's collateral. The loan itself will lend into your own wallet address. When you repay it, the collateral will return in your NOWPayments Custody.
How Do I Take a Loan?
Set up loan details
Go to the Custody section of your Personal Account and click "Get Loan". You will be redirected to CoinRabbit.
Select the cryptocurrency that you want to use as collateral.
Choose the loan-to-value ratio.
The LTV defines two things: what percentage of collateral's value you will receive as a loan; how much the collateral's price must decrease to trigger its liquidation. The higher the LTV, the more instant funds you get, but the closer the liquidation zone is in case the market starts to collapse.
For example, your collateral is 1 BTC at $20,000, and you're getting a loan in USDT. The 90% LTV ratio will bring you 18,000 USDT, and if Bitcoin drops to at least $18,000, CoinRabbit will sell your collateral.
In addition to that, the chosen LTV defines what interest you will pay when closing the loan:
80% LTV – 12% APR
70% LTV – 12.6% APR
60% LTV – 13.2% APR
50% LTV – 13.8% APR
Select the cryptocurrency that you'd like to receive as a loan. 6 options are available: stablecoins on Ethereum, TRON, and BSC.
Click "Get Loan". Besides the calculated deposit and loan amounts, you will see the following numbers:
Monthly interest – interest that will be accrued each month since you receive your loan. You won't have to pay it monthly – the entire sum will be charged when you repay the loan.
Margin call – the price of collateral cryptocurrency at which it will be liquidated.
Origination fee – network fee + 0.2% service fee used in securing the platform. Like monthly interest, origination fee is paid at loan repayment. There are no other fees in CoinRabbit.
If the numbers are fine, enter the wallet address where you want to receive your loan, and verify your email address or phone number – you will need them to sign in to CoinRabbit and track your loan.
Get the loan
Send crypto from your NOWPayments Custody to the CoinRabbit deposit address.
Once the service receives it, it automatically sends you the loan to the specified wallet address.
Congratulations! Use your borrowed funds the way you want – and come back to repay the loan and take back your collateral at any time.
Track Your Loan
Use your mobile phone or email to sign in to CoinRabbit. In your account, you can keep up with the details of your loan: the amount of interest accrued or "distance" between the collateral's price and the margin call.
You can lower the liquidation price by adding more collateral to your loan or partially repaying it. If the collateral price approaches the liquidation price, CoinRabbit will send you multiple notifications. If the liquidation of the collateral occurs, borrowed funds remain in your wallet and you don't need to repay the loan.
Close the Loan
The loan period is infinite: you decide for how long you want to use the borrowed money. Your collateral will reside on protected cold wallets until you decide to take it back at any moment.
The repayment will consist of the amount of stablecoins that you borrowed + the accrued APR + origination fee.
Can I Take Multiple Loans?
Sure, you can. This may be the case if you store a few different coins in your Custody. For each loan, you can set different (or same) LTV, APR, and stablecoin. All loans can be tracked separately in your CoinRabbit account.
What If I Face a Problem With My Loan?
If you have an issue or a question, reach out to CoinRabbit support chat – find it in the lower right corner at the platform's main page. Our colleagues in CoinRabbit will resolve your problem – or will contact us if necessary.
Make the Most of Your Crypto
Crypto loan is a way to maximize gains from crypto stashed in your NOWPayments Custody. Whenever you need some extra funds, you can use these coins as collateral to borrow stablecoins – and invest them in your business or make purchases. To test the service, you can try a small loan first – the minimum amount is $100.
To get the loan, go to the Custody section of your Personal Account and click the button that will redirect you to CoinRabbit.