Nowadays, Bitcoin investors possess a chance to be fully independent of fiat money by being able to sustain their lifestyles and paying for all of their necessities using cryptocurrencies. It also concerns cars and other means of transportation that are readily available from dealerships and rentals offering their vehicles in exchange for coins and tokens. Even once they secured their favorite car, they can continue enjoying all of the advantages of utilizing fast and small-fee crypto transactions of Bitcoin and altcoins to get maintenance. Fuel is not an exception here. We have compiled a list of the most ingenious ways to ensure you never run out of gas when using only cryptocurrency to pay for it.
Buying Gas Station Gift Cards with Crypto
Bitrefill
Gift Cards are the source of endless opportunities for crypto enthusiasts since they allow them to freely trade their coins for goods and services. Bitrefill is one of the largest gift card providers on the Internet that accepts cryptocurrencies as a payment method. Apart from cards of brands such as Uber, Amazon, and Starbucks, the service features options from gas and auto parts companies. For example, investors from Brazil can spend their Bitcoin, Etherium, or Dogecoin on a gift card from the renowned multinational Shell. While people in Canada can get hold of a card from Esso and Mobil, two major gas station companies in the nation which additionally sell snacks and have car washes. Clients from Italy can spend their crypto funds on Tamoil gift cards to replenish their car's tanks when traveling across the country. The process of purchasing a gift card at Btrefill is simple and does not require much time. Add to cart the product of your choice, proceed to checkout, and pay for the selected cards with Bitcoin or altcoins. As soon as the service register the transaction, it will send the purchaser their gift card details.
eGifter
When Bitrefill does not have the desired products in stock, investors can consider shopping at eGifter, another popular choice in the crypto community for great gift card deals. Moreover, this service's list of available options differs from the previous vendor, which grants customers more choice. For instance, eGifter sells cards of the iconic Sheetz stores, which alongside their standard assortment of goods, offer three grades of gasoline, diesel fuel, and kerosene. The Sheetz cards sold by eGifter range in value from $5 to $500, which is extremely convenient for the customers. Additionally, eGifter has Jiffy Lube's gift cards, a popular destination for drivers wishing to change the oil in their car or clean their cars' fuel system. eGifter also allows its users to earn membership points which then they can redeem in the future to get their favorite cards for free. The process of buying a gift card on the eGifter website is similar to the one Bitrefill has. Choose your card, add it to the cart, type in your email, pay for the product, and get the code. The service accepts Bitcoin and a host of other major cryptocurrencies.
Gas Stations Accepting Cryptocurrencies
The Cosmic Market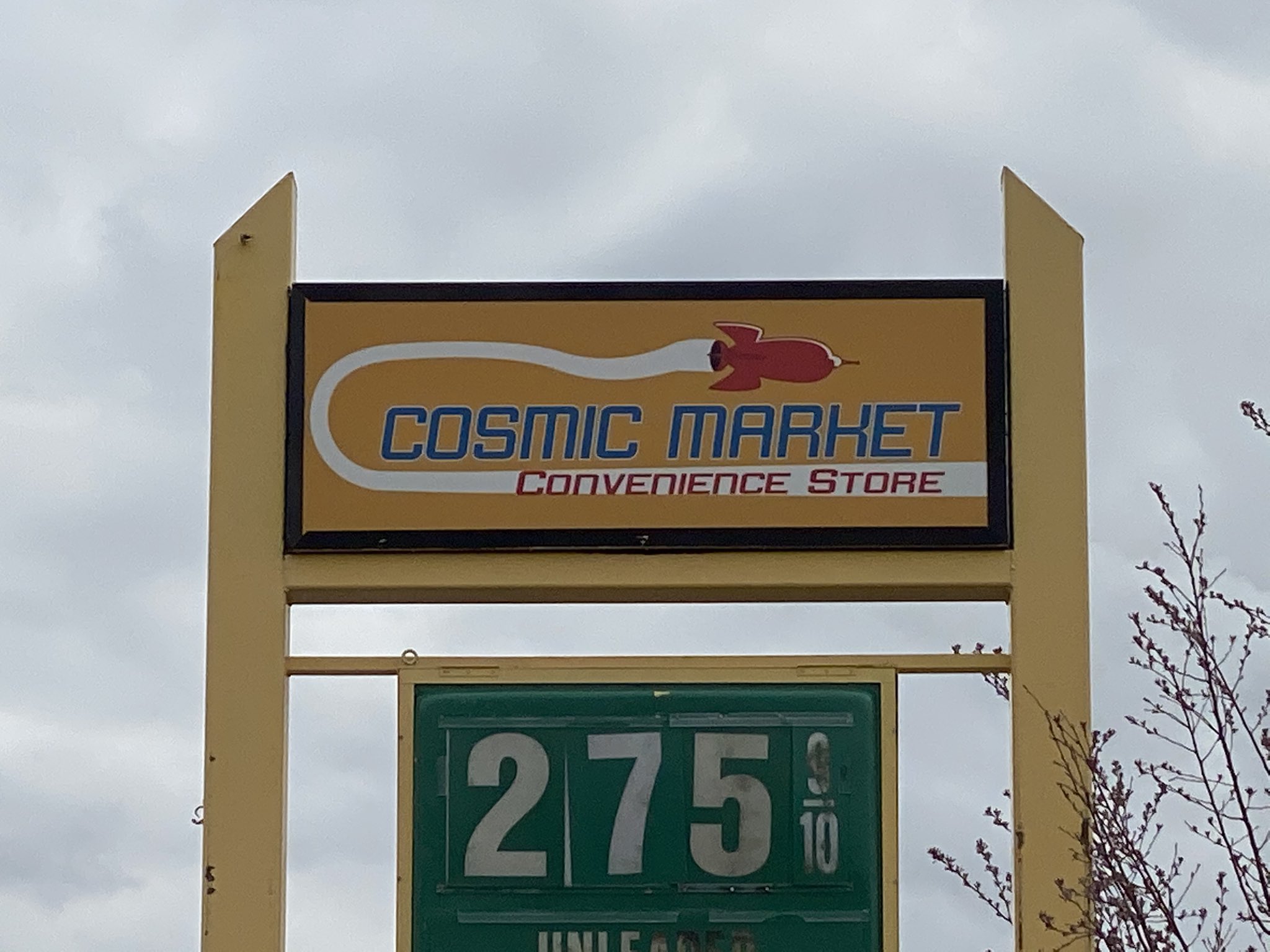 The Cosmic Market, a small convenience store located in Greeley, Colorado, was one of the first gas stations both in the United States and worldwide to adopt Bitcoin as an actual payment option. The store's owner, Shahzad Sarwar, is a proud supporter of blockchain technology and Bitcoin. The store launched its crypto operation in 2014 and, as may be inferred from its Facebook page, still welcomes customers. So, whenever you find yourself driving a car in the Rocky Mountains, make sure to pay a visit to the Cosmic Market to get some Bitcoin-fueled gasoline.
Gas Stations in Croatia
Croatia is famous for its amazing resorts and wonderful nature, but crypto investors now have another reason to go to this European country since its major gas company now accepts cryptocurrency payments. In February of 2021, Tifon, Croatian fuel retail and wholesale company, introduced an option of paying in crypto. The list of eligible currencies includes Bitcoin, Ethereum, XRP, EOS, and Stellar. For payment processing, Tifon relies on Paycek, a service developed by Electrocoin, a fintech startup from Croatia. Currently, customers can pay in their crypto of choice at 46 locations spread across the country. According to the company's representatives, as of right now, Croatia does not have a large number of enthusiasts who would be willing to employ an alternative payment method. That is why the brand hopes that the move will help it attract the attention of tourists and foreign customers willing to test the technology of the future.
Other Ways to Use Crypto to Pay for Fuel
Gas Station Bitcoin ATMs
One of the possible solutions for the people who live in the U.S. and wish to purchase some gasoline or diesel for their beloved trucks and SUVs is to use a Bitcoin ATM. This method does involve fiat currency, yet it is a better option than being stranded in the middle of nowhere on a cold day without both money and fuel. Companies such as Coin Cloud and CoinFlip, which operate Crypto ATMs around the country, have installed their machines in numerous stores, including gas stations. Apart from being able to buy crypto with these ATMs, customers also can exchange their Bitcoins for dollars and withdraw the funds right on the spot. The process is easy and requires a person to choose a sum they want to withdraw, scan a QR code, send the sum in crypto, and then receive it in dollars.
Bitcoin Debit Cards
Bitcoin debit cards have been around for several years now, but their full potential is still yet to unleash. Today, there is a plethora of providers that issue crypto cards for anyone willing to own them. The most popular companies include Coinbase, BlockCard, BitPay, and Crypto.com. All of them offer good deals for investors and enthusiasts who want to enjoy the convenience of being able to convert their funds from crypto to fiat and then spend it on products. This option allows crypto-owners to shop not only at gas stations but also at tens of millions of vendors around the world. This method once again involves fiat, yet under the current circumstances, it is still often inescapable.
Conclusion
Despite the fact that currently only a handful of stations accept Bitcoin for their products and services, every year, businesses are making huge steps towards extensive adoption of crypto. Nevertheless, as demonstrated by the article, it is already possible for a person wishing to stick to crypto transactions only to own a car and buy fuel for it. There is no doubt that in the coming years more gas stations will start featuring Bitcoin and altcoin payments.