The digital world has witnessed a groundbreaking shift with the emergence of non-fungible tokens (NFTs), transforming the realms of creativity and investment. NOWPayments, an innovative payment solution provider, has stepped forward with a game-changing solution called NFT Checkout, revolutionizing the way financial transactions are conducted within the NFT ecosystem. In this comprehensive guide, we will delve into the convergence of vechain payments and NFT marketplaces, explore top NFT projects on the vechain blockchain, and highlight the advantages of NOWPayments' solution for NFT marketplaces.
The Intersection of Vechain and NFT Payments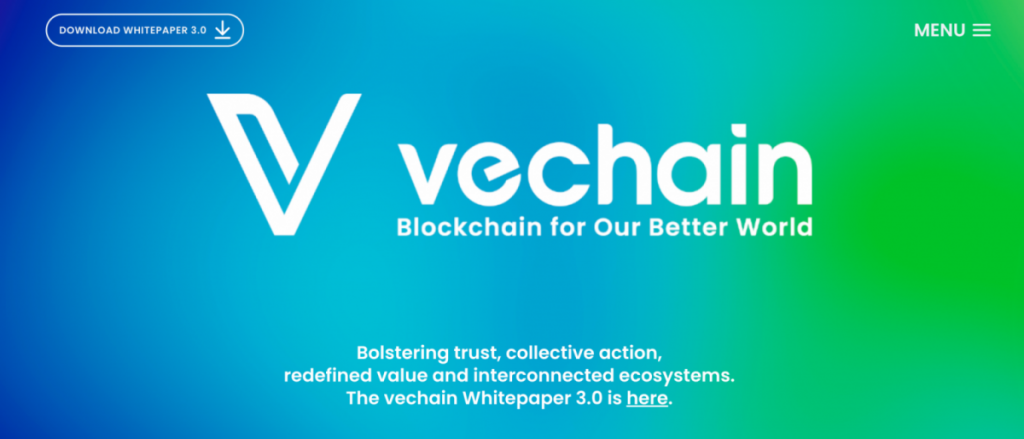 Vechain, a prominent blockchain platform known for its focus on supply chain management and enterprise solutions, has witnessed the rise of NFTs within its ecosystem. With the integration of NOWPayments' vechain payment solution, NFT marketplaces can now facilitate the acceptance of vechain's native cryptocurrency, VET. This integration opens up new avenues for seamless, secure, and transparent transactions within the vechain NFT domain, revolutionizing the way digital assets are bought and sold.
Top Vechain NFT Projects
VeSea: Discover, Collect & Sell NFTs on Vechain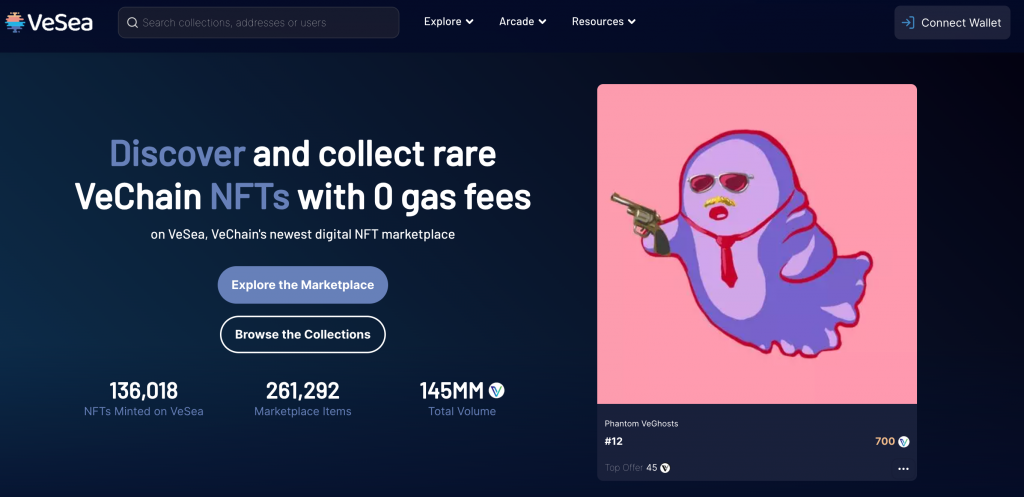 VeSea is the newest addition to the vechain NFT marketplace family. This digital marketplace provides a platform for users to discover, collect, and sell NFTs on the vechain blockchain. With a user-friendly interface and a wide range of NFT collections, VeSea offers a seamless experience for both buyers and sellers. To get started on VeSea, users need to set up their preferred wallet, such as VeWorld for desktop or Sync 2 for mobile, and connect it to the marketplace. Once connected, users can create a profile and start minting their own NFTs. VeSea also supports various listing options, including fixed-price sales and auctions, with zero gas fees.
World of V: A Broad Variety of Publications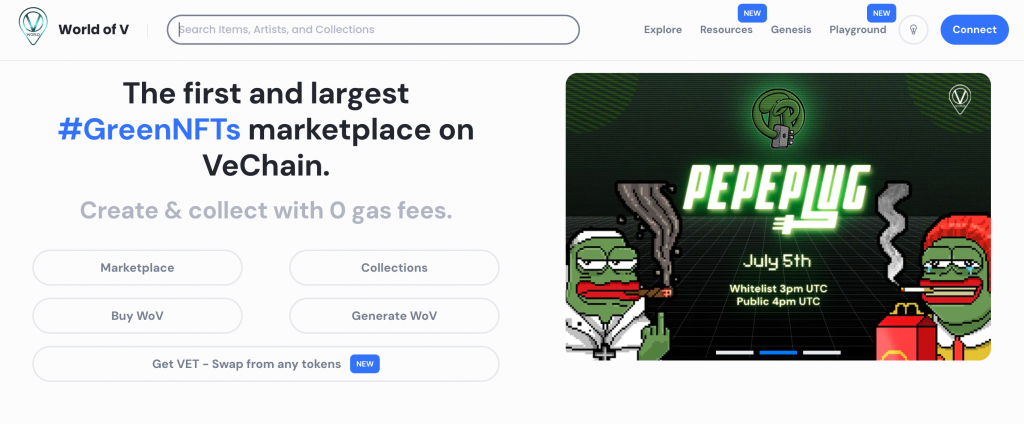 World of V is a well-established vechain NFT marketplace that boasts an extensive collection of digital publications. This platform serves as a hub for creators and collectors, offering a diverse range of artworks, music, videos, and more. To begin your journey on World of V, you need to set up your wallet, either VeWorld for desktop or Sync 2 for mobile. Once your wallet is connected, you can create a profile by selecting a unique username and providing an email address. The next step is to mint your NFTs by uploading your digital creations, whether they are images, audio files, or videos. World of V ensures a hassle-free minting process by taking care of the gas fees. After minting, you can list your NFTs for sale, offering them at a fixed price or running an auction, all while enjoying zero gas fees.
VPunks: The Revolutionary 8-bit NFT Project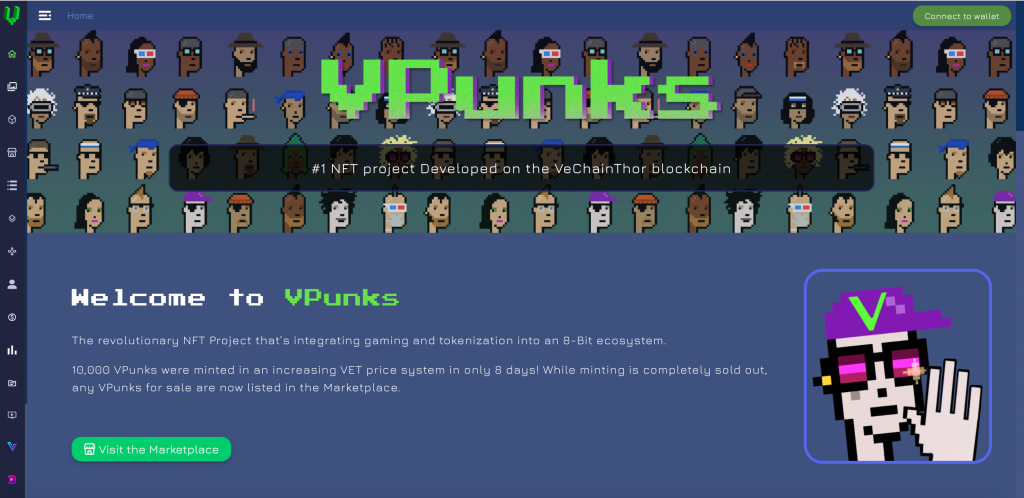 VPunks is a groundbreaking 8-bit NFT project on the vechain blockchain. Inspired by the iconic CryptoPunks, VPunks brings a unique twist to the world of digital collectibles. This project offers a marketplace where users can buy, sell, and trade their VPunks NFTs. To participate in the VPunks ecosystem, users need to connect their preferred wallet and explore the available VPunks collections. Each VPunk is a distinctive digital character with its own traits and attributes, making them highly sought after by collectors. The VPunks marketplace provides a platform for users to engage in the vibrant community and acquire these one-of-a-kind digital assets.
VIMWorld: Next Generation Smart Collectibles

VIMWorld is a revolutionary vechain-powered platform that introduces users to the world of smart collectibles. In this immersive ecosystem, users can collect and interact with digital assets called VIMs, which offer various interactive and rewarding experiences across different virtual worlds. VIMWorld integrates blockchain technology to ensure the authenticity, provenance, and scarcity of these smart collectibles. To explore the VIMWorld marketplace, users can connect their vechain wallet and discover a wide range of VIMs. This platform opens up a universe of possibilities for collectors and enthusiasts alike, enabling them to embark on exciting adventures with their digital companions.
NFT Paper Project: A Fusion of Physical and Digital Art

The NFT Paper Project is a unique and interactive experience that bridges the gap between physical and digital art. With 11,880 procedurally generated pieces of art, this project offers a fusion of creativity and technology. Each artwork exists in both the physical and digital realms, creating a captivating blend of traditional and modern artistic expressions. The NFT Paper Project features its own marketplace, where users can explore and acquire these exclusive NFTs. By connecting their vechain wallet, users can dive into the world of NFT Paper Project and unlock a wealth of artistic possibilities.
BlackVeMarket: A Community-driven Marketplace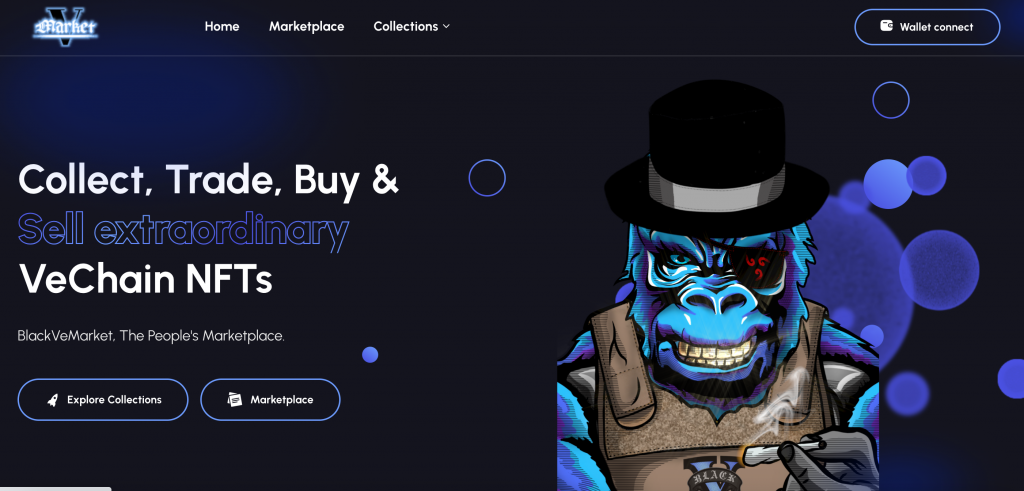 BlackVeMarket is a community-driven vechain NFT marketplace created by the team behind VeThugs NFT. This marketplace serves as a hub for creators, collectors, and enthusiasts, providing a platform to buy, sell, and trade unique digital assets. With a focus on community engagement, BlackVeMarket fosters a vibrant environment where users can connect, collaborate, and showcase their NFTs. By connecting their vechain wallet, users can actively participate in the BlackVeMarket community and explore the diverse range of NFT collections.
Advantages of Vechain Payments for NFT Ecosystem

The integration of vechain payments within the NFT ecosystem brings forth a plethora of advantages for NFT projects and marketplaces. Let's explore some key benefits:
Secure and Efficient Transactions: vechain's blockchain immutability ensures the security and integrity of transactions within the NFT ecosystem, instilling trust and confidence among users.
Low Fees and Quick Settlements: vechain's efficient blockchain infrastructure enables NFT projects to offer cost-effective transactions and swift settlements, enhancing user experience and fostering efficiency.
Expanding User Base and Reach: Integrating vechain payments opens the doors to a growing community of vechain enthusiasts, attracting a diverse audience of collectors, enthusiasts, and stakeholders.
Seamless Integration and User Experience: NOWPayments' vechain payment solution seamlessly integrates with NFT marketplaces, ensuring a frictionless payment journey for users, thereby enhancing overall user experience.
Diversification of Payment Options: By incorporating vechain payments, NFT projects diversify their payment options, catering to users' preferences and expanding their audience base.
NOWPayments' Vechain Payments Solution: NFT Checkout

NOWPayments' vechain payment solution, NFT Checkout, is a game-changer for NFT marketplaces looking to accept vechain payments and enhance their financial infrastructure. Let's explore the key features and benefits of NFT Checkout.
Introducing NFT Checkout: A Seamless Transaction Experience
NFT Checkout, a groundbreaking feature of NOWPayments' vechain payment solution, redefines the simplicity of transactions. Users can effortlessly deposit VET directly into their NFT checkout accounts, bypassing the complexities of wallet setups. This streamlined process not only enhances user satisfaction but also propels transaction volumes to new heights within NFT marketplaces.
Empowering Integration with API
NOWPayments' vechain payment solution introduces a suite of APIs designed to streamline integration with NFT marketplaces. This API provides a direct avenue for NFT projects to seamlessly incorporate vechain payments into their platforms, erasing friction from the user experience and enhancing operational efficiency.
The Beacon of Transparent and Real-Time Transaction Insights
Beyond facilitating transactions, NOWPayments' vechain payment solution illuminates them. With real-time, transparent transaction data, NFT projects gain invaluable insights that empower data-driven decision-making. This enables NFT marketplaces to optimize performance, meet the evolving demands of the ecosystem, and provide an enriched user experience.
Unleashing the Future: Vechain Payments and NFT Marketplaces

As the NFT market continues its meteoric rise, NOWPayments' vechain payment solution stands as the key to unlocking its future potential. The seamless integration of vechain payments not only transforms NFT marketplaces but also positions them as pioneers in a transformative landscape. The stage is set for a revolution where vechain payments and NFT marketplaces redefine digital commerce, ushering in an era where NFTs dance with vechain payments, reshaping the very essence of financial interaction.
Conclusion
NOWPayments' vechain payment solution, NFT Checkout, has revolutionized the NFT landscape by enabling NFT marketplaces to accept vechain payments seamlessly. The integration of vechain's secure and efficient blockchain technology empowers NFT projects to offer cost-effective transactions, expand their user base, and enhance the overall user experience. As the NFT market continues to evolve, NOWPayments' vechain payment solution paves the way for a future where vechain payments and NFT marketplaces go hand in hand, unlocking new possibilities for digital asset exchange. Embrace this evolution, weave the strands of innovation, and sculpt the future of NFTs with vechain payments.