If you run a blog, an open-source project, or a charity organization, you know well how asking for donations can boost the results of your work. Today, there's an opportunity for you to start receiving donations with Bitcoin and other cryptocurrencies!
Donation widget and button by NOWPayments allow for doing this with minimum effort. Their setup takes not more than 10 minutes and requires no technical knowledge: we provide a detailed, yet extremely short installation guide. Your supporters and followers will find these tools easy to use. When they donate Bitcoin, the money goes straight into your wallet — there are no intermediaries in between.
Where can I place tools to receive donations?
Personal website or blog. Monetize your hobby — provide your audience with an extra way to support you! For some of your followers, crypto might be the most convenient way of donating. 

Any platform where you stream games, music, or anything else. Install a cryptocurrency donation button on Twitch, or share a link on any other service: Facebook, YouTube, etc. Implementing a donation button on YouTube is way more challenging than a donation button on the website — something for us to work at.

Open-source project or service. If you're creating a cool project for the good of any community, accepting Bitcoin donations is not only a way of raising money for your goal but also an opportunity to get even more evidence that people value what you do. More money, more motivation! 

Fundraiser. You've got a great idea that will change the world, and now you need some money to work it through. Let your supporters help you out! 
Now, if you're already familiar with crypto, you can skip the next paragraph. But if you're reading this and asking yourself — "Why would even bother myself dealing with this weird type of money?", we will now try to explain why the cryptocurrency is worth your attention.
Why donations in cryptocurrency?
1. Many users prefer using crypto for paying for things on the Internet
A lot of people all over the world are today quitting the traditional financial system as they don't trust banks and governments — and they are trying to use as little regular (fiat) money as they can. Also, crypto is used worldwide compared to local state currencies. By installing the tools for donations in Bitcoin, you enhance the possible number of your contributors, thus the ultimate sum you will get.
But don't take it on trust — simply ask your followers if they use Bitcoin! If at least 1% say yes, this may be a reason to install a crypto donation widget. In the end, you can always easily convert crypto to regular money.
2. Some goods or services which you're going to spend your funds on might prefer accepting crypto as payment
Having collected your donations in Bitcoin, you won't have to spend any money on commissions for converting your fiat funds into crypto.
3. Your newly obtained crypto might grow in price soon
There's a bull run going on right now on the market, meaning that BTC, ETH, and other cryptos are very likely to appreciate in the next months. Say, if you get donations worth $1000 today, you might already have $1500 in 6 months. This is what many experts expect, but of course, we don't guarantee growth and strongly encourage you to do your own research.
4. Afraid of volatility? We got you covered
Get crypto donations in a stablecoin such as Tether (USDT): this is a cryptocurrency whose price is pegged to US Dollar and is always equal to $1. This is a trusted asset and a reliable solution against market volatility which is no stranger to crypto.
If asking for donations in cryptocurrency sounds compelling to you, here's the next question — what's so special about NOWPayments? Why not the other services?
Why NOWPayments widget?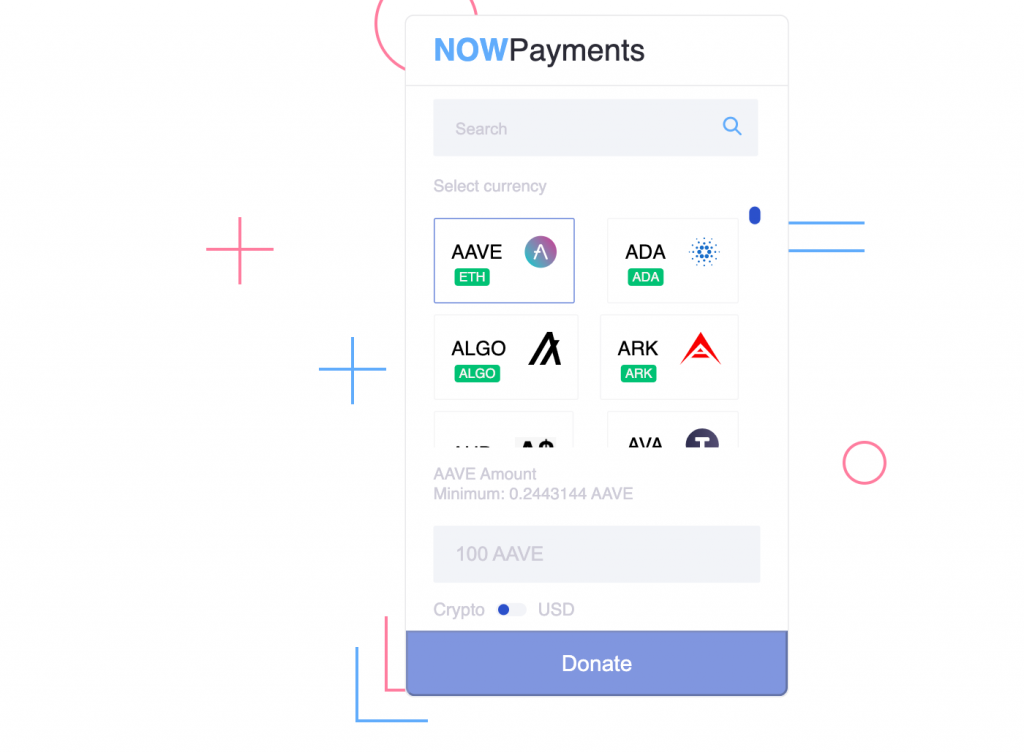 Simple interface. Your users will say thank you for not having to think about how to donate Bitcoin. The widget is intuitive: users only need to choose the currency, set the amount, and head on to their wallet to send the money. It only takes about 2 minutes to donate crypto.
Easy to install. The Bitcoin donation button or widget is a small piece of HTML code that can be inserted into any page's code. Find the setup guide below. 
150 cryptocurrencies supported. Other than giants like Bitcoin or Ethereum, your supporters may be using cool digital money such as DASH or Monero (XMR), universal stable coin Tether (USDT), and many other cryptos. They will find it easy to donate cryptocurrency of any kind. 
The money goes straight into your wallet. No intermediaries have access to your funds — we don't "touch" them on their way from a supporter to you. 
Lower fees compared to most services on the market. Fees start with 0.5% per transaction and go less the more donations you receive. Find out more about pricing here.
How do I install the widget?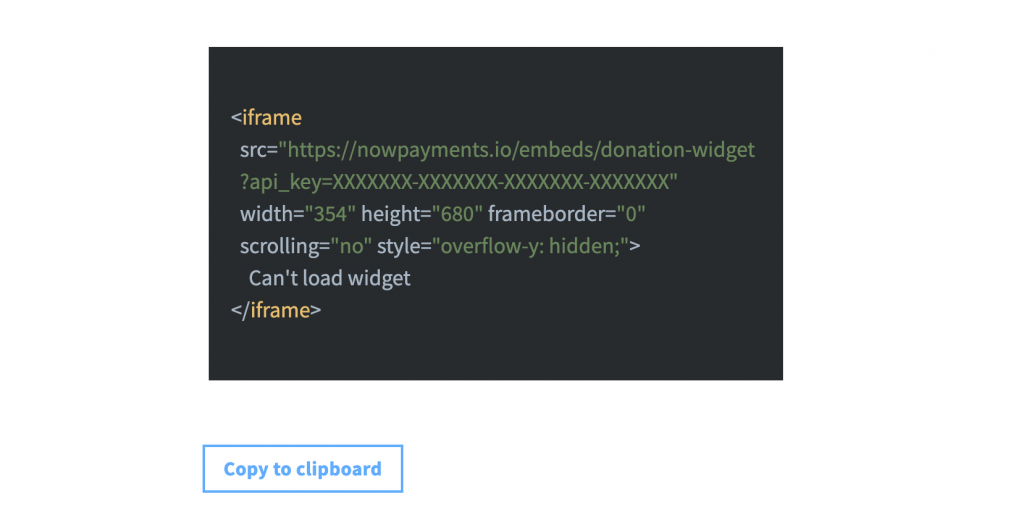 Sign up or sign in to NOWPayments. 
In your Account, find Store settings. If you haven't used NOWPayments yet, add your wallet address. If you don't have one yet, get one here instantly.   
In-Store settings, click the "Add a new key" button. Here's your API key for the donation widget or button.
Now, you're all set to get donations online in crypto! Ask Bitcoin donation, get crypto, and pursue your dreams.
Achieve your goals with NOWPayments!
We hope this guide about how to ask for Bitcoin donations was compelling and comprehensive enough. Learn more at the FAQ page and feel free to ask us at [email protected] at any time. 
The times when crypto was a niche feature for geeks are gone. However, it still got a long way to go to become a truly international currency. Today, you can become one of the first in your niche to ask for Bitcoin donations — and this will definitely yield results. Good luck!