In this article, we explain the easiest way to accept Bitcoin and crypto payments on your WordPress site.

Bitcoin is growing as a solution to global payment systems offering merchants and customers a direct way to buy and sell products. As a result, Bitcoin and cryptocurrency payments are finding their ways to websites similar to fiat payment options.
Benefits of Accepting Bitcoin and Crypto Payments on Your WordPress Website
WordPress allows users to create their own e-marketplaces using payment plugins such as PayPal, Stripe, and other fiat derived options. However, the growth of cryptocurrencies is making a case for WordPress users to build crypto payment solutions on WordPress. Why should you consider adding Bitcoin and crypto payment channels on your WordPress site?
Breaking regulatory barriers: Bitcoin allows anyone to make payments across the globe without any interference from the authorities. This means that anyone across the world can make the payment without the need of owning PayPal accounts (banned in some countries) or a bank account (bypassing regulatory barriers).
Privacy and anonymity: Bitcoin also offers users a cloak of anonymity increasing the privacy of the customers – especially those who do not wish to give out their information online.
Low transaction fees: Cryptocurrencies allow a peer-to-peer payment channel, removing the need for a third-party payment processor. This ensures the transaction fees are kept to a minimum.
Investment opportunity: The surging value of cryptocurrencies also makes a case of holding these cryptocurrencies as an investment opportunity.
After understanding the need to accept cryptocurrencies on your WordPress site, in the next section we look at what you need to start accepting crypto on WP. We then focus on the steps to start accepting crypto payments on WordPress.
Steps to Start Accepting Bitcoin on WordPress
As the largest cryptocurrency, we focus on Bitcoin plugins on WordPress, and here are the steps to be followed.
Create a Bitcoin wallet.
Sign up with a digital service provider.
Download and install cryptocurrency payments plugins on WordPress.
In the next section, we discuss each step in detail giving a step-by-step process of accepting crypto payments on WordPress.
Create your Bitcoin wallet
Before accepting payments on WordPress you need to have a depository account to where customers will send their Bitcoins. A Bitcoin wallet, as it states, provides safe storage for the digital coins received from another wallet. Technically, a BTC wallet stores the private keys needed to access the funds available on the blockchain.
Here's what you need to check for before selecting a wallet:
Control: Bitcoin wallets are divided into custodial and non-custodial, whereby the latter allows you to secure your private keys while the former gives control of your private keys to the entity providing the wallet.
Validation: Some wallets offer users a full running node. This means that no third-party is required while running transactions. While these full node wallets have high levels of security, they need massive amounts of memory space.
Security: Finally, check whether the wallet is properly secured to prevent loss of funds. This is mainly applicable to custodial wallets.
If you wish to select the best wallet for your needs, head on to Bitcoin Wallets and select your preference. There are a number of wallet options including mobile, desktop, and hardware wallets. In each of the wallets available, there are dozens of options, hence you need to select the best Bitcoin wallet for you carefully.
Sign up with a crypto payments provider
WordPress offers a pool of payment processor plugins each of them with its unique features. Some, such as Coinbase and BitPay are custodial and have an inner wallet system; whereas NOWPayments is non-custodial, and funds go straight to the merchant's wallet.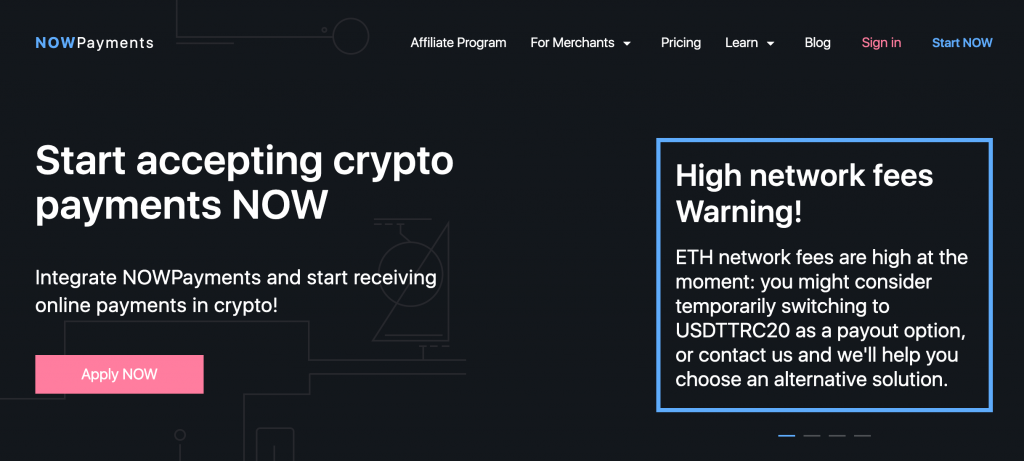 Install WordPress cryptocurrency payment plugin
In this section, we focus on installing a NOWPayments crypto payment plugin on WordPress to allow merchants and users to pay with and donate crypto on their site. NOWPayments offers 8 integration tools: a fully-working API, 4 plugins, including WOOCommerce, and a donation widget and buttons.
How to Accept Bitcoins on WordPress Using NOWPayments Plugin for WooCommerce
Before plugin installation
You need to have installed a WooCommerce plugin on your WordPress site before connecting NOWPayments. Follow this guide to install the WooCommerce checkout plugin. Once installed follow the steps below:
1. Sign up for your NOWPayments account.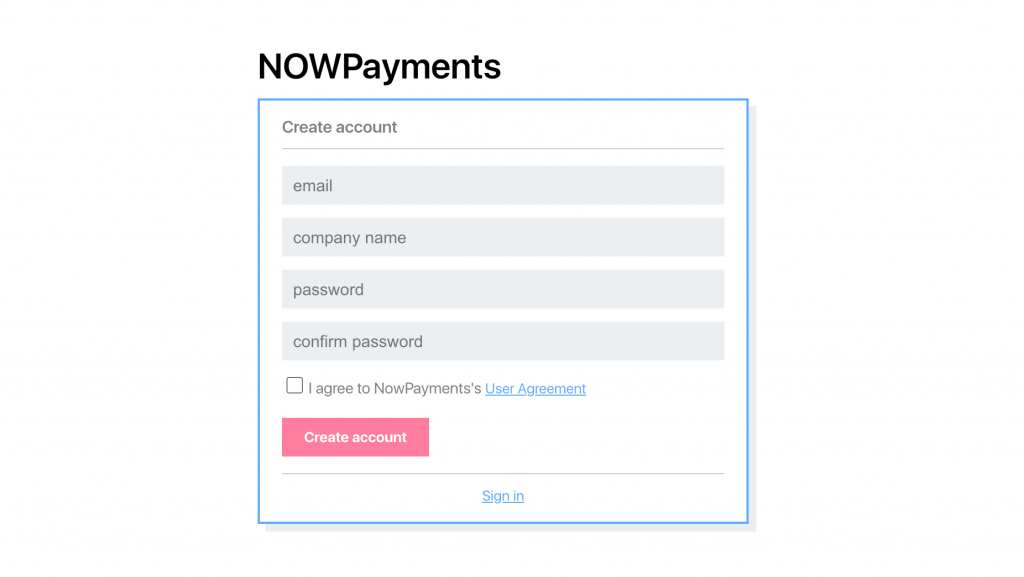 WordPress plugin installation
Once signed up with NOWPayments, head over to the WordPress plugin installation manager and search for the "NOWPayments WooCommerce" plugin. Here is a link to the WooCommerce-NOWPayments plugin download page.
2. Install and then Activate the Plugin.
Configuration and Crypto payments
After installing the plugin, all that remains is configuring and adding cryptocurrencies.
Go to the NOWPayments dashboard.
Go to Store Settings
Add your Wallet Address
Generate your API key.

Finishing up
Once the NOWPayments for WooCommerce plugin is configured, head back to your WordPress site admin panel.
Upload the nowpayments-payment-gateway-for-woocommerce directory to the /wp-content/plugins/ directory.
In the WooCommerce "Settings" page go to the "Payment Gateways" tab, then click "NOWPayments"
Check "Enable NOWPayments" and enter your NOWPayments API Key and IPN secret key.
Click "Save changes" and the gateway will be active.
Frequently Asked Questions
Conclusion
As shown above, WordPress accepts a number of checkout options on your site including cryptocurrencies such as Bitcoin, Ethereum, and XRP. Accepting cryptocurrencies on your WordPress site offers a reliable, cheap, and efficient method of payment to merchants and customers as well. 
From the peer-to-peer transactions, enhanced security, and ease of carrying out digital asset payments to simplicity, low transaction costs, and convenience: as you grow your business, you can consider adding Bitcoin payments to your WordPress site to leverage the benefits that crypto payments offer. 
___________________
Why use NOWPayments.io?
NOWPayments is the easiest way to accept online payments in a wide variety of cryptocurrencies. This service is custody-free, has competitive fees and is available worldwide.
Over 50 cryptocurrencies are accepted on the platform with an in-built exchange feature;
API, widgets, plugins and a donation button are all easy to integrate;
It is a non-custodial service ensuring the security of your funds;
A very simple setup