NOWPayments, an innovative project that endorses crypto payments, presents a new solution for those who would like to accept donations and tips in cryptocurrency: NOWPayments' Donation Widget! Our team has been working hard to bring you the best and the most convenient solution for supporting your business or project!
Crypto Donation Widget enables an easy way to accept donations from your supporters or followers. Donations in Bitcoin, Ethereum or any other supported crypto are easier to process in comparison to the more common fiat donations: as NOWPayments is a non-custodial service no intermediaries have access to your funds, they are sent directly to your wallet. More importantly, NOWPayments' Donation Widget is a service with the lowest fees, unlike many other centralized solutions on bigger platforms that take high service fee. Your supporters can choose the desired cryptocurrency among the coins supported by NOWPayments. There are 15 as of now but the list is constantly expanding.
To start accepting crypto donations you can use our hassle-free API. After signing up to NOWPayments.io, you get your personal wallet which the donations will be sent to. Content creators, charity organizations, and influencers should appreciate the new standards of online finance management!
How to install crypto donation widget
Our donation widget enables users to receive donations online. Simply embed the donation widget with your API key, and your audience can donate Bitcoin, Ethereum, Ripple, and other coins directly to your wallet. Our donation widget can be inserted into any website, as it's a snippet of HTML code. The only thing you need to get started is your API key that identifies the wallet that will receive donations.
Here are the steps that you need to take:
Step 1. Specify your wallet and create an API Key in your account

Step 2. Copy the embed code and paste it into the code of your website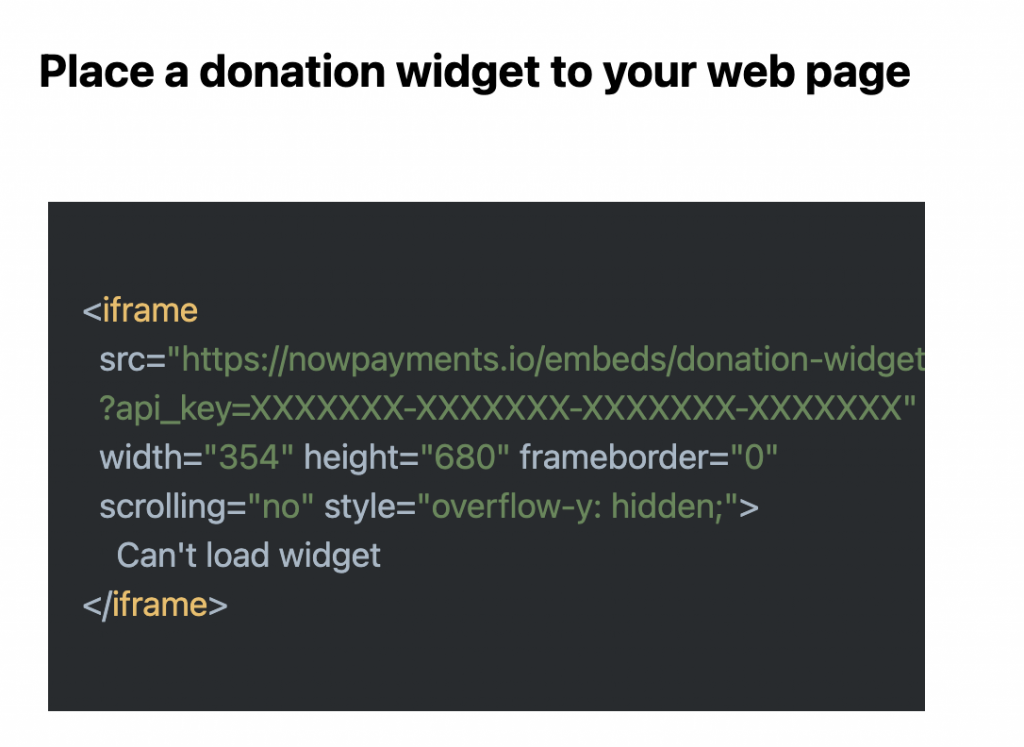 Step 3. You're done! Now you can accept donations in 130+ assets with NOWPayments!
Here are some places where you insert our cryptocurrency donation widget:
Personal website/blog
If you feel like your audience loves and follows your content, make sure to embed this widget. They can donate cryptocurrency and help you pursue your passion.
Open-source product or service
Developing open-source projects is beneficial to the internet community but also time-consuming. Let people show how much they appreciate your effort by allowing them to donate Bitcoin or any other supported coin.
Fundraiser
You might have an awesome idea, but it required funds you simply can't afford. Well, install a donation widget and let those who believe in it donate cryptocurrency to help you out!