There are hundreds of media sites that can bring you the latest cryptocurrency news around the world. However, random selection is not going to help you here. As cryptocurrency attracts many people, there are both authentic and little fraudulent websites that report crypto news. Therefore, you've got to know where to gather your intel from.
This article covers everything you should know about keeping yourself up-to-date about crypto tech and cryptocurrency like Bitcoin and altcoins. We will also talk about a few media websites that would update you on accepting cryptocurrency payments on your eCommerce site or store.
Best Cryptocurrency News Websites for Crypto Traders
First, we will talk about the best crypto media websites that you can use to track trending stories on Bitcoins, other cryptocurrencies, and blockchain technology. While there are thousands of such websites, we have shortlisted only the top 5 of them here.
1. CoinDesk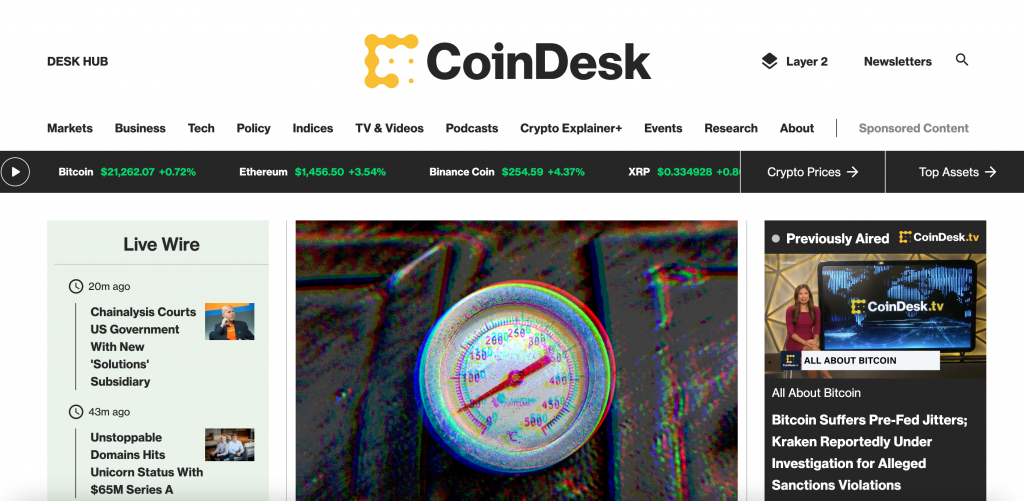 CoinDesk has been the go-to choice for checking out news about cryptocurrencies. This news site started in 2003 and has provided accurate information about cryptocurrency tokens since. In addition to regular news updates, you can use the CoinDesk widgets to learn the current values of tokens like Bitcoin, Ethereum, and XRP in USD. You can also find learning material that gives you a jump-start on cryptocurrency trading. If you are looking for deep insights into Bitcoin trading, you can check out the CoinDesk podcasts as well.
Check out CoinDesk's website.
2. TodayOnChain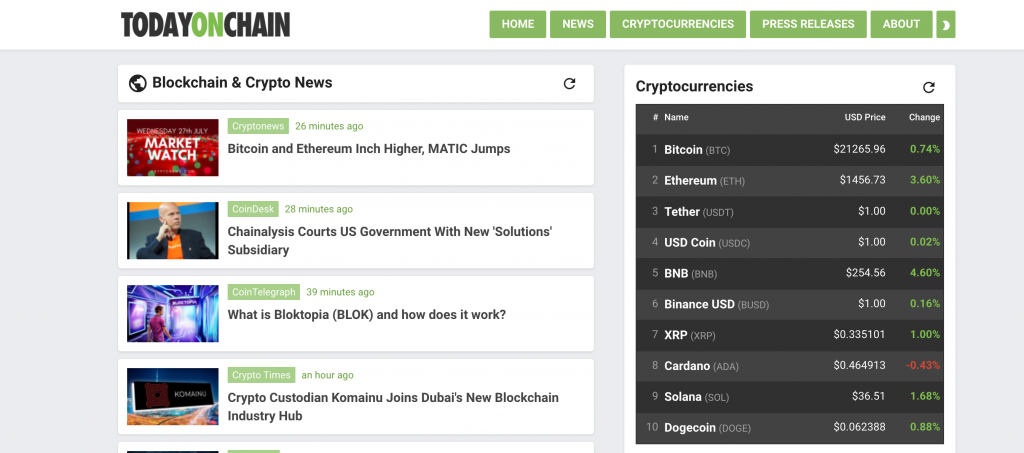 TodayOnChain is an excellent crypto news site that you should check out if you don't want to miss the world's minute updates. This website helps you receive on-time updates. More importantly, the website integrates information from coin-tracking websites and other Blockchain influencers. You have to keep an eye on this website to make your decisions based on naked data. That is, the website does not give you ready-to-consume insights for one thing.
Read TodayOnChain here.
3. NewsBTC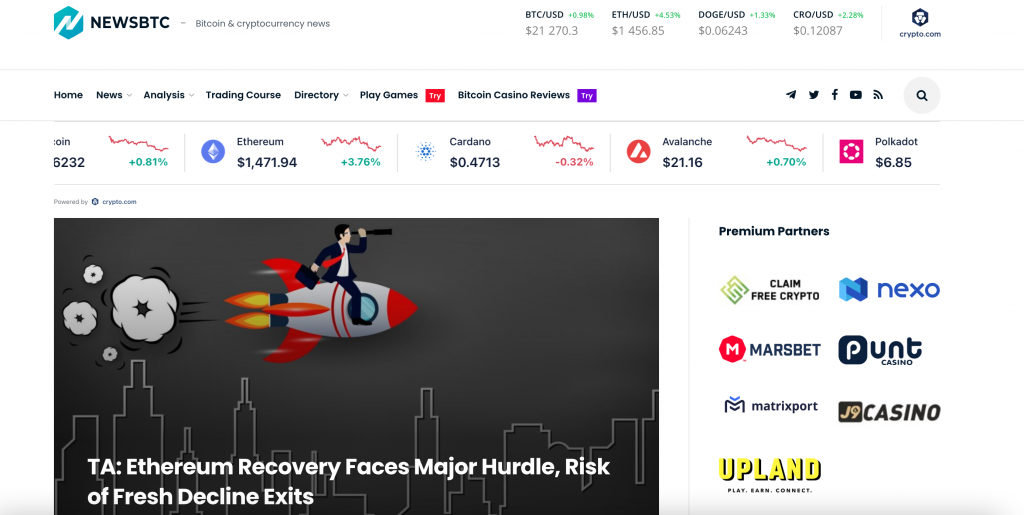 If you want to keep your focus on Bitcoin and the other major cryptocurrencies, you should check out a site like NewsBTC. As you can expect, there are regular updates from the authors and updates from other sites. For instance, global-level mentions of cryptocurrencies and alternative coins are news updates you can find on NewsBTC. In addition to the on-time updates, you can check out technical analysis for currencies like Bitcoin, Ethereum, Ripple, and Cardano.
Check out the NewsBTC website.
4. Blockonomi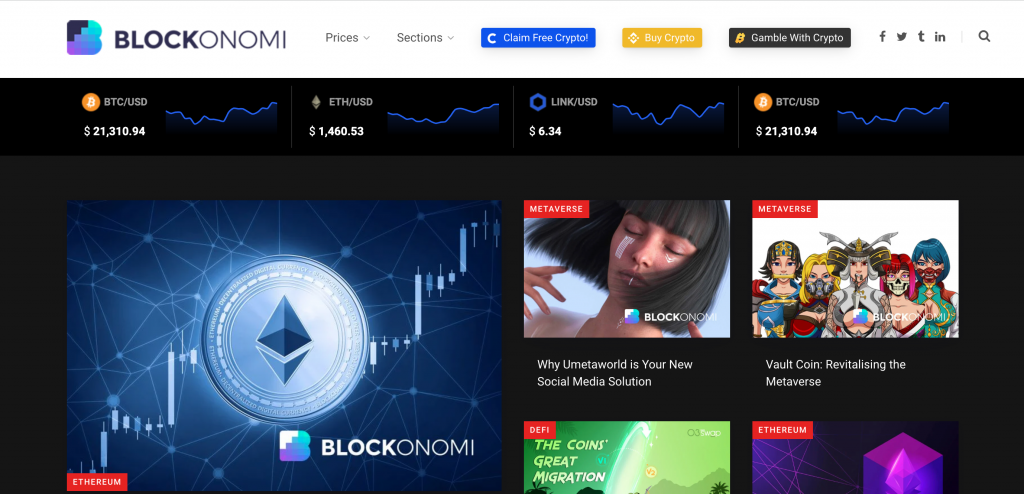 Blockonomi is one of your best choices for information and insights if you want to invest in blockchain tech and the associated economy. Thus, updates on this website often consist of insights into how specific crypto tech changes will impact the economy. The updates, although infrequent, can add much value to your strategies. There are also options to check out some deals to claim and buy crypto from various sources.
Check out Blockonomi.
5. Cointelegraph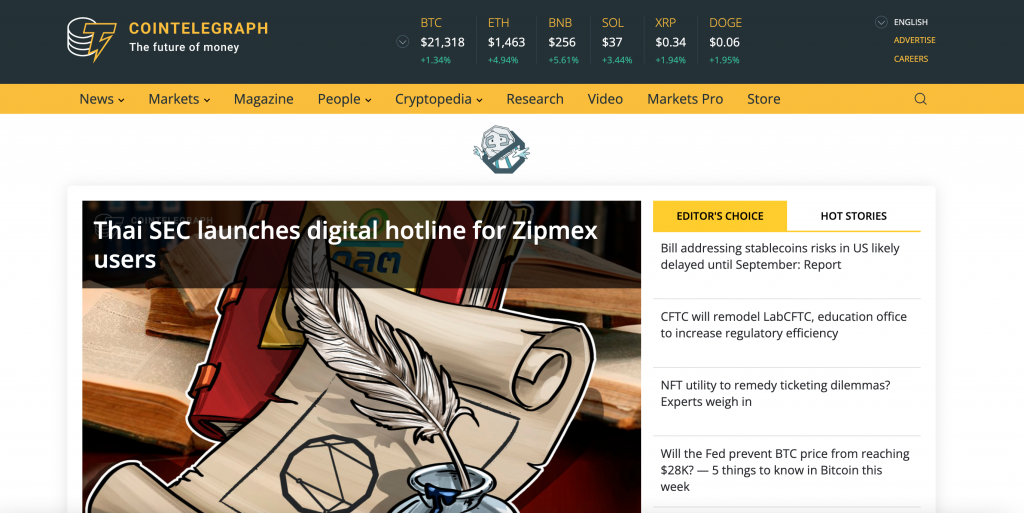 Cointelegraph brings updates on how crypto technologies define the new world of money. Like some of the top websites here, the platform continually updates Bitcoin and other tokens' enduring value. While you can check all the stories one by one, there are editorials from experts as well. Altogether, you can keep track of everything from the world of crypto markets, essential people, and consulting options from various phases.
If you are currently into cryptocurrency trading or want to start it very soon, you should follow a few websites from the list above. Just keep in mind that they give you general insights about crypto tokens and core technologies only.
Best Blockchain News Websites for Miners & Enthusiasts
1. The-blockchain.com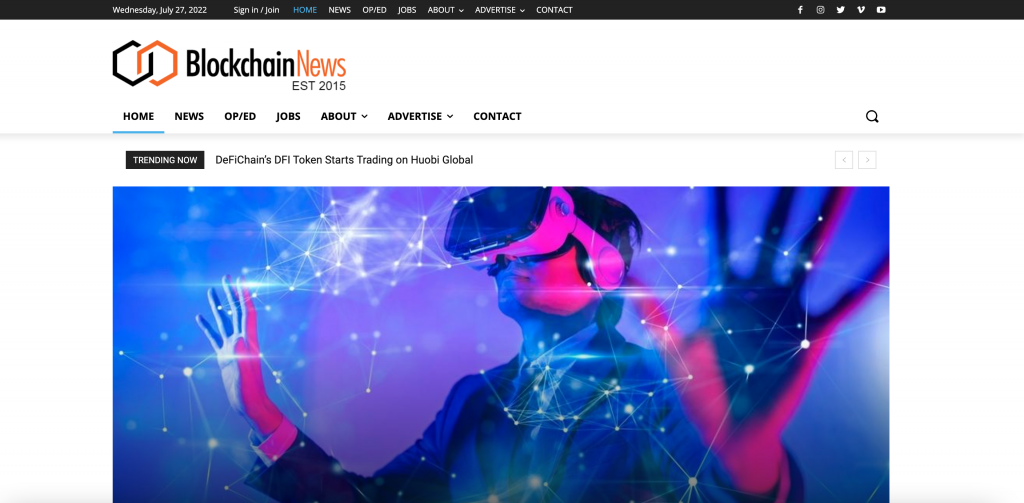 The-blockchain.com is the most recommended space where you can get up-to-date information about changes in the blockchain industry. You also have an option to avail of excellent training sessions and tutorials from the site. It is the best place to begin your story with crypto if you are looking for the basics. You can also get news and information on the various projects and legal backgrounds for developing a blockchain for the greater good in the world.
2. Blockchain.news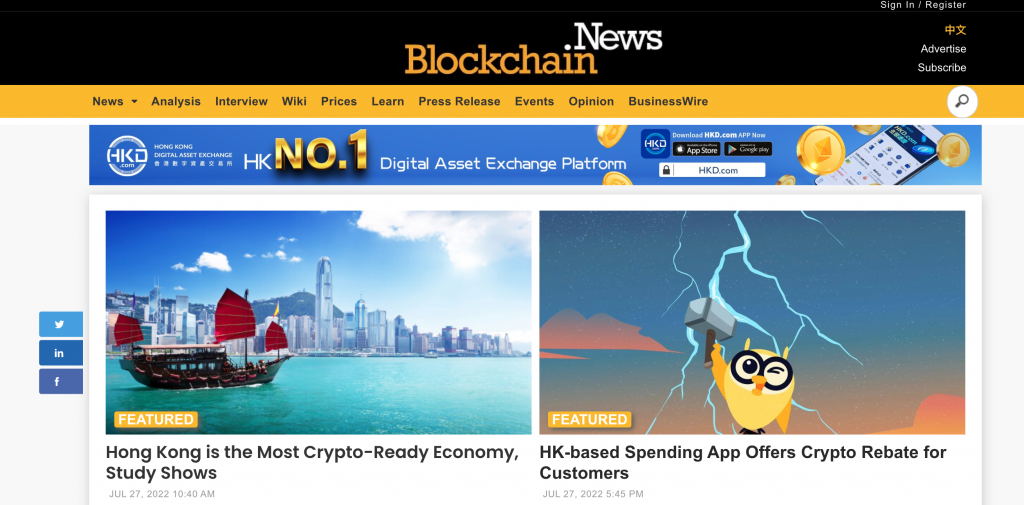 Blockchain.news is a comparatively new crypto media site that provides on-time insights on how blockchain tech and applications are growing. However, this website approaches the data from an investor's perspective, giving in-depth statistics and other numbers. While it does not have alternative content options like videos or podcasts, we love how Blockchain.news arranges its information for the best results. It is an excellent choice if you don't like having multiple tabs open at a time.
3. WIRED
WIRED isn't a website dedicated to cryptocurrency or miners, but it provides you with ample information on blockchain technology. Because the media site employs only expert authors from the industry, you can trust the arguments and the statistics from their stories. If you think the investments you make in this decentralized world are inspired or affected by what happens in the outer world altogether, you must take a look at the stories you find on the Blockchain section of WIRED.
4. CNN
Once again, CNN does not dedicate all of its resources to reporting on cryptocurrency and blockchain technology. The economists and content experts on this journalistic panel have such high expertise that you can't go wrong here. Even when it comes to reportage concerning a specific set of a cryptocurrency token or the blockchain tech in general, you can easily find robust statistics across the content.
Crypto Payment News

There are not many websites that dedicatedly cover how the world of cryptocurrency payments is changing today. However, you can check out the sub-sections from the websites mentioned above to see what is up there.
For instance, we can take the case of the Cointelegraph website. This website has a regularly-updated part that talks about the acceptance of Bitcoin and other cryptocurrencies for regular and investor-level payment. Global changes and policies that could change the way Bitcoin gets accepted will be reported in these sections without fail.
Therefore, if you plan to implement cryptocurrency payments on your websites, you should check out the legality of things by following these websites. After this point, you can contact a compatible gateway for payment processing and get the rest of the things done.
The Bottom Line
Besides, it would be best to look at the popular news networks like NYTimes and CNBC, which never miss an update about cryptocurrency. You should also know about blockchain tech and crypto because they are so dependent on what happens around you, despite their 'decentralized' tag.
For instance, the win of Joe Biden and the verdicts on the legalization of cannabis has had a noticeable effect on the crypto tech's status and growth pattern. So, if you miss these updates, you can't make your next best choice. It can also be said that investment decisions regarding crypto will be more sensitive.
Therefore, keeping the right proportion of facts and insights is essential to keep your head straight.