In the rapidly evolving world of decentralized applications (dApps), Cartesi is a game-changer. With its blockchain-based platform, developers can create dApps with ease, solving key issues such as scalability and high transaction fees. One of the standout features of Cartesi is its payments API, which enables developers to accept CTSI payments on their dApps. In this article, we will explore the benefits of accepting CTSI payments for gaming projects and how NOWPayments' custom API can simplify payment integration. We will also delve into the exciting gaming projects being built on Cartesi Rollups and the potential of crypto gaming.
The Power of Cartesi and CTSI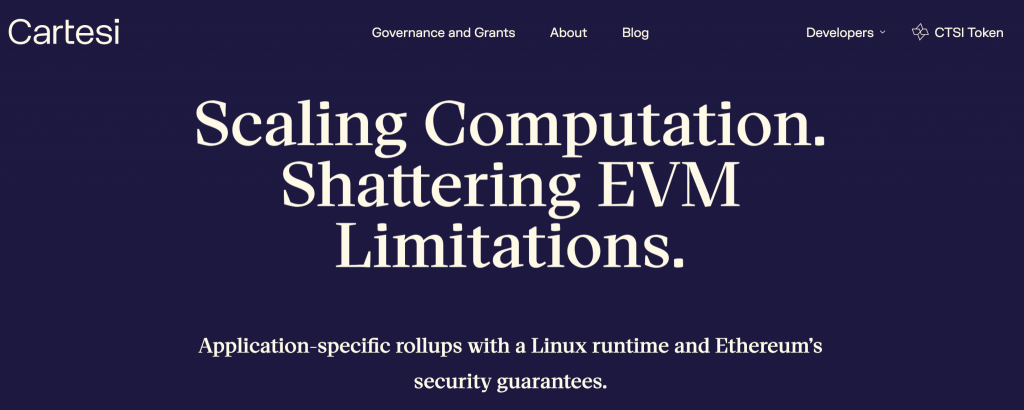 Cartesi is a layer-2 solution that empowers developers to build dApps using familiar development environments like Linux. By leveraging off-chain computation and on-chain verification, Cartesi enables the creation of dApps that can handle large amounts of data and complex computations without incurring exorbitant gas fees. With Cartesi, developers have the freedom to build dApps in the programming language they are most comfortable with, such as C++. This ease of use and scalability make Cartesi an attractive platform for gaming projects.
At the heart of Cartesi is the CTSI token, which serves as the medium of exchange within the Cartesi ecosystem. CTSI facilitates protocol governance and provides convenience and timeliness to Cartesi dApps. As the Cartesi Foundation becomes more decentralized, CTSI will play a crucial role in governing the future ecosystem, network, and DAOs. With its governance functionality, CTSI allows community members to signal approval or disapproval of community programs originating from Cartesi Improvement Proposals (CIPs). One of the first initiatives governed by CTSI is the Cartesi Community Grant Program, which funds new dApps built on Cartesi Rollups, public goods, and successful projects in the Cartesi ecosystem.
The Benefits of Accepting CTSI Payments for Gaming Projects
Enhanced Security and Transparency

Security is a top priority in the gaming industry, and Cartesi's decentralized nature provides enhanced security and transparency for gaming projects. With independent validators ensuring the security and transparency of transactions, accepting CTSI payments can help establish a more secure payment system, eliminating the risk of fraud and building trust within the gaming community.
Low Transaction Fees
Every penny counts in the gaming industry, and high transaction fees can eat into profits. CTSI offers incredibly low transaction fees, with the average cost of a transaction being just a few cents. By accepting CTSI payments, gaming projects can reduce payment processing costs, allocate more resources towards enhancing the gaming experience, and ultimately increase profitability.
Lightning-Fast Transactions
In the fast-paced world of gaming, waiting for transactions to be confirmed can be frustrating. CTSI boasts lightning-fast transaction speeds, with transactions being confirmed in a matter of seconds. By accepting CTSI payments, gaming projects can provide their users with instant gratification, enabling them to quickly access in-game purchases, rewards, and new content.
Seamless Integration with NOWPayments' Custom API
To simplify the integration of CTSI payments, gaming projects can leverage NOWPayments' custom API. NOWPayments is a leading crypto payment gateway that offers a comprehensive solution for accepting crypto payments. With NOWPayments' Custody-as-a-Service, gaming projects can create deposit accounts for their users, enabling full-fledged crypto billing solutions. This innovative tool allows for seamless integration of CTSI payments, providing a seamless and secure payment experience for both the project and its users.
Gaming Projects on Cartesi Rollups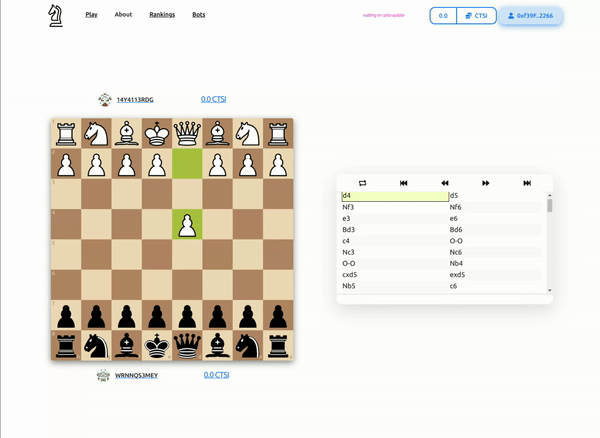 Cartesi Rollups is a revolutionary technology that brings a new dimension to gaming on the blockchain. By utilizing Cartesi's app-specific rollups and Cartesi Machine (VM) that runs Linux distributions, developers can create fully decentralized chess applications and other cutting-edge gaming experiences.
One notable gaming project built on Cartesi Rollups is Ultrachess. As the first fully on-chain chess application backed by Cartesi's Rollup technology, Ultrachess offers users the opportunity to put a real value on the line and play chess with more than just their Elo ratings at stake. In addition to traditional chess gameplay, Ultrachess introduces a unique feature: user-deployed chess engines. This groundbreaking innovation allows humans and bots to coexist in an ecosystem where the action is amplified through economics and incentives.
Ultrachess tackles the issue of cheating in online chess matches by providing greater incentives for users to openly use bots within the chess ecosystem. By enabling users to build and deploy their own chess bots, Ultrachess creates a transparent world where chess bots can compete seamlessly against each other. Chess bots can enter matches autonomously and earn revenue from bets placed by themselves and other parties. This approach not only discourages cheating but also creates a vibrant ecosystem where chess engines can thrive and monetize their efforts.
The Potential of Crypto Gaming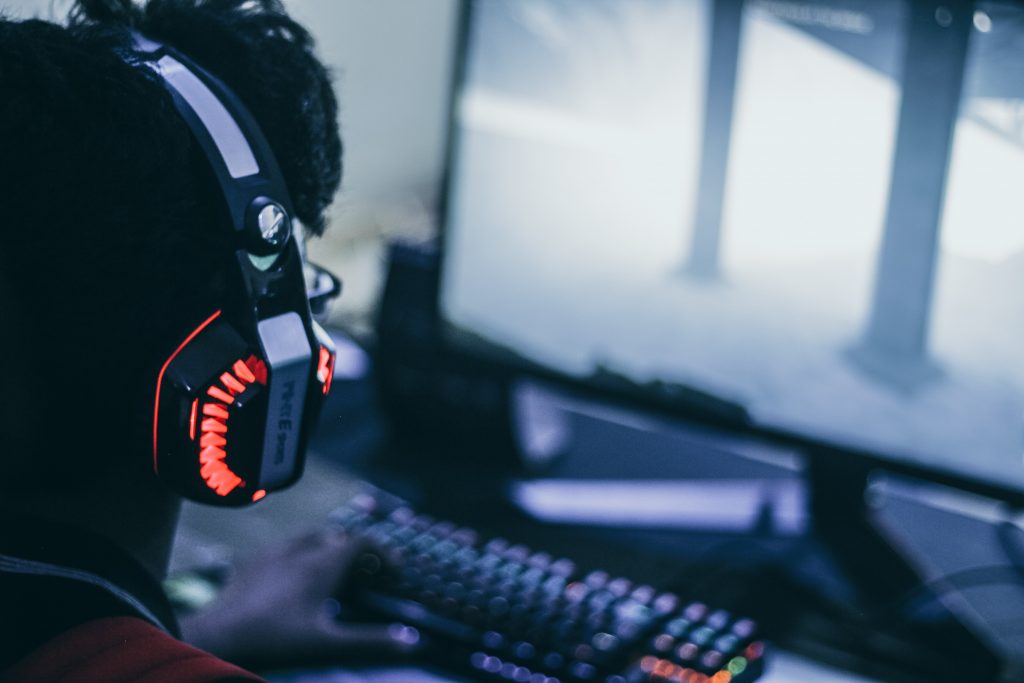 The integration of cryptocurrencies like CTSI into the gaming industry opens up a world of opportunities. Crypto gaming, the fusion of blockchain technology and gaming, offers unique advantages for both developers and players.
For developers, crypto gaming provides new revenue streams through in-game purchases, player-to-player transactions, rewards, and loyalty programs. By accepting CTSI payments, gaming projects can tap into a global market of crypto enthusiasts and offer unique experiences that traditional gaming cannot provide. Additionally, the use of blockchain technology brings enhanced security, transparency, and immutability to gaming transactions.
For players, crypto gaming offers the opportunity to earn real value from their gaming experiences. With CTSI payments, players can access in-game purchases, participate in player-to-player transactions, and earn rewards for their gameplay. The integration of crypto payments adds a new dimension of excitement and engagement to the gaming experience, creating a more immersive and rewarding environment for players.
NOWPayments' Custom API for Gaming
To facilitate the acceptance of CTSI payments in gaming projects, NOWPayments offers a custom API specifically designed for the gaming industry. NOWPayments' Custody API allows gaming projects to create deposit accounts for their users, enabling full-fledged crypto billing solutions. With this API, gaming projects can seamlessly integrate CTSI payments into their platforms, providing a secure and convenient payment experience for users.
The NOWPayments Custody API offers a range of features to support gaming projects, including the ability to create new user accounts, set up recurring payments, manage user balances, and facilitate transfers between user accounts. With this comprehensive API, gaming projects can easily manage their users' payments, deposits, and withdrawals, all within a secure and user-friendly environment.
How to Get Started with CTSI Payments and NOWPayments
Getting started with CTSI payments and NOWPayments' custom API is straightforward. Here's a step-by-step guide:
Sign up with NOWPayments and create an account.
Add your CTSI wallet to your NOWPayments account.
Integrate NOWPayments' Custody API into your gaming project.
Set up deposit accounts for your users, allowing them to deposit CTSI and use it within your gaming ecosystem.
Leverage the benefits of CTSI payments to enhance security, reduce transaction fees, and provide lightning-fast transactions for your users.
Explore the various use cases for CTSI payments in gaming, such as in-game purchases, player-to-player transactions, rewards, and loyalty programs.
Enjoy the seamless integration and the numerous benefits of accepting CTSI payments for your gaming project.
Conclusion
Accepting CTSI payments can revolutionize the gaming industry, providing enhanced security, low transaction fees, and lightning-fast transactions for gaming projects and their users. With the power of Cartesi and the innovative solutions offered by NOWPayments' custom API, gaming projects can tap into the world of crypto gaming and unlock new opportunities for growth and customer satisfaction. By embracing CTSI payments, gaming projects can create a more immersive and rewarding gaming experience, attracting a global audience of crypto enthusiasts. Join the crypto gaming revolution today and embrace the future of gaming with CTSI payments and NOWPayments' custom API.