Bitcoin is now widely accepted as a currency which people can make payments with. Recent advancements in the payment sector now allow Bitcoin to be used as payment for airplane tickets in several countries across the globe. No longer do you need to be caged in the centralized financial system. Start using Bitcoin and buy your air tickets today! In this article, we will show you how to buy tickets with Bitcoin and where to do it.
Why Buy Air Tickets with Bitcoin?
Security. Buying airline tickets with Bitcoin gives you 100% control of your funds.
Full control. The banks don't control your personal Bitcoin wallet like they would your fiat account, only you have true access and control of the Bitcoin in your account.
Blockchain tech. The payments will also be much more secure, as the transactions are occurring on the blockchain.
Privacy. No one can steal your funds unless you give them the codes to access your wallets.
Track your payments. Any payments are also stored on the blockchain giving you a full transaction list made from your cryptocurrency wallet.
How and Where to Buy Bitcoin
Before you start purchasing your flight tickets with cryptocurrencies, you'll need to exchange your fiat for Bitcoin. This is fairly easy and can be accomplished practically in any country. The best options are to either go to Coinbase or Binance to buy your coins.
We recommend having a wallet ready for your Bitcoin as well. Good wallets include; Trezor, Ledger, Exodus, SoFi, and Robinhood. Make sure to keep your wallet keys safe and secure. These are the access codes to your wallet, so if you lose those and all the Bitcoin is lost.
Where to buy air tickets with Bitcoin?
There are tons of sites that let users book flights with bitcoin. These sites have flights prepared and show the price in the native fiat currency for the country. Yet, during the final stage, clients get a chance to make a payment with BTC. So, what are some of the top sites that allow you to buy airline tickets with Bitcoin? Here's a short list:
Alternative Airlines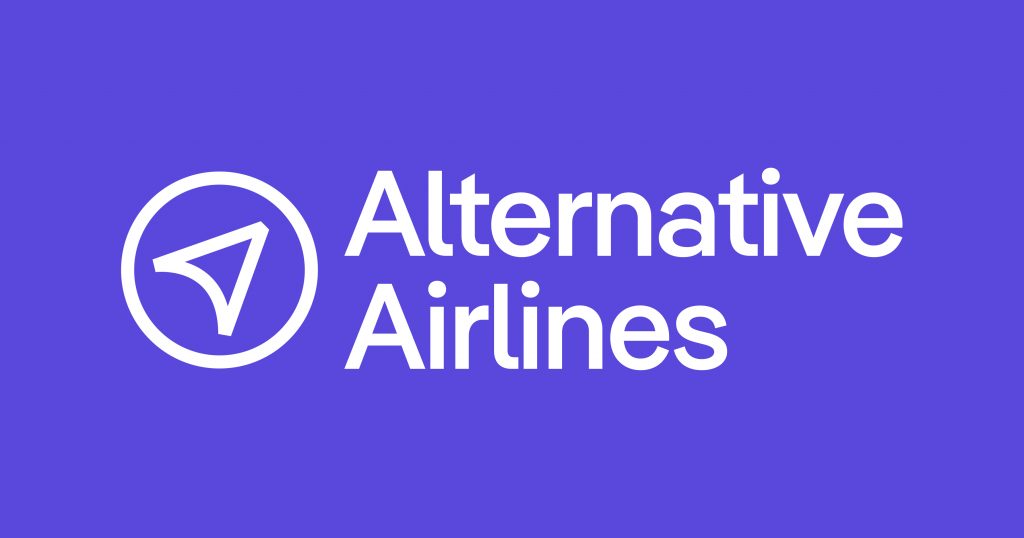 Alternative Airlines lets you browse flights from over 600 airlines and pay for them using Bitcoin. By combining flights from multiple airlines (even those airlines which do not share an existing partnership agreement), the platform's industry-leading technology brings customers flight options that they can't find anywhere else.
Clients also can spread the cost of their flights by using the buy now, pay later feature. Those people struggling to choose an appropriate flight can contact a dedicated Customer Service team to get help
Key advantages:
A selection of more than 600 airlines, flying to destinations all around the world. Apart from offering all major international carriers, the company features tickets from smaller regional airlines.
An advanced algorithm displaying the 'best' flight options which can be narrowed down to more specific ones.
Clients can add all the extras such as baggage.
The platform offers a booking map letting clients pre-select their seats.
It offers 40+ payment options. The cryptocurrency payment methods featured by Alternative Airlines include Bitcoin, Ethereum, Litecoin, Tether, XRP, Digibyte, XNO, Dogecoin, Stellar, and many others.
The ticketing service is automated so the client gets their e-tickets as soon as they complete the booking process.
Destinia
Destinia provides opportunities to book hotels, apartments, flights, and cars and explore various travel-related services and pay for them with Bitcoin.
The company has been in business since 2001 and currently has a presence in numerous markets. Destinia's interface makes it easy to reserve any tourism service in the world at the best price. Bitcoin is not the only crypto payment method you can utilize at Destinia. There are also EOS, Ethereum, Litecoin, and Dash available for use as a means of payment.
Key advantages:
Destinia is an all-in-one solution that offers clients both the best prices on more than 500 airlines and over 500,000 hotels. So, it is a great tool to plan your entire journey.
It also sells tickets for different leisure and entertainment activities such as skiing and extra services like airport parking and rental cars.
In order to protect data, the platform uses the same security standards banks do.
Destinia operates in more than 90 countries and provides its website in over 30 languages.
24-hour Customer Service is always ready to answer your questions and solve any issue.
Airbaltic
Airbaltic is a Latvian airline Air Baltic Corporation AS (airBaltic) connects the Baltic states and the world and accepts crypto. The carrier was among the first ones to begin accepting crypto payments.
Everyone can afford to fly with Airbaltic since the company is committed to beating the competition by featuring the lowest ticket prices on the market. All of the crypto payments at Airbaltic are processed by BitPay.
Key advantages:
The carrier flies to 70+ destinations across the Baltics, Europe, Caucasus, Middle East, and Central Asia.
The company conducts passenger transfers at Riga airport which is small and compact, so transferring there is smooth and can easily be done on foot.
The company offers BUSINESS class tickets providing passengers with exceptional service. This includes priority boarding, a seat in front of the cabin with an extra free seat, a three-course gourmet meal, and unlimited soft and alcoholic drinks.
The carrier has its own fleet which also includes the new Airbus A220-300. This aircraft provides ample seating space for unparalleled comfort.
Airbaltic has 22 codeshare agreements with many airlines around the world. It operates joint flights with partners to more than 300 destinations.
Bitcoin Travel
Bitcoin.Travel is a platform where you can find cheap flight tickets and accommodation and book them with Bitcoins and other cryptocurrencies.
Bitcoin.Travel has partnered with thousands of businesses in the travel industry to provide customers a chance to seamlessly spend their cryptocurrency on flights and accommodations around the globe. The platform is available in dozens of languages and anyone can utilize it to search for flights, hotels, and even activities offered by numerous companies worldwide.
Key advantages:
Bitcoin.Travel has been around for over 10 years and it was one of the first companies ever to accept Bitcoin payments. The years of active business have earned it a title of a trusted platform for booking flights.
It is difficult to find a company which accepts more cryptocurrencies than Bitcoin.Travel. The platform is ready to take payments in over 2 thousand cryptocurrencies. So, at Bitcoin.Travel no person looking for a way to obtain a plane ticket using crypto will be left behind.
Bitcoin.Travel is a fully legal enterprise based in Poland.
The platform has an easy interface that any person will find convenient to use.
Travala
Travala is a website known to most crypto users. Travala is a comprehensive service selling both flight tickets and providing a massive selection of accommodations. Using Travala, you can book a flight to 230 countries and territories.
Travala's prices are up to 40% cheaper than mainstream travel booking platforms. Travala even has its own cryptocurrency called AVA, which people can spend on their purchases.
Key advantages:
You can contact Travala's 24/7 customer support team with the help of live chat, email, hotline, or an online ticket system.
Travala guarantees the best prices. So, if you find a cheaper deal on another platform, Travala will refund the difference if you book with it.
Apart from Bitcoin and dozens of altcoins, Travala lets you make a booking with credit and debit cards, and Paypal.
Travala has a reward system. So, you can earn rewards with its innovative tokenised incentive programs including Smart discounts, Invite, Loyalty, and Givebacks.
In addition to flight tickets, you can book a place to virtually any part of the world and choose from over 2 million accommodations.
CheapAir
CheapAir is a favorite service for booking flights and hotels for thousands of people.
In 2018, it became the first online travel agency to accept Litecoin, Bitcoin Cash, and Dash for flight and hotel bookings. Since its launch in 1998, CheapAir has sold over 5 million fares.
Key advantages:
CheapAir promises to pay you back up to $100 if fares drop after you purchase a ticket. Basically, the platform will compensate you the difference.
It offers 0% financing on its Fly Now Pay Later feature. You can select 3, 6, and 12-month financing on flights and hotels. It is headquartered in Calabasas, CA. CheapAir has a cool blog where it shares valuable tips about travel. For instance, you can check out the company's article based on a study about the best time to purchase airline tickets in the United States.
CheapAir has U.S-based travel advisors who will be happy to give you advice on getting the best deal.
The platform has a custom-built FareTracker, allowing you to monitor the cheapest fares.
The service also offers exclusive deals to its customers featuring low fares and personally-customized vacation packages.
You can choose to purchase travel insurance through CheapAir.com, since the platform works with Travelguard.
Expedia
Expedia is the world's largest platform for hotel and flight bookings. The chances are you have come across Expedia at least once when searching for a way to buy an airline ticket online.
Expedia has a long history of accepting crypto payments since it has been offering a Bitcoin payment method since 2014. Today, Expedia lets clients pay for their tickets using Coinbase, a crypto payment processing service.
Key advantages:
Expedia offers amazing cheap flight deals.
Expedia Rewards members accrue points with every purchase that can be put toward discounts on subsequent bookings in the future.
Some of the flights listed by Expedia are fully refundable.
Expedia lets travelers use its multi-city feature for planning their journey. Basically, you can pick several cities you wish to visit and then search for flights which align best with your desired plan.
Expedia has separate sections with flights costing lower than $200, so if you wish to go somewhere but do it on a budget, Expedia can help you with that.
Expedia is a place where you will find a ticket to any destination on the planet. The size of the selection of flights offered by Expedia can easily blow your mind.
Expedia is a trusted company which has a reputation as a reliable agency.
How to Buy Air Tickets with Bitcoin
For this section, we will go through how to buy tickets with crypto. We will give you an example of how you can purchase an airline ticket via your crypto using Travala, the most popular travel website among crypto enthusiasts. Before following these steps, we recommend buying some Bitcoins or other cryptocurrencies accepted by Travala, and having them ready for payment at the end.
1. Pick Your Destination
We begin with deciding on where you want to go on your trip, pick the date, number of passengers, and first-class or standard. From here press the search button and begin picking the right flight for you.
2. Select the Flights
From here you'll be able to pick from several available flights across the day and have the option to change the days. The options will be for different airlines and companies.
3. Customize your trip
Once you settle on the preferred flights, you will be asked to enter some additional information about your baggage. Make sure you check the right boxes.
4. Passenger Details
From here input all your personal details where required and ensure everything is written correctly. You don't want to turn up at the airport with the wrong info on your tickets. The staff will have no other way than to deny you a chance to board even if one number in your papers was written incorrectly.
From here select your payment type. You can select Bitcoin or any other cryptocurrency. Once completed press the next button and follow the final step.
5. Final Crypto Payment
Once you are ready to pay with crypto, Travala will send you a QR code and an address to which you will need to send the payment. If it's a wallet address make sure to copy and paste the information into your wallet correctly. A tip here is to check the first and last letter of the address. Usually, people forget either the first few letters or the last few letters when copying and pasting.
These steps will be slightly different for other airlines that accept Bitcoin. However, this general outline can be used when purchasing on several other websites as the payment in Bitcoin process doesn't vary much.
Final Thoughts
Airlines that accept Bitcoin are becoming more well-known across the globe. If you're a person who's looking to buy airline tickets with cryptocurrencies, then the opportunity is finally here. Always use the recommended sites mentioned above. Happy travels on your journey across the globe.