NOWPayments is over the moon to present the optional burn for merchants — a feature that helps you in burning your SHIB & LEASH profit by selecting which part of your profit you would like to burn. Read our article and learn why people burn SHIB & LEASH and how you can participate in the process by using NOWPayments' new burn feature!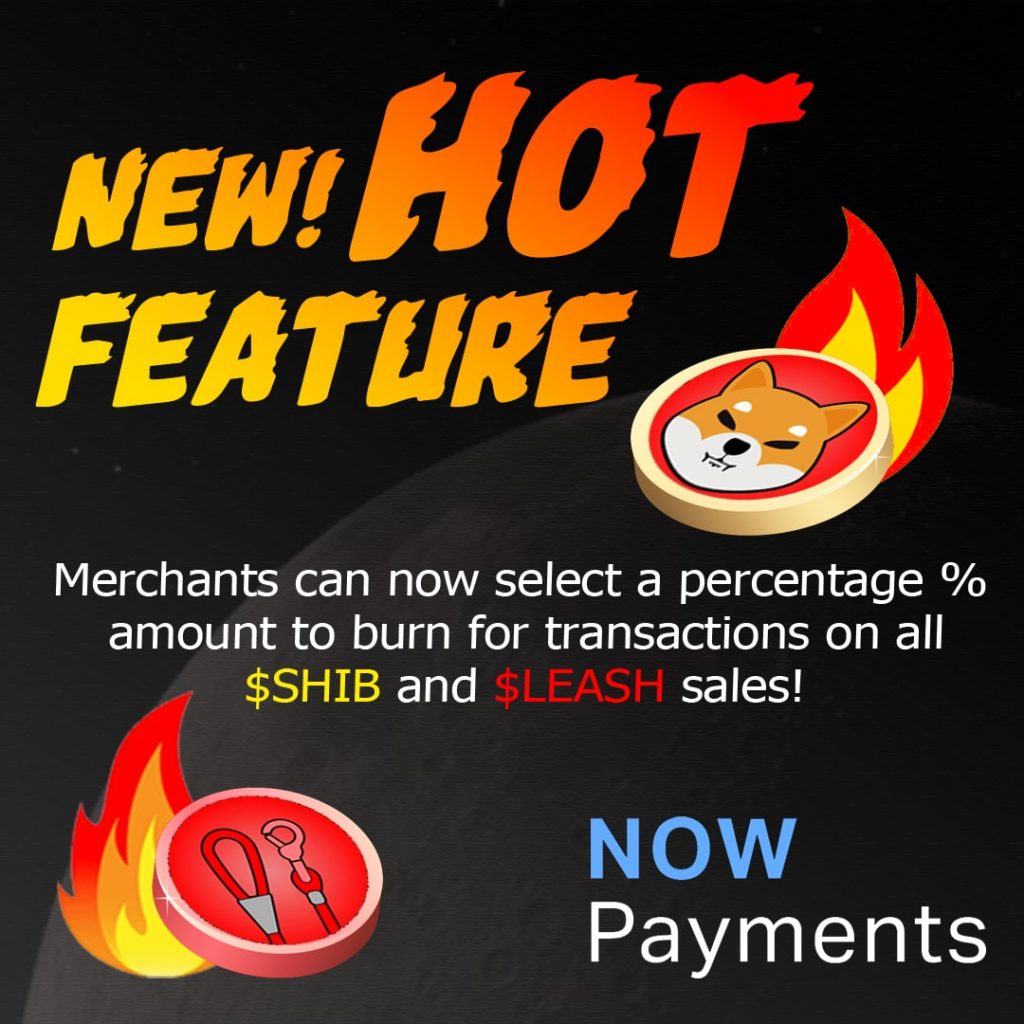 What is optional burn feature?
Optional burn feature by NOWPayments allows you to count the amount of your SHIB & LEASH profit right in your NOWPayments' account. All you need to do is to follow these simple steps:

1. Go to your Store settings and find the Burn SHIB & LEASH feature there:
Choose the percentage mark-up for the burning
Make sure you save changes
When the payment from your client is finished, download the .csv file by clicking on the "Get burning stats" button.
The sum you see in the .csv file is the amount of SHIB & LEASH you need to send to the dead wallet.
Clients of the merchants that are burning SHIB receive the notification on the invoice which says that a certain percentage of the sum will be burnt.
What is SHIB & LEASH burning?
SHIB and LEASH burning is a procedure which involves sending a certain sum of cryptocurrency to a crypto address that cannot be accessed by anyone or used in any way. The process is used in order to take the burnt sum out of the coin circulation. Crypto burning is a practice which is widely utilized by crypto enthusiasts, but the Shiba Inu community certainly took it to another level. NOWPayments respects Shiba Inu's vision and is happy to contribute to the burn process.
Why burn SHIB and LEASH
Still, the question remains, 'Why do people willingly decide to part with their coins?' The answer is simple. By reducing the supply of coins in circulation, people try to boost the value of the asset. Here, a simple rule applies. When something gets scarce, the demand for it rises. As a result, as the supply of SHIB and LEASH coins goes down, their price is expected to increase. The Shiba Inu community members, thus, try to boost the value of their favorite coins.
How you can burn SHIB & LEASH together with NOWPayments
NOWPayments supports all of the Shiba Inu community initiatives. If you want to participate in SHIB burning, you can deploy a SHIB payment gateway using NOWPayments and turn on the optional burn feature now!
NOWPayments delivers numerous tools for accepting SHIB and LEASH payments.There is also an option of deploying SHIB and LEASH donation widgets, buttons, and links.
NOWPayments is happy to bring visibility to SHIB merchants. That's why we encourage our partners that have successfully conducted SHIB & LEASH burn with our feature to send the transaction hash. We will highlight your store via our social media and our newsletter. Also, we will be happy to make an article about our partners' experience burning SHIB & LEASH.
Conclusion
The Shiba Inu community is actively using crypto burning. NOWPayments' SHIB & LEASH optional burn feature helps merchants to contribute to the Shiba Inu ecosystem and burn a part of their profit.