Greetings to all our valued clients and supporters!
We are thrilled to announce the exciting updates that we have rolled out for the month of April at NOWPayments, your trusted crypto payment gateway. We are always working hard to enhance our platform and services, and we believe that these updates will provide even greater convenience, efficiency, and satisfaction to our users.
So, without further ado, let's dive into the new features and improvements that you can now enjoy at NOWPayments:
New Currencies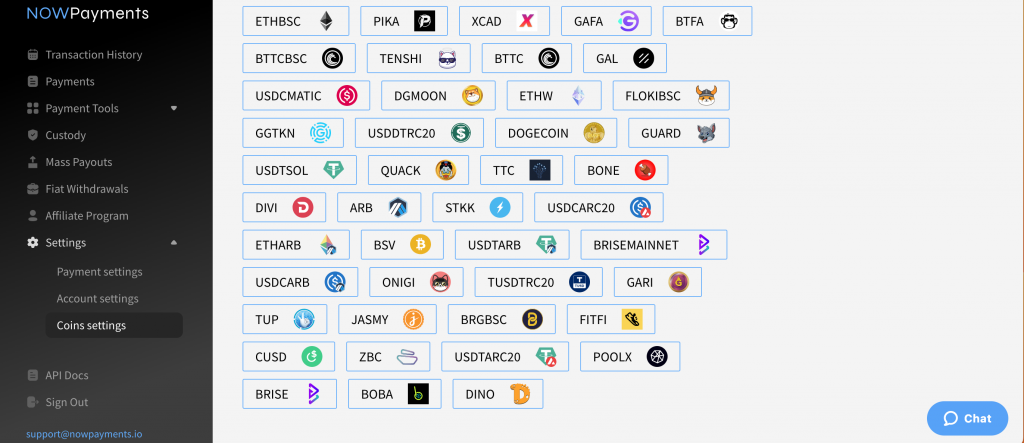 We have added several new cryptocurrencies to our list of supported coins, including USDT (Arbitrum), POOLX (Avalanche), USDC (Avalanche), USDT (Avalanche), Brise (Bitgert), and GARI. With this expansion, our users now have even more options to choose from when making payments or receiving payouts.
Faster Payouts
We understand that time is of the essence when it comes to transactions, which is why we have made significant efforts to make our payouts faster and more stable. As a result, you can now enjoy payouts that are 7 times faster than before. If you haven't tried it out yet, we highly recommend that you do!
Cross-Promo Opportunities
We love supporting innovative and promising crypto projects, and we want to help them gain more exposure and recognition. That's why we've created a new cross-promo program that allows you to apply for a partnership with NOWPayments and get featured on our social media channels. Simply fill out the form here: https://forms.gle/Utc824imo4TK5H8G8, tell us about your project, and we'll take care of the rest!
Redesigned 2FA Login
Security is a top priority for us, and we want to make sure that your account is always protected. That's why we've redesigned our 2FA entry window and made the Backup Code login button more prominent. This will help you to easily access the verification reset if you lose access to your email.
Company Information on Invoices
We understand that branding and communication are essential for businesses, and we want to help you personalize your invoices. You can now add your company information and contact details on NOWPayments invoices, which will be displayed to your customers when they receive the invoice. Simply go to your account settings, enter the desired text in the store details field, and save it. The text can be between 16 and 256 characters, so make sure to check it out.
Fiat On-Ramp for WooCommerce Plugin
We've also launched our fiat on-ramp for plugins, which enables you to accept fiat and receive crypto via our WooCommerce plugin. This feature provides greater flexibility and convenience for our users, making it easier for them to transact in the way that best suits their needs.
Improved API Documentation

Lastly, we've updated our API documentation to provide more examples and useful endpoints. You can access it on our website or through this link: https://documenter.getpostman.com/view/7907941/2s93JusNJt. We hope that this will make it easier for developers and tech-savvy users to integrate our services into their projects.
Conclusion and Something Else
We hope that you're as excited about these updates as we are. As always, we remain committed to providing you with the best possible service and support, and we're always open to feedback and suggestions.
If you have any questions or concerns, don't hesitate to reach out to our customer support team. And don't forget to subscribe to our Telegram channel to stay informed about our maintenance works and assets availability: https://t.me/+kEy_443NjIs2ODVi.
Thank you for choosing NOWPayments as your go-to crypto payment gateway!