WooCommerce is a major platform for creating and hosting online stores. There are over one million stores worldwide that utilize WooCommerce. Every business that uses WooCommerce strives to beat the competition, get their online store on top, and make sure that it gets the attention of consumers it deserves. There are many tricks that can help you make your WooCommerce store prosper. Check out this list of tips you can follow as a WooCommerce store owner.
Key points:
WooCommerce stores need to optimize their stores to make them smoother.
Simple design and efficient elements like carousels can help you to make your store look better.
WooCommerce stores can accept cryptocurrency as payment using the NOWPayments' plugin.
Top 15 tips for WooCommerce users
Feature multiple payment methods
When you sell products, you need to make the shopping experience for your clients as smooth as possible, especially in terms of the payment process. Many merchants tend to underestimate the importance of the variety of payment methods, and they decide to feature a limited number of options.
This causes them to lose many customers because not everyone is happy with the basic payment solutions. So, the key for every merchant is to expand their list of available payment methods. For instance, businesses can accept cryptocurrencies. NOWPayments offers a special WooCommerce plugin that enables stores to feature more than 100 different cryptocurrencies as payment.
Bring best-selling items forward
Every store has a top-performing product that gets sold in droves. Yet, not many stores use it to further drive forward their sales. Basically, you need to increase the visibility of your best-selling products by letting every visitor to your website know about them. You can do it by placing the product on your homepage. This way, every person entering your store will be able to see the best products that you sell. Additionally, you can utilize different tools for featuring several best-selling products on your homepage to make this segment more visually appealing to clients.
Use cross-selling
Cross-selling is an absolute must in today's market. If you have already sold one product to your customer, why not recommend a complementing item to go with it? Cross-selling refers to selling a product that accompanies or supplements another one.
So, if you sell chairs, you can also sell chair covers or blankets. In order to improve cross-selling, you can adjust the interface of your store to automatically suggest relevant accompanying products to customers. Cross-selling is a well-tried way to sell more products and boost your sales without any substantial extra effort. Your clients will also benefit from cross-selling since it will facilitate their shopping experience.
Make your design simple
Although minimalism is a real trend and many stores try to adhere to it, other merchants still utilize designs that are both gaudy and too resource-intensive. In other words, frequently, merchants choose themes which have many elements in them, thinking that such a design can make the store look more beautiful.
Yet, in reality, it simply distracts the attention of customers and even makes them less interested in buying products from such a website. Additionally, such themes require too many resources, which causes your website to slow down and operate inefficiently. This is why you need to simplify the design of your website. You can make navigation more user-friendly by creating clearly-defined product categories, product tags, and product attributes.
Utilize carousels
Carousels are the name of the game these days, not only on WooCommerce but pretty much on all eCommerce platforms. A carousel refers to a type of element that lets you feature several pictures or other media depicting your products in one unit. For instance, carousels are perfect for showing your best-selling products. Carousel advertising is relatively inexpensive and efficient, given that it incorporates several product cards. Carousels also can be used to show several pictures of the same product in your store. This can improve customer experience since they will be able to check several pictures by simply scrolling them.
Call-to-action buttons
Call-to-action buttons are an inherent element of modern online stores. They encourage your clients to interact with your products and website in general. For instance, you can utilize call-to-action buttons as part of your sign-up form. Essentially, these buttons are designed to attract the attention of your potential customers. You can create a CTA button that would offer a 20%-off for the first purchase for new clients. Such buttons are easy to create, and they do not put any extra load on your system. At the same time, if correctly utilized, they can bring a ton of value and enable you to boost your sales.
Always remember about your security
Security should always be your number one priority, irrespective of which online service your use. This is why every merchant on WooCommerce has to take standard precautions, which can greatly contribute to their security. Always use a strong password that should always be made of at least ten characters including numbers, digits, letters, and symbols.
Additionally, to guarantee extra security, merchants absolutely must enable 2-factor authentication. Moreover, every online store has to install an SSL certificate. As for the WooCommerce-specific security tips, you can go to the Advanced Settings in your account and enable "Secure Checkout."
Make user experience smoother
As mentioned above, your overall online store design should be simple. Yet, there are many other little things that can be improved in WooCommerce stores. For instance, you can achieve faster loading for images by enabling the lazy loading feature. To do that, you can download one of the lazy load plugins available on WooCommerce. Lazy loading makes your website load images and other media only when they are visible to users. This method boosts the performance of your website and makes it work faster. Additionally, you can resize your images and compress them to make sure that they do not waste precious resources.
Backup your data
No matter how certain you are about the security and safety of your online store, you should regularly make backups of your website and its database. There are many things that can happen, including a hacking attack that can put your online store into oblivion forever. So, always think of backing up your content.
For instance, WooCommerce recommends its merchants use Jetpack to automatically backup their sites. At the same time, a manual backup is also an option. For example, you can go to Tools > Export – to export all of your site content. Read more about backups here.
Offer discounts
Everyone likes to save money and get good deals. This genuinely makes people happy and triggers their ancient hunter-gatherer instincts. So, why not give them a chance to purchase something with a discount. Of course, some brands prefer to avoid offering discounts completely.
Yet, doing it at least once a year can significantly improve your sales and potentially get new clients on board. You can email information about discounts to your clients and thus remind them of an opportunity to get some things they have wanted for a long time at a lower price.
Get rid of unnecessary stuff
It is extremely important that your store runs seamlessly and without freezes at all times, and one of the easy ways to achieve it is to keep your store lean. This means that you need to reassess your store's entire infrastructure and determine which things you no longer need there.
For instance, store owners often install many excessive plugins and eventually forget about them. In such cases, it is essential that you uninstall all of the unnecessary plugins. Similarly, you will need to get rid of all the scripts that you no longer use or which are simply ineffective.
Improve your SEO
SEO is the thing that gets customers flowing to your store, so it is crucial that you do it justice and put extra effort into enhancing it. Every merchant wants their products to be the first to pop up on search engines. In order to make it come true, you will need to become an expert in all of the SEO mechanisms. Utilize optimization tools such as keywords and find the exact words and phrases that people utilize when searching for products that are featured in your store. To stay on top of the SEO game, you will need to regularly adjust your strategy.
Get yourself a blog
Blogs are perfect for getting loyal customers. Blogs have many benefits for online stores. For instance, they act as a place where your clients can get all of the latest information about your store and brand. Blogs are also a cost-effective solution for the promotion of your products.
Additionally, blogs can be used as a source of valuable information, such as tips and advice, which make your customers interested in visiting your blog more often and can help you create a lasting relationship with your clientele. So, do not hesitate and create your blog today.
Shoot product demo videos
Images are not the only media you can use to demonstrate your products. Nowadays, consumers do not want to view static images. Instead, they want to see videos showing products from different angles and ideally in different settings. This is particularly important when you sell clothes since videos help your customers to understand how certain items will look on them.
This is why you need to pay attention to video demos for your products. Alternatively, you can use gif files if you want to reduce the size of media on your website.
Gamify customer experience
Finally, gamification is another trend which is taking the sphere of eCommerce by storm. Consumers no longer want to have an ordinary shopping experience, instead, they want to have fun and be entertained when they purchase things online. WooCommerce offers its official gamification extension enabling merchants to gamify their websites. For instance, they can create referral links for their customers and provide loyalty points to customers. Basically, gamification implies offering special rewards to your customers in order to keep them engaged and encourage them to remain loyal clients.
How to accept cryptocurrency payments on WooCommerce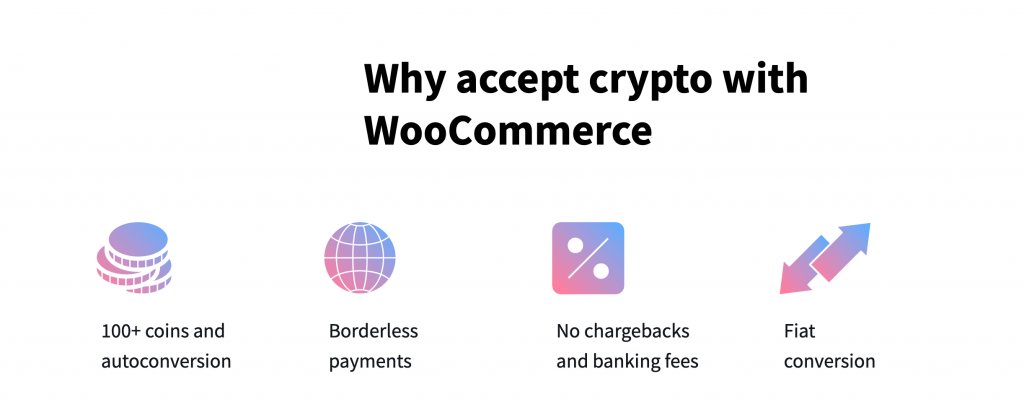 You can easily accept crypto payments in your WooCommerce store with the help of the NOWPayments plugin. All you have to do is to follow these simple steps:
Generate an IPN secret Key in the Store settings. Please copy it and save in the secure place only you have access to.
Download a NOWPayments plugin for WooCommerce. There is no need to open it
Go to wordpress.com, log in to your account and proceed to the plugins section on the left menu
Click on "Plugins" at the top of the page, and click on "Upload plugin" named "nowpayments.io Gateway for WooCommerce". Install and activate it.
Choose a WooCommerce section on the left menu. Click on "Settings"
On the top section choose "Payments" and search for the "nowpayments.io" payment method. Click the "Manage" button on it.
Insert your API and IPN secret key from NOWPayments.io into a designated field and click "Save changes" at the bottom of the page.
Now you can accept crypto in your WooCommerce store
Conclusion
WooCommerce is a constantly developing platform that always offers new ways to enhance stores and the shopping experience. For instance, WooCommerce merchants can install NOWPayments' plugin to accept crypto payments.