Looking back at the first two months of the year, NOWPayments has achieved remarkable milestones that cement our position as a leading provider of cryptocurrency payments. From our successful participation at a conference in London to the rollout of innovative features, we are continuously enhancing our platform to serve our clients better. We have expanded our reach by adding several new cryptocurrencies to our list of supported digital assets for payments, donations, and payouts. Our commitment to delivering fast, secure, and seamless crypto payment solutions remains unwavering. As we continue to evolve and innovate, we are poised to shape the future of crypto payments.
New Cryptocurrencies
Let's start by announcing all the new cryptocurrencies added as a payment, donation, and payout option to NOWPayments.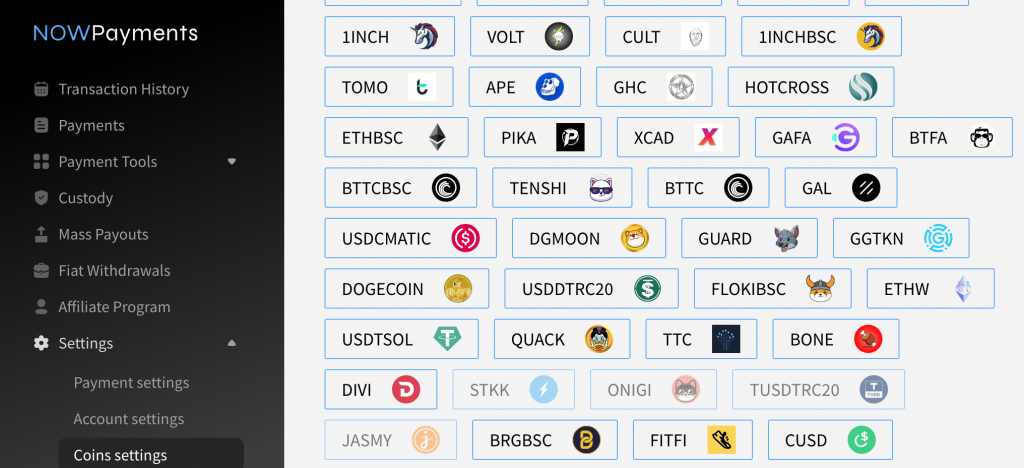 We have added JasmyCoin (JASMY), BRG (BSC), FITFI, Onigiri Neko (ONIGI), and TrueUSD Tron (TUSDTRC20) to our list of supported digital assets.
New Features and Updates
Fiat-to-crypto (Guardarian partnership)
In January, NOWPayments rolled out its much-awaited fiat-to-crypto solution, powered by our third-party provider Guardarian, who processes payments in fiat currency. The monthly limit for fiat payments is 15k EUR per customer, and customers must pass KYC (ID/passport photo + selfie) only once. Customers pay 1.5% +$2 for fiat processing, while the merchant pays the gas fee + standard NOWPayments fee (0.5% or 1%). You can create fiat-to-crypto payments via personal account and API.
Payout Address and Payin Address filters
Looking to streamline your payment and withdrawal processes? NOWPayments has got you covered with two new tools available in your account: the Payout Address filter and the Payin Address filter. We're committed to providing our users with a seamless experience and welcome your feedback on these new features. Try them out today and let us know how they work for you!
In-custody Conversion
Our in-custody conversion feature allows you to convert your funds from one balance to another and make payouts (e.g., BTC – USDT TRC20). To make a conversion, you need to have at least two balances, both visible on the Custody page with an amount above 0. You can keep your funds in any convenient currency and then convert them into USDT, USDC, BUSD, BTC, ETH, DOGE, XMR, DGB, TRX, or NOW. There is no gas fee for conversions, and the fee for conversion is only 0.45%, with no limits for the amount to be converted.
Other updates to make your experience even better include:
Allowing to create payouts in bech32 format (starting with bc1q) for BTC addresses in uppercase.
Increasing allowed Order ID length from 15 to 30 characters.
Adding user ability to enter the e-mail address to get information on newly created payment
Releasing custody activation message for newly activated balances.
Partnership with NUX Game
We are super excited to partner with NUX Game, a leading iGaming software provider, enabling NUX Game's clients to accept payments in various cryptocurrencies, making it easier for them to tap into a global market of crypto users.
Here's what Xena Kash, NOWPayments' CEO, says:
"Partnership with NuxGame is a great way for NOWPayments to grasp all pains and desires of the gambling industry. Being so close to emerging stars and already established market players, NuxGame possesses extremely valuable expertise for us.

We believe in the mass adoption of crypto payments. So, in close cooperation with NuxGame, we're getting closer to fulfilling this global mission."

Xena Kash, CEO
ICE London
We attended ICE London from February 7th to 9th this year. We were winning London with the Power of Three, just like the Halliwell sisters in Charmed: Business Development Manager Veronica, Lead Marketing Manager Daria, and, of course, our CEO Xena.
It was an awesome experience to see our partners and make new friends at the conference. Seeing such interest in crypto payments, especially in gaming and gambling industries, is the best motivator one can ever get.
Twitter Spaces to Listen to
Since the beginning of 2023, we have hosted a plethora of Twitter Spaces. Check out some of them:
What to Expect?
NOWPayments are heading to Dubai on the 13th of March to attend an incredible conference again – SiGMA – to explore iGaming, crypto, and everything in between! Be sure to set up a meeting or come say hello to our booth. Moreover, Xena Kash herself will be among the speakers on SiGMA— don't miss it!
Apart from SiGMA, we are planning on going to various side events and summits, such as Web3 Dubai Summit. Let us know if you also are there and catch us there.
Wrapping Up
At the beginning of 2023, we introduced a range of new features and enhancements to our crypto payment processing platform, making it easier than ever for merchants to accept cryptocurrencies as payment. With fast and reliable payment processing, a user-friendly interface, and an array of payment options, NOWPayments is well-positioned to help businesses of all sizes capitalize on the growing trend of cryptocurrency adoption. By removing the barriers to entry and providing a seamless payment experience, NOWPayments is driving innovation and revolutionizing the way merchants accept payments. With its ongoing commitment to making crypto payments simple and accessible for everyone, NOWPayments is poised to continue its rapid growth and cement its position as a leader in the crypto payments space.