The progress in the blockchain department gives birth to new challenges which, in their turn, cause innovative solutions to emerge. ICON is a blockchain and smart contract platform that focuses on one such challenge, namely, the need to connect various blockchains and their communities. ICX is the native crypto of the ICON blockchain. It powers all the operations and services in the ICON ecosystem. Let's take a closer look at ICX and the project that it represents.
Key points:
What is ICX crypto?
ICON basics
ICON is a layer 1 delegated proof-of-stake (DPoS) network that seeks to serve as a platform for connecting different networks. Essentially, it aspires to build a digital economy where the ICON blockchain will host numerous other networks. Users can utilize ICON to develop their own solutions that can be used across the entire linked ecosystem. ICX is the network's native coin, and it is used to power the ICON ecosystem.
Blockchain Transmission Protocol
ICON's Blockchain Transmission Protocol (BTP) is an interoperability solution that is trustless and chain-agnostic that facilitates generic smart contract calls between linked blockchains. ICON provided an innovative performance-oriented smart contract execution environment fueled by the Java Virtual Machine (JVM). It is perfect for developing minimal-latency cross-chain dApps.
In contrast to interoperability solutions that use relays to both validate and pass messages, BTP relays simply pass messages. As a result, relays are not included in BTP's security model and solely contribute to network availability and reliability. BTP is able to maintain a completely trustless environment by using this design, which does not depend on third-party oracles or custodians.
ICX Token
The ICX token is the native currency of ICON. ICX was an ERC-20 token that was used to jumpstart the building of the ICON network during the first phase of the project. Following the introduction of the ICON mainnet in mid-2018, a token swap was done, allowing holders of ERC-20 ICX to exchange for native ICX. NOWPayments supports ICX on its mainnet chain.
Governance
As part of ICON's on-chain governance concept, ICX holders can stake and delegate their ICX to validators. Staking ICX entails storing ICX in your wallet in return for daily ICX payouts. To get these incentives, you must delegate the staked ICX to a validator.
Stakeholders receive an annual incentive rate of roughly 6-8% every year as a reward for engaging in ICON's governance. This figure varies according to the total quantity of ICX presently staked.
Does ICON have value?
The utility in the ICON ecosystem is what gives value to ICX. Since the ICON token is used extensively for various on-chain operations, there is a substantial demand for it among network participants. Additionally, ICX also has multiple use cases in the form dApps and services that either accept ICX or facilitate the process of ICX payments and donations. ICX is owned by thousands of people which also provides it with its value. The ICON project is constantly developing and adding new use cases to its portfolio, so it is reasonable to assume that ICX will remain a popular asset in the future. Therefore, taking into consideration all of these factors, it is safe to say that the ICON crypto has value.
ICON crypto use cases
Balanced
Balanced is a DeFi platform run by the community that allows users to utilize ICX to create bnUSD, an algorithmic stablecoin. Users deposit ICX on Balanced, which is subsequently transformed to Staked ICX (sICX) – a liquid staking token that automatically accrues staking rewards. Users can mint bnUSD using sICX as collateral up to the maximum supported loan-to-value ratio.
Balanced, in addition to stablecoin minting, has an AMM-style DEX where users may trade between supported assets. The Balanced DEX derives liquidity through liquidity pools, some of which are powered by BALN token payouts.
Omm
Omm, which stands for "Open Money Market," is a DeFi lending and borrowing marketplace with variable interest rates. Users on Omm may deposit a range of ICON-based assets to borrow against while receiving extra benefits in the OMM token. Omm has variable interest rates and a larger LTV than Balanced, which has zero interest bnUSD minting and a lower LTV.
Optimus
Optimus is a yield optimization tool that leverages automated algorithms to enhance profits while limiting risk for consumers. In the background, Optimus strategies use other DeFi protocols such as Balanced and Omm.
Staking the OMM token on Omm, for example, earns claimable staking rewards for each block. To optimize OMM staking rewards, a user would have to claim and compound payouts on a regular basis. Optimus facilitates this by providing an "OMM Staking Strategy" that automatically claims and compounds OMM in order to maximize staking returns.
Craft
Craft is ICON's flagship NFT marketplace. Craft, being a community-owned marketplace, gives a percentage of collected fees to CFT token holders. Craft offers a wide range of NFT collections such as GangstaBet, Tamashi, PinkPunks, RagePups, and others. It lets you mint, buy, and sell NFTs.
ICX Payments and Donations
NOWPayments is a cryptocurrency payment gateway that processes ICX crypto payments and donations. Businesses can accept ICX by utilizing the service's capabilities. NOWPayments makes the payment procedure significantly easier for merchants. It provides businesses with ready-made solutions for sending digital invoices with QR codes that their consumers may scan to make cryptocurrency payments. NOWPayments is a low-cost service that charges only 0.5% for each transaction, which is substantially cheaper than rivals' rates. NOWPayments is also anonymous, allowing you to make ICX payments and contributions in private.
How can I accept ICX coin?
Businesses and individuals can accept ICX coin payments using these tools:
eCommerce plugins: These plugins are compatible with PrestaShop, WooCommerce, Magento 2, WHMCS, OpenCart, Zen Cart, Shopify, and Shopware.
Payment Link and a PoS terminal: Businesses can use a payment link and a virtual Point-of-Sale terminal.
Subscriptions: Some companies may deploy special subscription-based payments.
API: NOWPayments' versatile API enables businesses to create custom crypto payment solutions.
Payouts: You can send mass payouts as a salary, bonus, reward, or rebate automatically to as many addresses as you wish.
Here is a guide on how an ICX Payment Link can be created:
Step 1. Register a NOWPayments account.
Step 2: Enter your public ICX crypto address.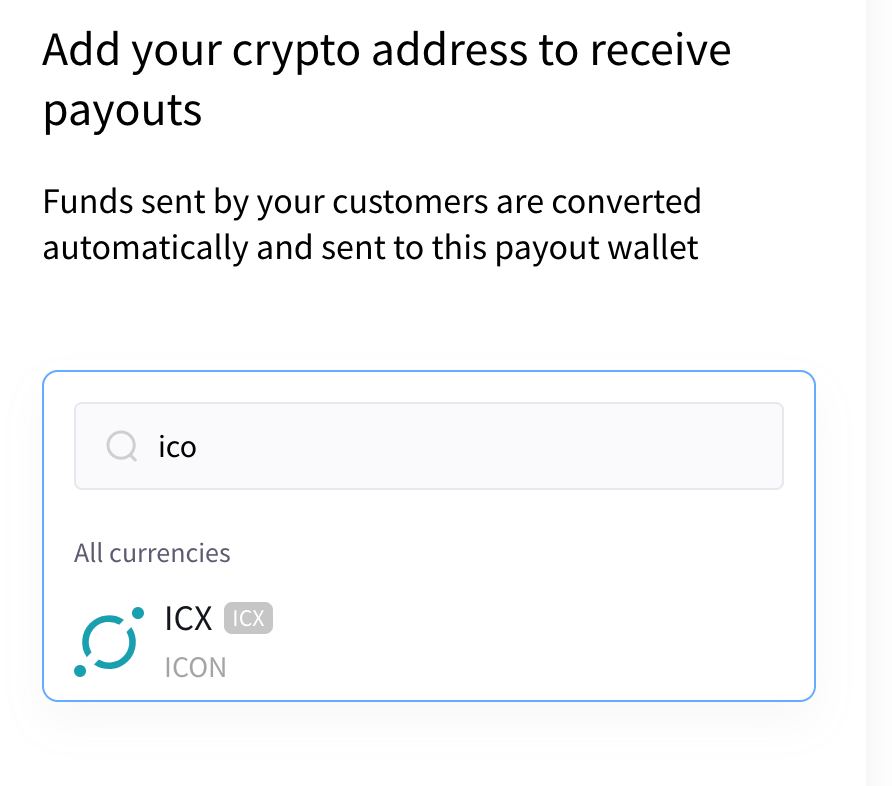 Step 3: Press "Create payment link."
Step 4: Enter the details of your payment link and click "Confirm."
Step 5: You will receive a payment link that your clients will be able to use by simply scanning its QR code.
FAQ
Is ICX a good crypto?
Yes, ICX is a good crypto because it has a solid utility and powers a viable project. The ICON blockchain is the native network of ICX which offers an in-demand product. Thus, ICX has a great deal of potential which makes it a great digital asset.
How do you get ICX?
Here is a guide on how to purchase ICX with USDT on changeNOW:
Press on "Exchange Crypto" at changenow.io;
Pick USDT from the drop-down menu;
Specify the sum of ICX you want to buy and press "Buy;"
Specify your recipient wallet;
Send USDT tokens to the wallet address provided by the platform;
Once your transaction gets processed, you will be sent your ICX coins sum.
What is the future of ICX coin?
ICX has a bright future ahead because the ICON blockchain provides an important infrastructure which is already utilized extensively. Subsequently, it is possible to expect that ICX will continue to stay relevant and will even become more popular if the ICON manages to maintain its growth at the current pace.
Conclusion
ICX is a great cryptocurrency that powers a high-utility blockchain. You can accept payments in ICX via NOWPayments.