In recent years, the use of cryptocurrency has experienced an exponential surge. However, despite its growing popularity, many individuals still face challenges when it comes to utilizing their crypto holdings for purchasing goods and services. Fortunately, Shopping.io has emerged as a solution to this problem. By partnering with NOWPayments, Shopping.io enables users to leverage over 200 cryptocurrencies for purchasing products from major retailers, facilitating a seamless and convenient crypto shopping experience.
Why buy on Shopping.io?
Shopping.io has garnered a substantial user base for several compelling reasons. Let's explore some of the key advantages that attract users to this platform: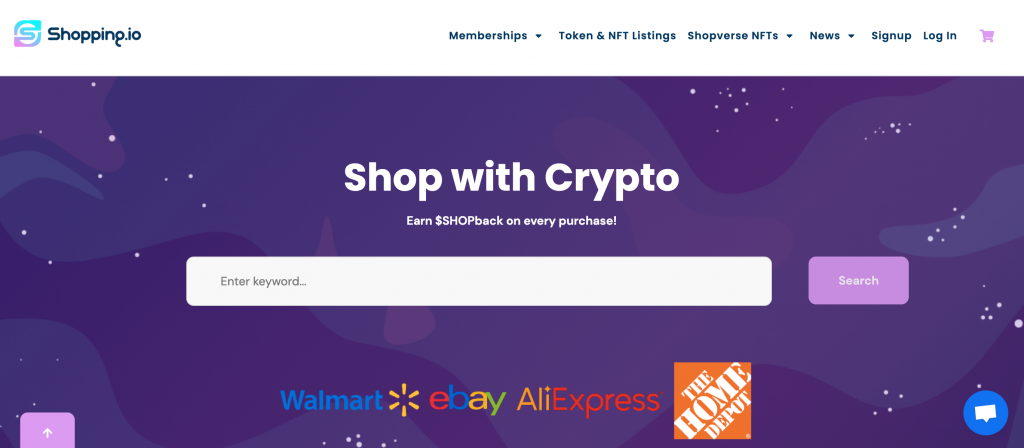 Integration with popular retail giants: One of the standout features of Shopping.io is its integration with renowned retail names like eBay, Walmart, Home Depot, and AliExpress. This integration ensures that users have access to a vast range of products across various categories, catering to their diverse needs and preferences.
Extensive product selection: With over 100 million products available for purchase, Shopping.io leaves no shortage of options for shoppers. Whether you're searching for electronics, apparel, home goods, or any other consumer product, you're likely to find it on Shopping.io.
Acceptance of over 200 cryptocurrencies: Shopping.io understands the importance of inclusivity in the crypto space. By accepting a wide range of cryptocurrencies, the platform ensures accessibility for a diverse user base. Regardless of whether you hold Bitcoin, Ethereum, Litecoin, or any other popular cryptocurrency, you can use it to shop on Shopping.io.
Reliable tracking information: Shopping.io prioritizes customer satisfaction by offering real-time tracking information for purchases, even when shipping internationally. This transparency ensures that users can stay updated on the progress of their orders and have peace of mind throughout the entire shopping process.
Rewards program: Shopping.io further incentivizes users through its rewards program. By offering pricing plans that provide rewards for shopping on the platform, users can enjoy additional benefits, such as exclusive discounts, cashback, or loyalty points. This program encourages repeat usage and fosters a loyal customer base.
Benefits and Use Cases of Using Shopping.io
Beyond the convenience of using cryptocurrency as a payment method, Shopping.io offers additional benefits and various use cases that enhance the overall shopping experience:
Seamless and immersive crypto e-commerce experience
Shopping.io takes pride in streamlining the entire shopping process, ensuring a hassle-free experience for users. From browsing and selecting products to the checkout process, the platform aims to deliver a smooth and immersive shopping journey, comparable to traditional e-commerce platforms.
Security
Shopping.io prioritizes the security of its users by adhering to Anti-Money Laundering (AML) regulations. This commitment ensures that users can shop on the platform with peace of mind, knowing that their transactions and personal information are protected.
Ecosystem expansion plans
Shopping.io demonstrates a commitment to continuous improvement and expansion of its offerings. The company has three core products:

Browser Extension: This extension allows users to shop from any online store, not just the partner retailers integrated into the platform. This flexibility enables users to leverage their crypto holdings for purchases beyond the Shopping.io ecosystem.
Shopping Pay: As an in-house payment processor, Shopping Pay further enhances the convenience of the platform by streamlining the payment process. Users can seamlessly complete transactions using their preferred cryptocurrencies.
Shopverse: Shopverse represents a metaverse shopping mall, showcasing Shopping.io's vision for the future. It aims to create a virtual shopping experience within a digital metaverse, providing users with an immersive and unique way to shop using cryptocurrencies.
Integration of NOWPayments and Shopping.io
NOWPayments serves as a leading crypto payment gateway, facilitating easy acceptance of cryptocurrency payments for businesses. By partnering with NOWPayments, Shopping.io extends its range of cryptocurrency payment options, enabling a broader user base to engage with the platform. This partnership plays a crucial role in expanding the use cases for cryptocurrencies and making them more accessible to the general public. With NOWPayments' expertise and support, Shopping.io can provide a seamless payment experience for users and encourage wider adoption of cryptocurrencies in the e-commerce space.
Conclusion
Shopping.io emerges as a game-changer in the world of crypto shopping. Through its partnership with NOWPayments, the platform offers an extensive range of payment options and a smoother overall shopping experience. Whether you're an individual shopper looking to utilize your crypto holdings for everyday purchases or a business seeking to accept cryptocurrency payments, Shopping.io provides the ideal platform for your needs. With its commitment to continuous innovation and improvement, Shopping.io paves the way for a future where cryptocurrencies play a central role in the global e-commerce landscape.